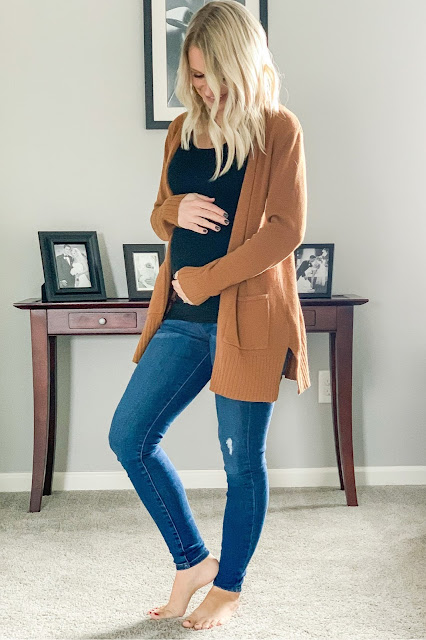 One thing that I really enjoyed about being pregnant was dressing my growing baby bump.  It was a fun challenge for me to come up with cute outfits that made me feel good about myself but also keep me comfortable.  I feel like it can be really confusing at the beginning and a little overwhelming when you think about a maternity wardrobe.  Some people might think that you need to buy all your clothes in the maternity department when you are pregnant, but that's not the case at all.  Obviously, every woman is built differently and everyone starts showing at different times, but I still believe that most women can get away with buying only a few basic maternity items in the maternity department.
*This post contains affiliate links, which means by clicking on and/or making a purchase through a link I will earn a commission for this blog.  Thank you for your support! 

Maternity clothes are often expensive and unless you plan on having a big family and being pregnant multiple times, it's really not worth the money to buy too many maternity items.  During my first pregnancy, I got away with only buying 2 maternity items.  During my second pregnancy, I made a few extra maternity purchases, but it wasn't much more than my first.
When it came down to buying maternity clothes I stuck with very basic, versatile maternity pieces.  I only wanted to buy maternity clothes that I needed to buy to stretch over my growing belly.  Everything else that I wore came from my normal everyday wardrobe.
I tried to stay in my normal jeans as long as I could in my first pregnancy.  I was actually wearing my normal jeans, unzipped and with a belly band right up until I gave birth. The second time around I wore maternity jeans.  I just felt more comfortable in maternity jeans.  I preferred maternity jeans with a full panel over my belly.  My favorite pair of maternity jeans were from
PinkBlush
(
exact
).  I re-wore them over and over again.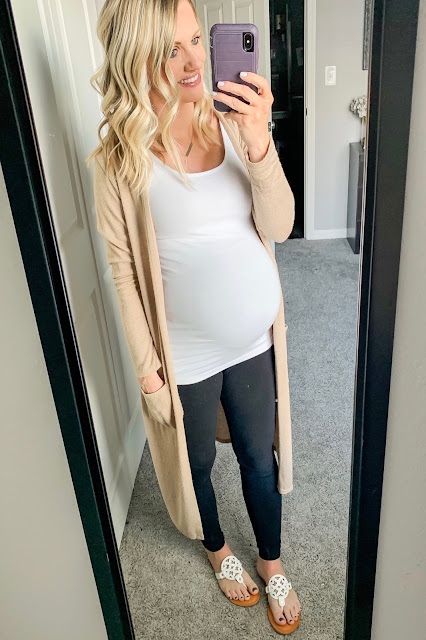 Maternity Leggings
With my first pregnancy, over 4 years ago, I didn't buy any maternity leggings.  I just wore my normal leggings.  The second time around I needed a little more support.  Even though I did wear my normal leggings too up until the end of my second trimester, I did invest in 2 pairs of leggings.  One from
H&M
(
exact
) and the other from
Motherhood Maternity
(
similar
).  Let's just say I wore those babies until the very end. 😂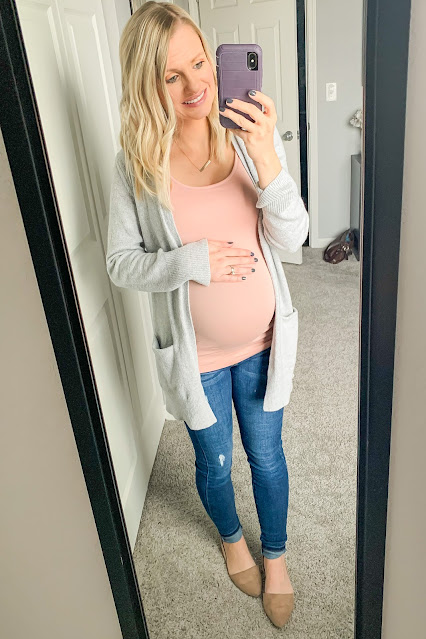 Basic Maternity T-shirts and Tanks
You can get away with wearing normal t-shirts and tank tops through most of your pregnancy, but towards the end, it's definitely nice to have something that gives you a little extra room to grow into. I bought myself a pack of 2 maternity t-shirts from
H&M
(
exact
) and 2 maternity tank tops from
Target
(
exact
).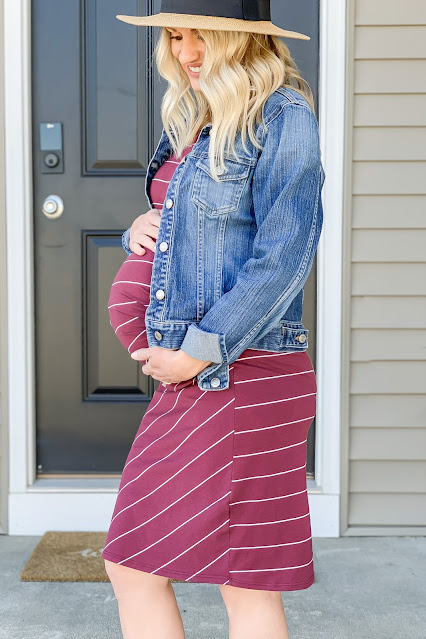 Fitted Maternity Dresses
I loved wearing fitted dresses to show off my bumps while I was pregnant.  I think they are a really cute look, plus they are super comfortable and easy to style.  I had a couple fitted dresses gifted to me, but my overall favorite dress that I bought was a simple black dress from
Target
(
exact
).
Belly Band
One of the best items that I bought during my first pregnancy was a belly band.  It allowed me to wear my normal non-maternity jeans well into my 3rd trimester.  It also gave me support over my belly.  It was by far my favorite maternity purchase. I bought mine at
Target
(
exact
) and it lasted me through both of my pregnancies.
Clothes you do not need to buy in the maternity department…
Tunics
Cardigans
Empire waist dresses
Jackets
Button-down tops
Maxi Dresses
Flowy Tops
Pajamas
Underwear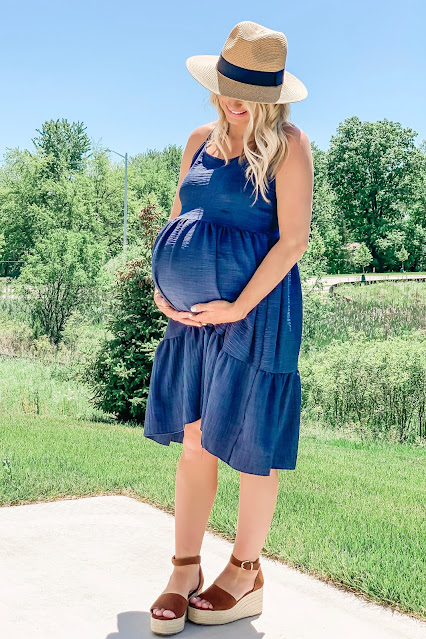 My best advice to you if you are an expecting mama is to see what you have in your closet first.  Pick out pieces of clothes that will fit a growing bump and set them aside.  Then make a list of maternity clothing items you might need.  Buy them as you need them!  I recommend doing most of your maternity clothes shopping in your second trimester as your bump grows and then stop buying maternity clothes once you hit your third trimester.  You don't want to overbuy maternity clothes that you may never wear again.  This will just leave you with too many clothes to get rid of after you are done having babies.
Make sure you check out my other maternity style posts for more tips on how to build a maternity wardrobe on a budget.
Katie🤍