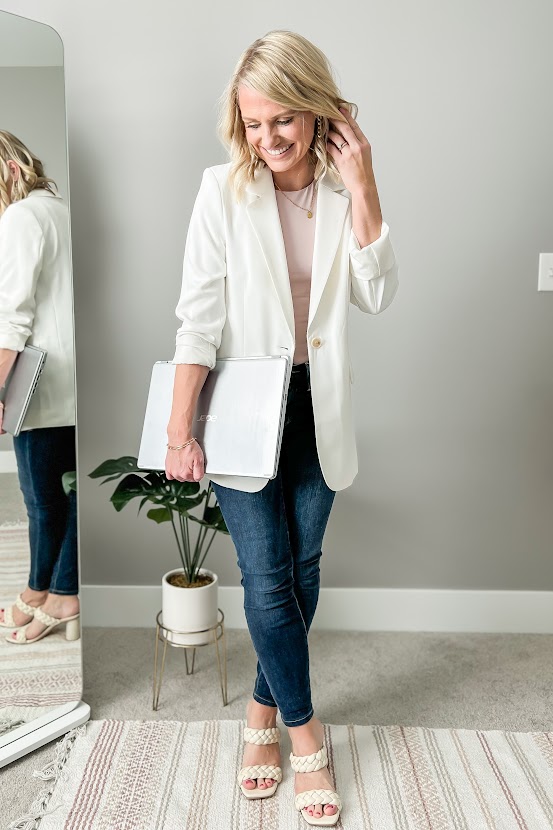 Hi, my name is Katie! I am a 30-something-year-old Michigan native with an eye for fashion and a passion for saving money. I am the wife of an airline pilot and the proud mom of two adorable children, Jack and Anna. I have a bachelor's degree in Child Development and I spent 10 years working in early childhood education. I now consider myself retired from the field as I stay home with my family and pursue new adventures.
As far back as I can remember, I have always had a love for clothes and putting together outfits. But after graduating college during a tough economic time and dealing with student loans, I felt stuck when it came to fashion. I didn't have much money to spend on a new wardrobe, and I wasn't sure how to dress like an adult.
But everything changed when I started this blog. Instead of feeling down about not being able to shop a lot or buy new clothes, I got creative with what I already had in my closet. I discovered the joy of thrift shopping and found ways to update my wardrobe without spending much money. As time went on, I became more mindful about my purchases, only buying clothes that I truly loved. I'm still learning and improving every day, but now I have a wardrobe full of clothes that I absolutely adore.
At Thrifty Wife Happy Life, you'll find a mix of thrifted pieces and affordable fashion finds. I truly believe that style isn't about how much money you have. Fashion is something that anyone can enjoy, no matter their budget. I want to help other women feel great about themselves in every outfit they wear. I hope you can get some outfit inspiration here and feel inspired to step up your everyday style!
Aside from blogging and fashion, I enjoy spending time with my family and friends, soaking up the sun at the beach, listening to interesting podcasts, indulging in anything with cheese, sipping coffee, and treating myself to a good craft beer.
As the years have passed and my life has changed, my personal budget has grown. However, I still stick to my thrifty ways. The definition of "thrifty" is (of a person or their behavior) using money and other resources carefully and not wastefully. I encourage my readers to spend responsibly and intentionally Living this way doesn't mean you can't enjoy life; it means you make smart choices to have a secure financial future. So, remember, being thrifty isn't boring; it's a path to a better financial life.