I apologize for the lack of post lately. I've been extremely busy finishing up my last couple of weeks at work. Besides working, the majority of my time has been spent getting ready for our big cross country move!
I have to tell you… I love the thought of new beginnings, but I absolutely despise moving. I don't care if it's moving across town or moving across the country…I hate moving! The thing that I dislike the most about moving is packing up everything that I own and then being in limbo. The last time we moved it was only across town, but there was a month in-between selling our condo and our lease starting at our new apartment. We had to pack up everything and store it all in my in-law's garage, while we stayed with them for a month. This time is not much different, the only BIG difference is that we're moving across the country to Nevada. Since my husband has to go straight from training to work, we will be in a transitional state until at least the end of February. Which means… our stuff will be packed up and stored until we find a place to live. This is the part I hate the most…parting with all my positions for a questionable amount of time. I know it sounds silly, but I miss my stuff, especially my wardrobe.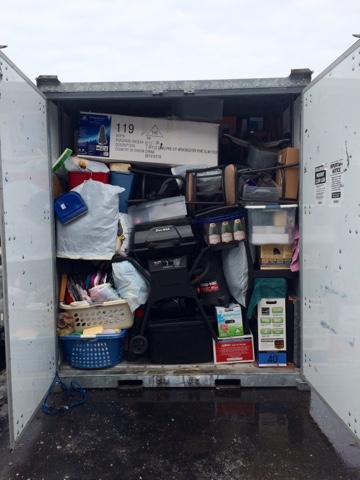 All packed and ready to go! I'm amazed that all of our stuff fit into such a small space.
The good news is that everything is coming together. Kevin is all done with his training and I have only 1 more week of work left. I'll be flying out to Las Vegas before I know it! I'm extremely excited and nervous all at the same time. I can't wait for a fresh start, but I have to admit I will miss our life here in Michigan. At least I know it's only a plane ride away. I will try to keep all of you updated on our adventure!
Oh yeah… one more thing. I might be slacking in outfit post due to the fact that I just locked up the majority of my closet in our pod 🙁