I hope everyone is enjoying their holiday weekend! Labor Day marks the official end of summer, but for us here in Vegas, summer is nowhere near over.
Even though it's still hot out, I've decided to try and get some use out of my jeans while I still can fit into them. I'm 4 months pregnant right now, so I don't have a bump yet, but I can definitely feel a snugness in my jeans.
The shirt I wore on Saturday is from Walmart. I don't typically shop at Walmart, but I was there buying school supplies for my classroom, and I couldn't help but wander into the clothes section. I ended up finding this really cute striped top for $6.
Saturday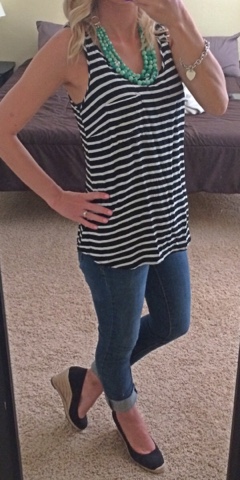 On Sunday I wore my favorite new t-shirt that I bought at Target a few weeks ago. It's so comfortable. I'd like to buy it in every color, that's how much I like this shirt right now.
Sunday