As I said last week, getting dressed is getting to be a challenge. It's not only difficult finding outfits, but it's hard to find the energy to look cute. I still feel like it's important to try to dress cute through these last few weeks. It helps me have better confidence in myself and confidence is important when your pregnant, especially in your last month.
Last weekend I used a gift card I got for Christmas on a couple new tops from
Nordstrom Rack
, my new favorite store. Nordstrom is my favorite department store, but I don't always get a chance to shop there. Plus, it takes a lot of trips to the department store to find the great deals that I'm always looking for. That's why their Rack store is amazing! It's all the great styles and brands that the department store sells, at such great prices. I bought a grey print tunic tank top for $9.54 and a striped long cardigan for $11.54. Any clothes that I buy now, I'm also hoping to wear them after the baby comes. This is why I will only buy loose-fitting, comfy clothes.
Since I spent most of my weekend lounging around the house, getting it ready for the baby, I wore my new comfortable clothes.
Here are my outfits from this weekend
Saturday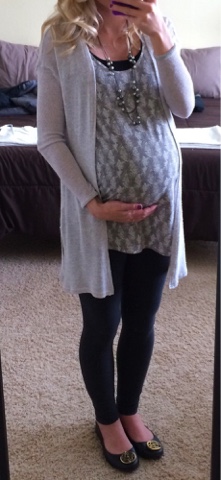 Grey Cardigan- H&M
Tunic- Nordstrom Rack
Leggings- Forever 21
Shoes- DSW
Sunday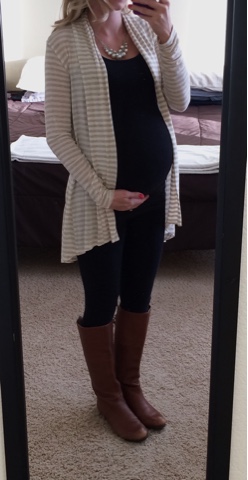 Cardigan- Nordstrom Rack
Tank top- Old Navy
Leggings– Kohl's
Boots- DSW
Here is my baby bump picture for week 35. I feel huge! I've been feeling a little moody lately. My moods have been pretty normal all throughout my pregnancy and now I feel like the hormones must be catching up to me. I've also been feeling extremely uncomfortable, which makes sleeping hard for me. I think I may have set the record for how many bathroom trips I take during the night. With the lack of sleep, I've been losings my energy levels during the day. On a positive note, I'm getting so close to my due date that it's hard to believe that I'll be holding my little boy in my arms before I know it! I'm getting pretty anxious to meet this little guy. I cannot wait!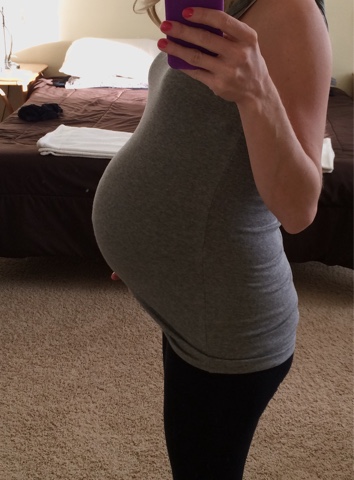 35-week baby bump
Have a great week!