It's been 5 weeks since I had my baby and I'm feeling really good. Much better than a month ago, and I'm looking forward to feeling like my old self again. Unfortunately, with a c-section, you can't work out for 8 weeks, so as much as I'd like to start working on getting my old body back, I can't yet. This is why I'm still searching through my closet to find some comfortable clothes to dress my post-baby body.
I've been mostly wearing the same clothes that I wore while I was pregnant. I'm sticking with loose-fitting and stretchy clothes. I'm still afraid to wear jeans, mostly because I'm afraid of them rubbing up against my incision, but maybe I'll be brave enough to try on a pair by next week. For now, I'm sticking with comfy clothes.
Here are some of my looks from the week…
On Sunday, I wore this striped dress from H&M (
original post
) that I bought while I was pregnant. I knew when I bought it that I'd be able to wear it while I was pregnant and well after. It's not great for nursing, but that's okay because I only wore it to church. However, it fits loosely around my belly which is really nice.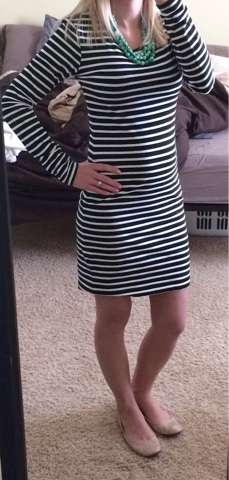 Dress- H&M
Necklace- Target
Shoes- Target
On Monday I wore this tunic top that I wore a lot while I was pregnant (
older post
) with leggings. I've been pretty much living in my leggings lately. We went out for dinner on Monday, so I wore my bubble necklace while we were out, but when I'm just at home I've been avoiding big jewelry with my little guy grabbing it all the time.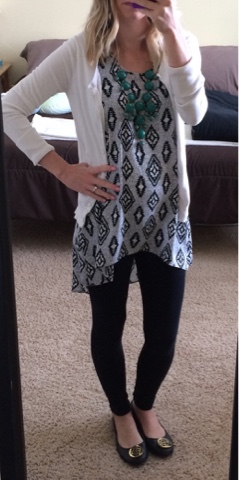 Top- Kohl's
Leggings- Forever 21
Sweater- Salvation Army
Shoes- DSW
Necklace- Charming Charlie
On Wednesday, I wore a casual outfit with my striped top that I wore pretty much all the time during my pregnancy because it fit perfectly. Now it's pretty loose, but it fits nicely over my belly band that I'm still wearing. I also decided to pull out my pink tennis shoes to add some color.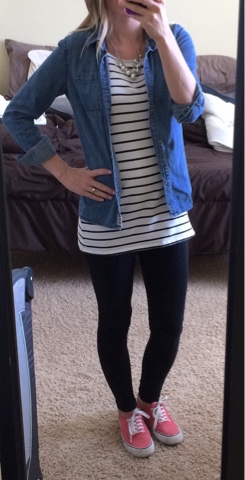 Denim shirt- Target
Leggings- Kohl's
Tank top- H&M
Shoes- Target
Necklace- Meijer
Those are just a few of my looks from the week. I hope you enjoyed!