I'm officially back at work now. It has taken me a while to adjust to working with a baby, but it's been getting easier as the weeks go by. The hardest part about being back at work for me, besides missing my baby boy, is finding the time to get all the things done that I need to do. I feel like there is never enough time in the day to accomplish everything. A simple task like painting my nails has to be put on hold. I literately had to do my nails in my classroom last Monday morning. I'm finding that it's especially hard to keep up with documenting my outfits like I used to. Blogging about my outfits is something that I enjoy doing, that's why this weekend I made a point of taking pictures of my outfits to share with all of you, even if they are a day or two late.
This weekend, I decided it was time to ditch my leggings and get back into my jeans. It's been so long since I've worn most of my jeans, so I figured it was time to start wearing them again. Besides, before I know it, the weather will be too hot for jeans.
On Friday, I had a professional development day at work. My favorite part of these days is no kids, which means I can wear whatever I want and not worry about my kiddos messing it up. (Hopefully, no one minds the baby foot that got in the picture.)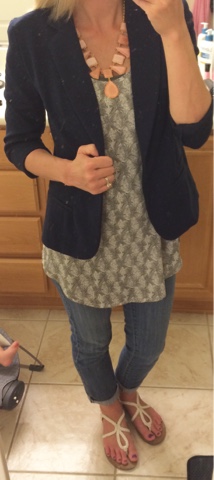 On Saturday, I decided to pull my ripped jeans out of the closet. I haven't worn them in a while and I forgot how comfortable they are. This was the perfect outfit for my casual Saturday of running errands.
On Sunday, I decided to switch it up a bit and wear my flared jeans that I haven't worn in the longest time. I've been wearing skinny jeans for so long, I forgot how much I liked a flared bottom sometimes. It's always nice to switch up you wardrobe when you get board of one style.
I hope you're having a great week!