The forecast for Las Vegas this coming up week is going to be hot. The highs are between 111 and 117 degrees. It's hot! As I mentioned last weekend, I'm kind of at a loss for getting creative with my outfits in the heat. That's why this weekend I just decided to play it safe and get some use out of my sundresses. When it's hot out, I feel like a simple sundress is the most comfortable thing that you can wear. I don't even like to wear a lot of jewelry or accessorize that much in this kind of heat.
Here's what I came up with…
Saturday
I spent the first half of my day in my bathing suit at the pool. It was nice because Jack took a nap in his shaded stroller while Kevin and I enjoyed a swim.
Bottoms-
Old Navy (
exact
)
Sunglasses- Smith's (I buy my sunglasses at the grocery store because they're only $5)
When we came home I changed into this little black dress that I recently found at Savers. I remember when I was younger, people always told me that you couldn't mix black and brown. I've talked to a lot of my friends my age and they still feel like you can't mix these two colors, but I say that nowadays anything goes. That's why I wore my black dress with some brown accessories just to switch it up a bit.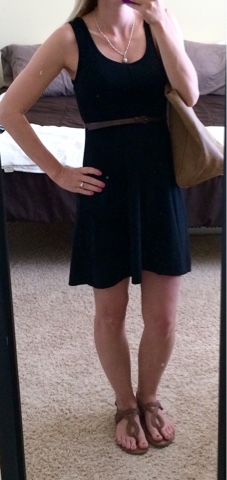 Dress-
Target (bought at Savers) (
similar
)
Belt- Target
Purse- Savers
Sunday
I decided to wear this purple smocked dress that I've had for a while now. It's perfect for the heat and in a closet full of black and white, it's nice to wear some color. I'll have to wear this dress again sometime soon!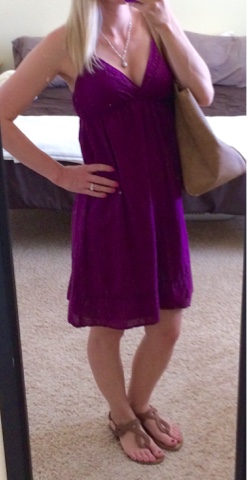 Dress- Forever 21 (bought at the Salvation Army)
Sandals- Target
Purse- Savers