There is nothing that makes me more excited than saving money on new clothes. I love to stretch my dollar as far as I possibly can. That's what I did this weekend at Target.
Sometimes shopping the clearance section can be so hit or miss. Target usually has a great clearance section, but you have to go at the right time to get really good deals. I find that the end of the summer and early fall are perfect for finding clearance deals. It's easy to take summer clothes and style them into the fall and winter.
I had some Target coupons sent to me in the mail last week, so I was excited to use them. I had a coupon for $5 off $25, so I knew I was going to try to get as much as I could for $25. I was still on the hunt for a few more pieces from my fall wish list. I ended up buying 5 new pieces of clothes and only spending $18.86 after tax! I actually surprised myself, because I didn't realize that I could use my Cartwheel app, with a coupon, on top of the clearance price.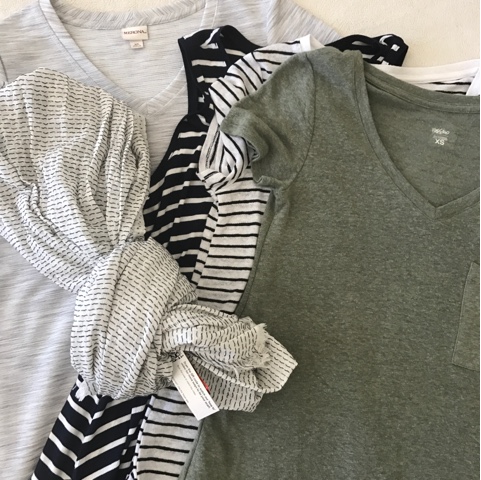 I ended up buying 3 new tops; one striped tank top (
here
) and 2 t-shirts; one striped and one green (
here
). I also bought a simple grey dress (
here
) and a scarf (similar
here
and
here
). Here are my dressing room pictures of the tops I bought. (Don't mind my little shopping buddy in the background. He was busy trying to get the hangers.)
I can't wait to style my new clearance pieces for the fall months!
Happy shopping everyone!