Back when I first started my blog, I loved to document what I wore to work every day. It always challenged me to come up with new looks using all the clothes in my closet. It's been a really long time since I last did a weekday wardrobe post, so I decided it was about time for one.
I always struggle with getting dressed for work in the morning. Let's face it…Preschool teachers aren't normally known for being very stylish people, but I try my best not to fall into that stereotype. You never know what messy activities are on the plans for the day. We paint, play with playdough and you never know who will accidentally get a marker on your sweater. That's why I never spend a lot of money on my clothes, especially my work clothes. I try to dress smart, practical, comfortable and of course… stylish too. My work clothes transfer over into my mom's life perfectly. I spend my whole day with other people's kids, then I come home and take care of my little guy. My workweek wardrobe would also be great for stay at home moms as well.
Here is what I wore to work this week…
Monday

Cardigan- Savers
Tunic- Old Navy
Leggings- Last Call Neiman Marcus
Shoes- Nordstrom
Necklace- Kohl's
Tuesday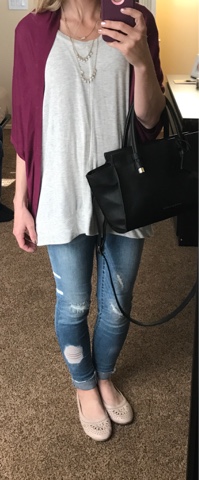 Top- Nordstrom Rack
Cardigan- Old Navy
Jeans- Target
Shoes- Burlington Coat Factory
Wednesday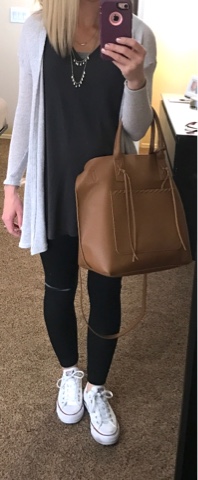 Top- Old Navy
Cardigan- H&M
Leggings- Last Call Neiman Marcus
Thursday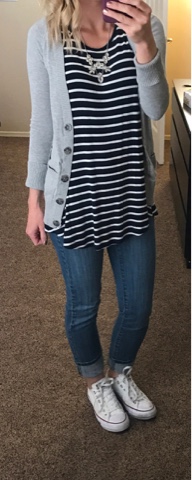 Top- Target
Cardigan- Target
Jeans- Kohl's
Friday
That's what I wore this week. I really enjoyed all the beautiful spring weather we had this week. I can't wait to put together some fun looks for the spring!
Have a great weekend!