*This post contains affiliate links
Hi everyone! Today is Friday, and I'm so excited to be participating in my first link up with "a year of color". Each month there is a different color theme and this month the color is purple. Naturally, I wanted to do an outfit post with the color purple, but when I went to my closet, I realized that purple is a color that my closet is lacking in. I'm not really sure why. I like the color purple, but sometimes I think it gets overshadowed by pink.
I remembered that I had one purple dress hanging in my closet. It was actually a $3 thrift store find from the Salvation Army. It's an empire waist dress from Forever 21. I actually bought this dress with the intention of wearing it one day as a maternity dress, but since Jack was born in the winter, I never got the chance to wear it with my baby bump. However, I did get a lot of use out of it last summer when I was nursing. That's one thing that I love about an empire waist dress, it's so versatile and can be worn during every stage of motherhood. I also love the shade of purple that this dress is. It's such a rich color and perfect for summer or year-round. I styled my dress with my denim jacket, cognac tote purse, and wedge sandals.
*This post contains affiliate links which means by clicking on and/or making a purchase through a link, I will receive a small commission. Thank you for your support.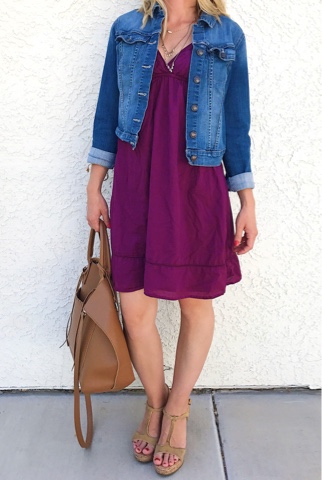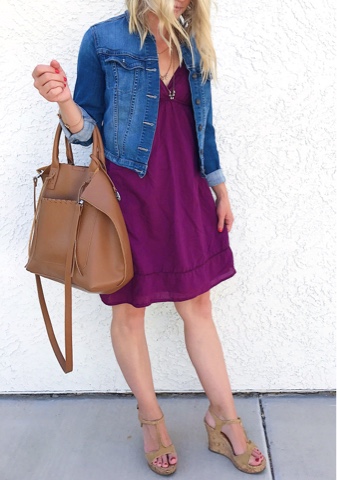 Shop my closet
Dress-
Forever 21- Thrifted from Salvation Army ||
Denim Jacket-
Meijer (
similar
) ||
Shoes-
Kohl's (
similar
) ||
Purse-
Last Call (
exact
)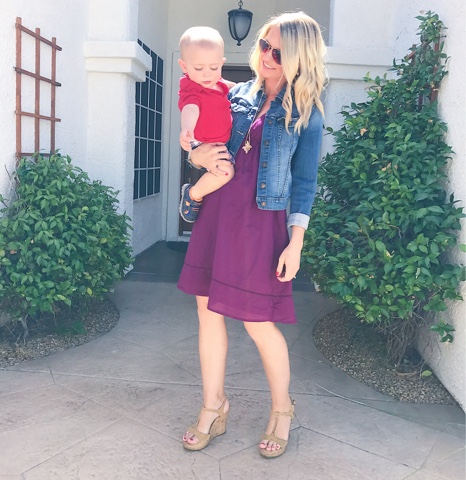 I found some really cute purple dresses on Amazon. They are defiantly worth checking out, especially since they are all under $30!!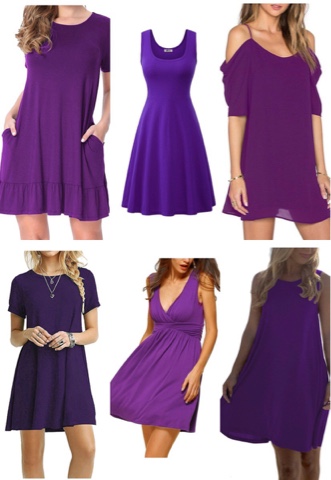 One || Two || Three
Four || Five || Six

Do you have any purple in your wardrobe?