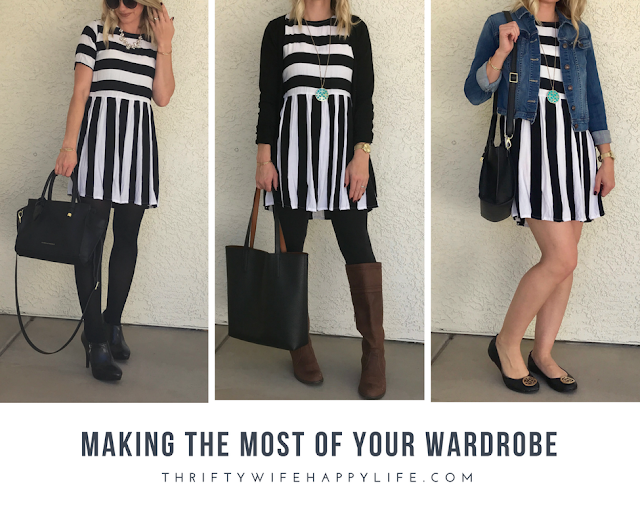 I am totally guilty of shrining my clothes in the dryer. No matter how hard I try to pull certain pieces of clothing out of the washer to hang dry, one always gets left behind. Sometimes I get lucky and it doesn't shrink up, but every once in awhile that cute summer dress I bought turns into a tunic. So what do you do with your clothes when that happened? Do you get rid of them, or do you try to still wear them? For me, I try to still wear them. I hate to get rid of clothes that still have life left in them.
Today I want to share 3 ways that you can wear a dress after it's been shrunk in the dryer. This dress below was from my fill-a-bag sale at Goodwill a while ago. After I picked out a few cute things that I wanted, I just started stuffing clothes in the bag without trying them on. I picked out this striped dress and when I tried it on at home, I realized that someone must have shrunk it in the dryer and ended up giving it away. Well, I always believe that someone's trash can be someone else's treasure, and since the dress was basically free, I wanted to get some use out of it. Here are 3 ways that I like to wear my shorter dresses.
1.) Wear it with tights. I love the look of tights in the winter. They might be uncomfortable, but they suck in your legs and smooth everything out, making your legs look flawless. When I add tights to this dress, I feel like it gives it a Parisian look.

2.) Wear it with leggings. Wearing this dress as a tunic with leggings gives it a more casual feel. I love throwing on leggings and boots under a dress for work. It always gives the appearance that I dressed up, but really I feel like I'm wearing pajamas.

3.) Risk it and wear it on its own.
Sometimes in the summertime, it gets so hot that I don't care how short my dress is. If you do wear a short dress, I recommend wearing it with flat shoes. I also like to wear some shorts under my shorter dresses. What I do is take an old pair of leggings that I never wear and cut them to wear as bike shorts under my dresses. This is a great trick for moms with little ones and definitely teachers, specially preschool teachers!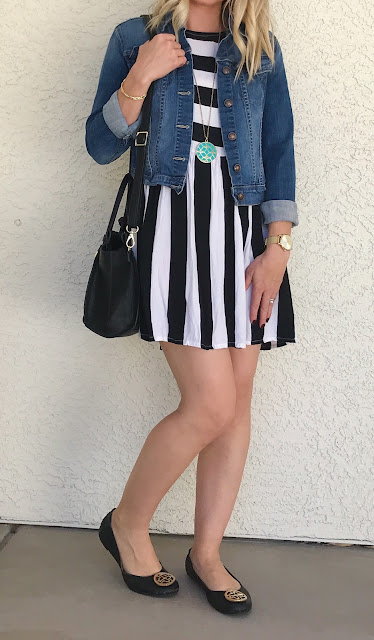 So there you have it. There is no need to get rid of a dress that you really love just because it shrank up in the dryer. Try out these tips and see how you like them.
If you don't have any cute dress that you've shrunk up on your own. Here are some fun stripe dresses that you could style up. All under $20!!
ONE | TWO | THREE | FOUR | FIVE | SIX | SEVEN