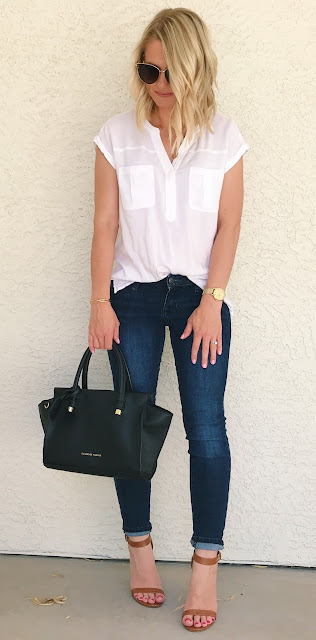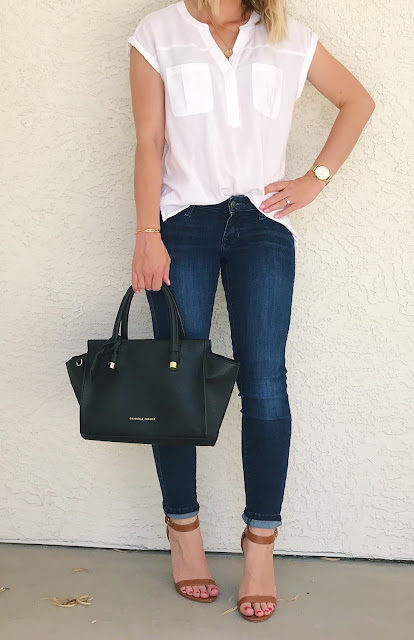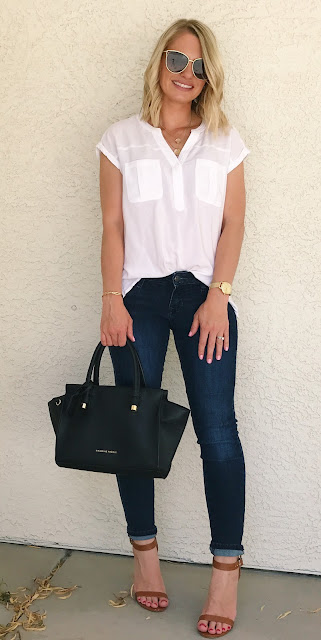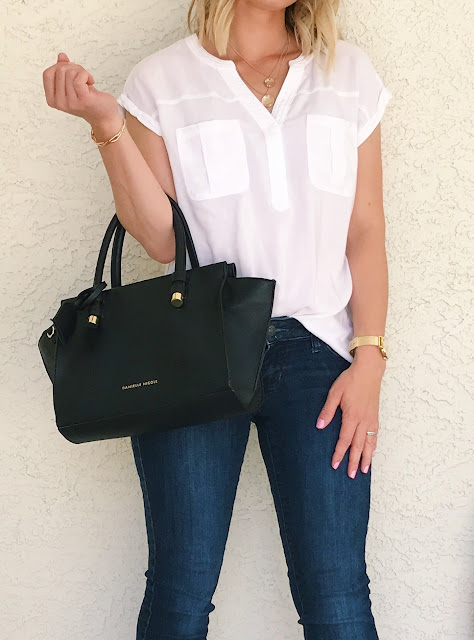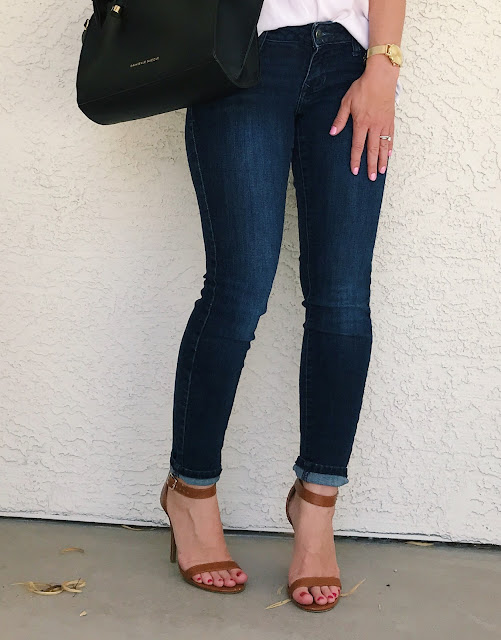 Lately, I've been working on stocking my closet with a lot of basic wardrobe pieces. I would say that I am pretty well stocked up, but there is always room for more. This outfit above is the perfect example of how I used 4 simple wardrobe pieces to build a fun and stylish look. Read on to learn more about each piece.
*This post contains affiliate links, which means by clicking on and/or making a purchase through a link, I will make a small commission for this blog. Thank you for your support!
I didn't know how much I was in need of a white blouse until I found this one. It's so simple, but it goes with everything. I used to hate wearing white shirts because I was always worried that my bra would show through, but I recently bought some bralettes at TJMaxx (similar
HERE
) and they have been a real game-changer for me. I can finally wear white tops without worrying about my bra showing through. I'm wearing my nude-colored bralette with this top.
I love a good pair of dark skinny jeans. They are the best jeans to dress up. You can easily throw on some heels or a blazer and it makes it a work look or a great look for an evening out. The jeans I'm wearing in this post are Old Navy Rockstar jeans, but I bought them at Savers for only $2.25!!!
I've been wanting shoes like this for the longest time. They remind me of Barbie's shoes because I feel like they mold your foot into the way a Barbie doll's foot is. I found these shoes at ThredUP. I've said this over and over again, but if you're going to buy used shoes,
ThredUP
is the best place to buy them. These shoes are in almost perfect condition.
I have had this satchel purse now for over a year now and I never get sick of it. It's such a classic look. They no longer have this purse at Last Call Neiman Marcus, but you can find it on Amazon
HERE
for under 40!!
Before I end this post, I just have to share this last picture, because while I was taking pictures in this outfit, my favorite little guy wanted to do some modeling in his outfit too. It was just too cute, I had to share one of the pictures. He's the reason why it's been taking me weeks to write this blog post. Every time I get out the computer to write, he pulls me away to go play. It's okay though. How can I resist that face! I hope you have a great week!!