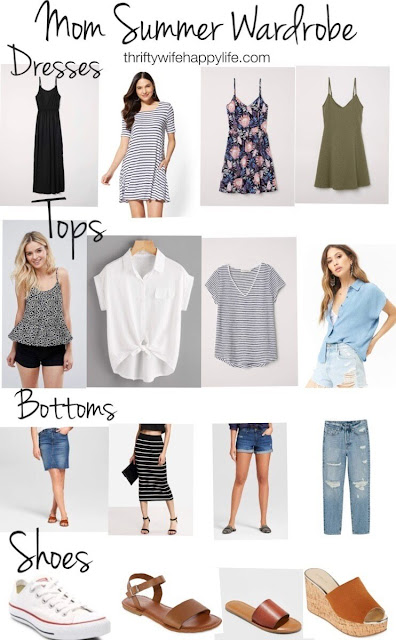 I know that I complain about dressing in the summer a lot because it's so hot. I miss jeans and layers, but there are a lot of great things about summer clothes. For one, it's easy to get dressed in the summer. There are fewer pieces and less need to accessorize. Summer clothes also keep your laundry loads smaller. Pretty much your summer wardrobe should be cheaper and easier than your winter wardrobe.
*This post contains affiliate links, which means that by clicking on and/or making a purchase through a link, I will earn a small commission at no extra cost to you. Thank you for your support.
Today I wanted to break down my favorite pieces in my summer wardrobe and share them with you. I want this post to be a resource for all you moms out there. I hear from so many of my friends and women I talk to that they have lost their sense of style after becoming a mom. I think that sometimes we just get so caught up with our kids that we forget that we have other clothes in our closet beside the workout clothes. Fashion does not have to be expensive or hard. Sometimes it just takes a minute to think about what it takes to get your style back. You might be surprised by how simple a summer mom wardrobe can be.
Below, I've broken down 4 categories in my wardrobe… dresses, tops, bottoms, and shoes. You may already have these pieces in your closet, and if you don't, I've listed some affordable options for you.
Dresses
Maxi Dress
– I love a good maxi dress in the summer. It's so easy to throw on and go! I prefer a nice solid color maxi or a simple pattern that I can wear on repeat all summer.
T-shirt dress
– A t-shirt dress is another throw on a go dress. It doesn't take a lot of accessorizing, just a necklace and a pair of tennis shoes or sandals and you are good to go. It's perfect for errand running.
Floral Dress
– I think everyone needs a little floral in the summer. I love all the different prints out there. It's just so summery and fun!
Solid Color Dress
– I'm a big fan of solid-colored dresses. My go-to color is black, but every now and again I'll throw in a bright color.
______________________________________

Tops
Peplum top
– I love the peplum tops with the little ruffle at the bottom. They are so fun and girly. They are super easy to wear with jeans or shorts. I recently found an Old Navy peplum top at Savers and so far it's becoming one of my favorite tops for the summer.
White Blouse
– As a mom and a preschool teacher, white has always scared me, because I'm always worried about messing it up, but lately I've been loving my white tops. They are so classic and go with everything. They have made their way into my summer wardrobe.
T-shirt
– As a mom, what's better than a t-shirt? Especially a striped t-shirt! I wear t-shirts all the time. I really love V-necks. You can tuck them, you can knot them or just leave them out. Nothing is easier than wearing a comfy t-shirt and some jean shorts.
Chambray top
– I love a good chambray top. In the summer I wear my short sleeve chambray top a lot. It's so cute with maxi skirts or shorts. I can't get enough of mine.
__________________________________________

Bottoms
Denim skirt
– I'm all about jean skirts this summer. I love the lengths of them this season. Not too short and not too long. I love how casual a jean skirt is.
Mid-Length skirt
– I'm loving the mid-length skirts right now. I'm short, so my maxi skirts and dresses always need a hem or a high heal with them. A mid-length skirt is a perfect length for me.
Distressed jean shorts-
I just bought 2 pairs of jean shorts for the summer and I love them so much. They are so comfortable and casual. Everyone needs a great pair of jean shorts.
Jeans
– Even in the heat of the desert summer, I still wear jeans. I love a good cropped pair of jeans. If they are distressed, even better.

————————————————

Shoes
Converse
– My Converse Chuck Taylor's are my most worn pair of shoes in my closet. I honestly don't know what I did before them. I wear them with literally everything…dresses, jeans, shorts, skirts….everything!
Sandals
– A good pair of classic sandals that you love should be in your wardrobe for sure. I bought a pair of Madden Girl sandals at Burlington Coat Factory for only $10 and they are my go to sandals. They go with everything.
Slides
– Let's be honest, sometimes we are too busy putting the kids' shoes on that we almost don't have time to put on our own shoes. That's why slides are the perfect mom shoe. Just slide them right on. They will go with everything too!

Wedge Sandals– Wedges are my favorite because they are much more comfortable than heels. They are an easy way to dress up an outfit and give you a little height too!
So there you have it. These are all my favorite summer essentials. So whether you're a stay at home mom who lives in leggings, or a working mom who feels like you have no time for shopping and outfit planning, hopefully, this post can be some help for you. I wear everything from this list. Summer is a time to simplify your life and enjoy your family, so make your wardrobe easy and light!