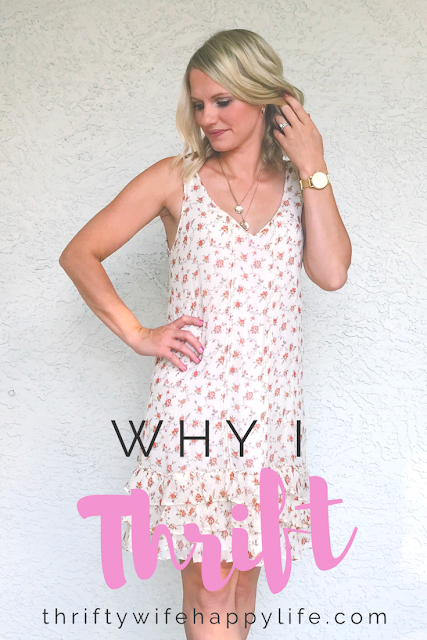 Today is National Thrift Store Day, so in honor of that, I wanted to share with you my thrifting story. I always love to hear about how people get into thrift shopping because everyone has their own story, so why not share mine?
Growing up, my family never spent a lot of money on clothes. My mom was always a clearance and sales shopper. She always taught me to never pay full price for my clothes, but it was really my grandmother, who I call Mimi, who taught me about thrift shopping. My Mimi was always shopping her local thrift stores and neighborhood garage sales. She would always share her latest finds with me. She was always so proud to tell me how much she spent or how much she saved on all her finds. As a mother of six kids and married to a carpenter, money was always tight for them, so Mimi always did her best to dress her best on her budget. She still thrifts and dresses her best to this day at 93 years old.
I always remembered my Mimi's thrifting skills, but it wasn't until I was a young adult that I started to thrift myself. Money was really tight when I first got married and sadly my wardrobe was put on hold while my husband and I worked hard to pay off my student loan dept. I decided to check out our local Salvation Army store to see if I could find anything I liked. My first thrift find was a black limited blazer for $4. I had been wanting a blazer, but I didn't have the money to buy one. After that great find, I started visiting the Salvation Army frequently. I learned about their sales and started to find things here and there to update my wardrobe.
When I moved out to Las Vegas, I found out that my area had lots of thrift stores. It is such a transit area, so people are consistently cleaning out their closets. Within a mile of my house, I have a Goodwill, Salvation Army, and Savers, not to mention a few local stores as well. I started stopping by often and learning the sales. After Jack was born, I turned into an even bigger thrift shopper than before, because I started thrifting for him as well as myself. I feel like once you start to find those great prices on thrift finds, it's hard to go back to shopping at the normal discount stores. As a mom, I feel guilty when I spend too much on myself, so thrift shopping always is a guilt-free way for me to shop.
Now I would have to say that my wardrobe is probably more than half thrifted. Saving for our future is really important to my husband and me. I've always had my frugal ways, but I never really knew how to save my money. With thrift shopping, I feel like I can still shop and save at the same time. If I was spending money on expensive clothes as much as I thrift shop we really wouldn't be saving all that much money.
Another reason why I love thrifting is because it's good for the environment. I wouldn't say that I'm a huge environmentalist, but I do believe that it's important that we all do our small part to help our environment. I recycle my trash, so why not recycle my fashion? I've learned that the fashion industry is one of the largest polluting industries. It doesn't help that people are buying more clothes than ever and keeping them half as long. Of course I buy new clothes, but buying my clothes second hand gives me different feeling.
So that's my thrifting story. What's your thrifting story? Below I have my latest thrift find from The Goodwill. I found this floral
Abercrombie dress
for $4 a couple weeks ago. I love the colors, because I think it will transition well into the fall. I paired it with my Old Navy
denim jacket
that I found at Savers and my
strappy sandals
from
ThredUP
.
*This post contains affiliate links. By clicking on and/or making a purchase through a link, I will make a commission for this blog. Thank you for your support!