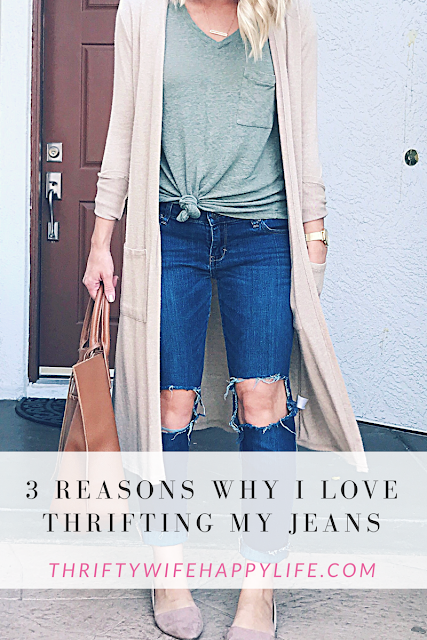 Hey guys! Today I want to let you in on a little secret of mine. For about the last year, I have been obsessed with thrifting my jeans. To me, jeans are like shoes and purses, you can never have too many. There are just so many styles and colors to choose from and you can wear jeans with EVERYTHING!! What is not to love about a great pair of denim bottoms? I'm always amazed by the prices that people will spend on a pair of jeans. I get it, some jeans are too perfect to pass up, but owning 10 or more pairs of $80 or more jeans seems a little much to me.
In the past, I've bought a lot of my jeans on clearance racks and I've often had to comprise comfort and quality for a good price. Ever since I started thrifting my jeans, I've been able to spend less and find great quality brands.

*This post contains affiliate links, which means by making a purchase through a link, I will earn a commission for this blog. Thank you for your support!
So here are my 3 reasons why I love thrifting my jeans…
1.) You can buy name brands, like Levi's, American Eagle and Abercrombie, but you don't have to pay the name brand price. They still have the same quality, they are just worn, which sometimes when you're talking about jeans, worn is best. Recently I've bought a pair of Hollister, Abercrombie and American Eagle jeans for under $5 and I honestly can't tell the difference between mine and the brand new ones in the store.
2.) You can alter your thrifted jeans to fit your style and not worry about messing them up. I love to distress my jeans myself. I like to take a picture of a pair of jeans I like from the store and then I try to recreate the distressed look myself. The jeans I'm wearing above were a Savers find of Abercrombie jeans. I was inspired by the Free People jeans
HERE
to create the bigger holes in the knees.
3.) They are guilt-free! Being a preschool teacher and a mom of a 2-year-old, expensive clothes don't fit my lifestyle. I love that I can wear my thrifted jeans to work and if one of the preschoolers walks past me with a paintbrush to the butt, it's no big deal.
Here are some of the jeans that I've thrifted over the last year. I tried to put the brand and the store they were thrifted from.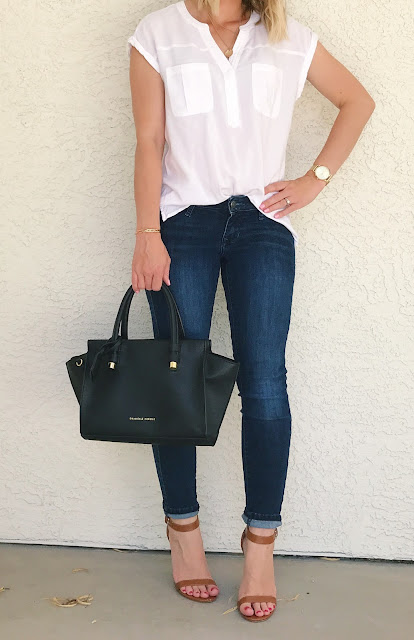 Old Navy- Savers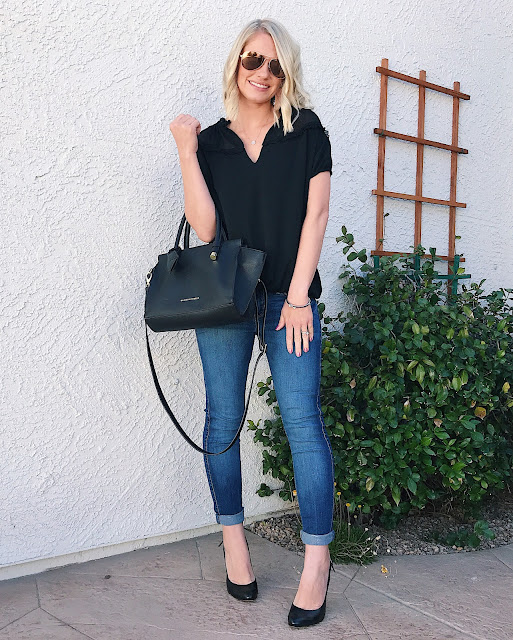 Hollister- Goodwill
Abercrombie- Savers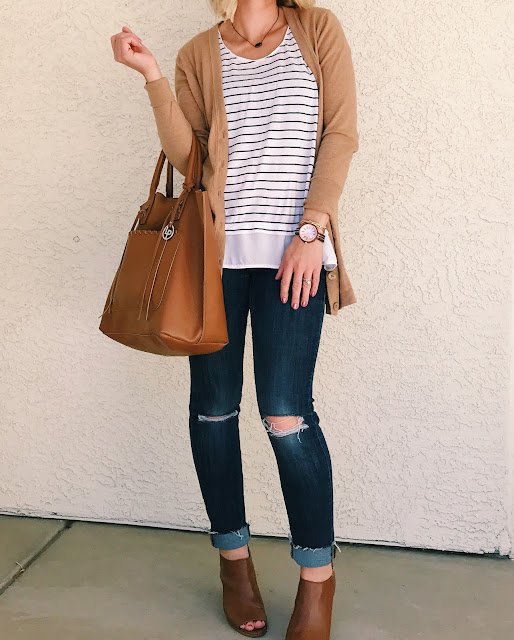 H&M- Goodwill
So there you have it. Those are 3 things I love about thrifting jeans. Have you ever tried thrifting for jeans? I challenge you to find a local thrift store in your area and look in the jean section. You have to give yourself plenty of time to look through the racks and try on all the jeans, but if you stick with it, I know you will find something that will fit your style.
Happy Shopping!!