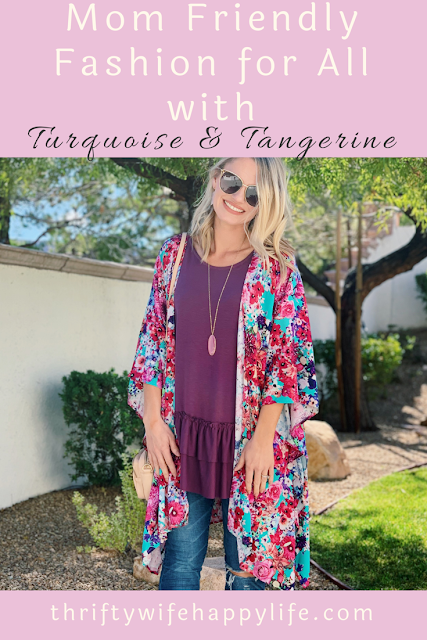 This post is part of a collaboration with Turquoise & Tangerine. All opinions are 100% my own.
I use to hear the word boutique and think of a small specialty store where the prices and styles were out of my league. I now hear the word boutiques and get excited. As a busy working mom, I do a lot of my shopping online. The days of going for a full day of shopping at the mall are over for me. I want to find affordable clothes fast, easy and online. That's why I've grown to love shopping at online boutiques.
Turquoise & Tangerine is one of those online boutiques that has made me want to explore shopping more often at small online shops. They sell affordable, trendy clothes that are made for all women. It doesn't matter your age, body shape or budget and I love that. The owner is a busy working mom herself, so she understands the importance of having a stress free shopping experience. Their clothes are comfortable and mom-friendly, but they don't sacrifice style.
Today I'm sharing 2 pieces that I was gifted from Turquoise & Tangerine. The first is this eggplant ruffle bottom tunic. I always love a good tunic. It's the perfect shirt to wear with leggings and a cardigan or you could dress it up for the classroom or a date night out. Plus this is a great year-round color. Below, I styled this top with my white jeans and my strappy sandals. I also styled it a bit more casual with my distressed jeans and wedge sandals.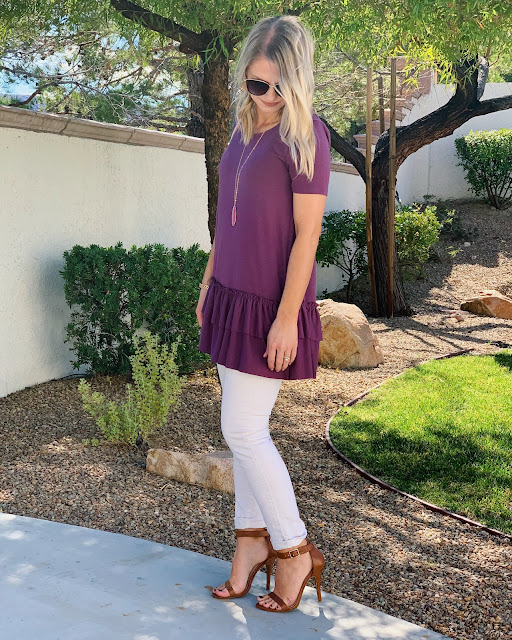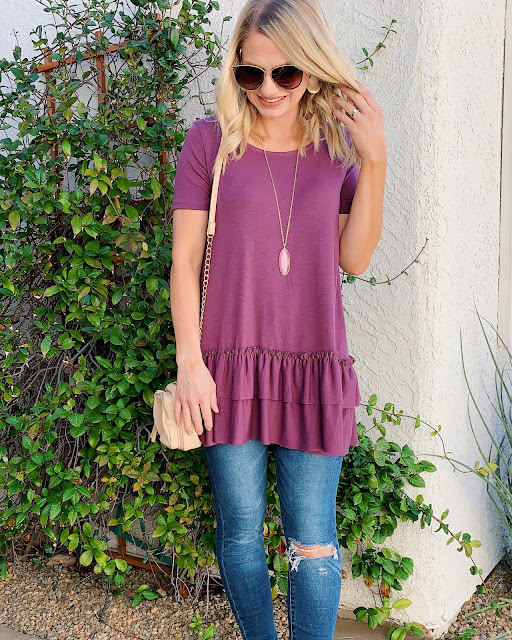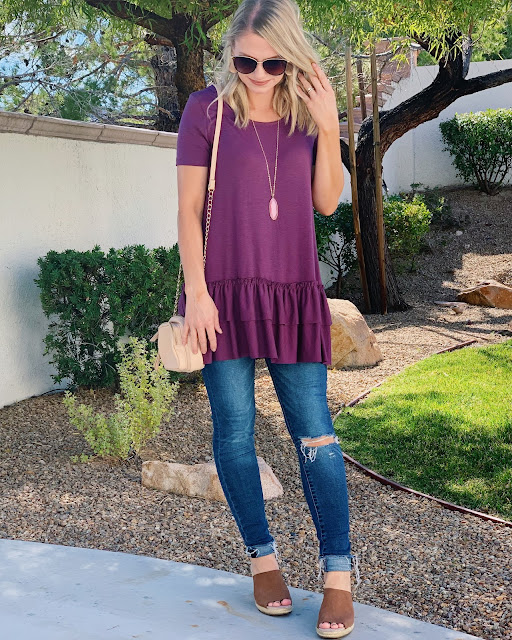 The other piece that I received from Turquoise & Tangerine was this
floral kimono
. I love kimono's in spring and summer. They are so versatile. You can wear them with jeans, dresses, shorts and they even make for a great bathing suit cover-up. Below I have this kimono styled with the outfit from above and I also styled it with a black tank top and my black strappy wedge sandals.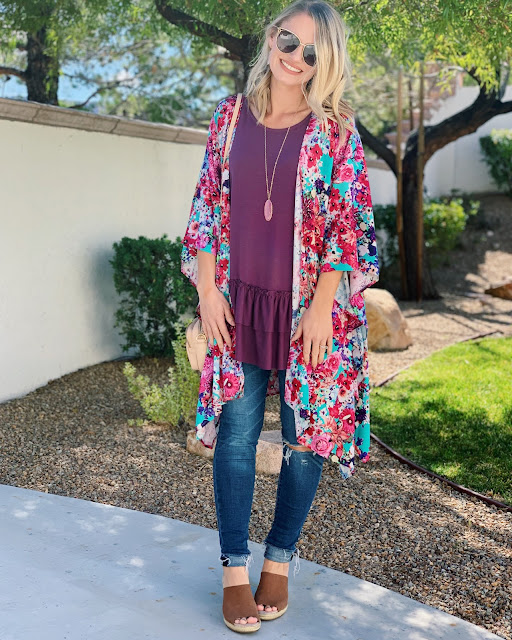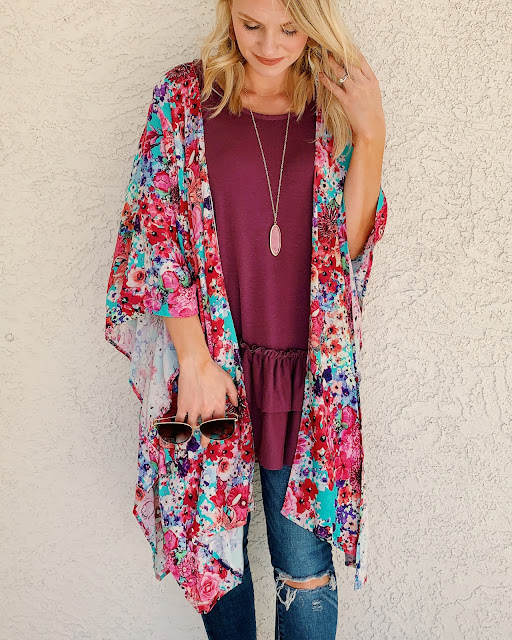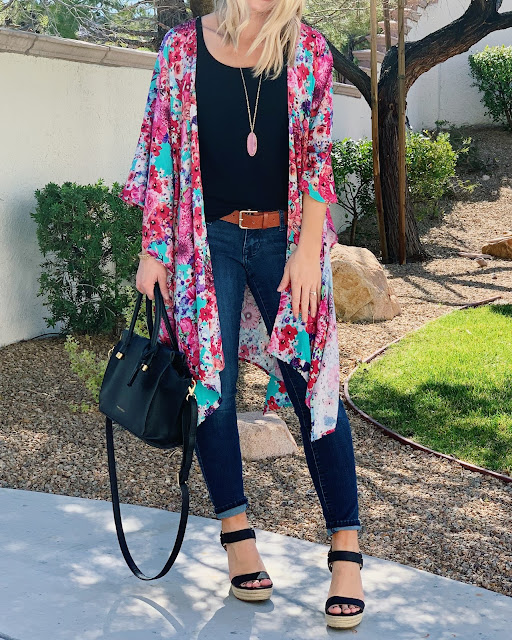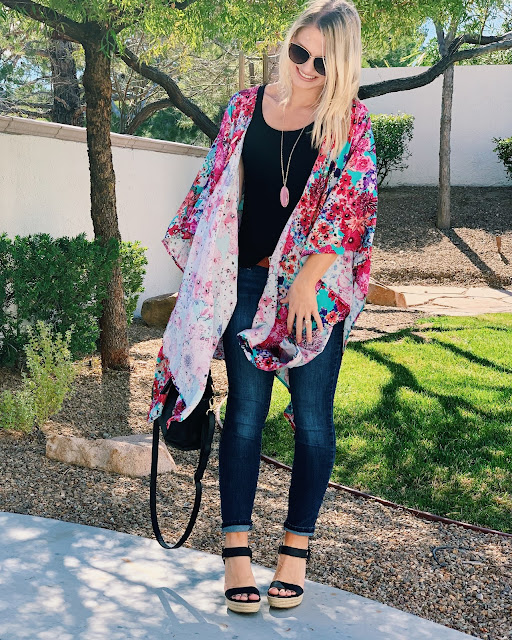 (It was a pretty windy day when I took these pictures so I couldn't resist this windy day picture.)
If you are looking for an easy shopping experience with casual trendy clothes, I highly recommend checking out Turquoise & Tangerine. I'm sure I'll be wearing these pieces in different ways all summer long, so follow along with me on Instagram to see how I wear them!
Shop my closet