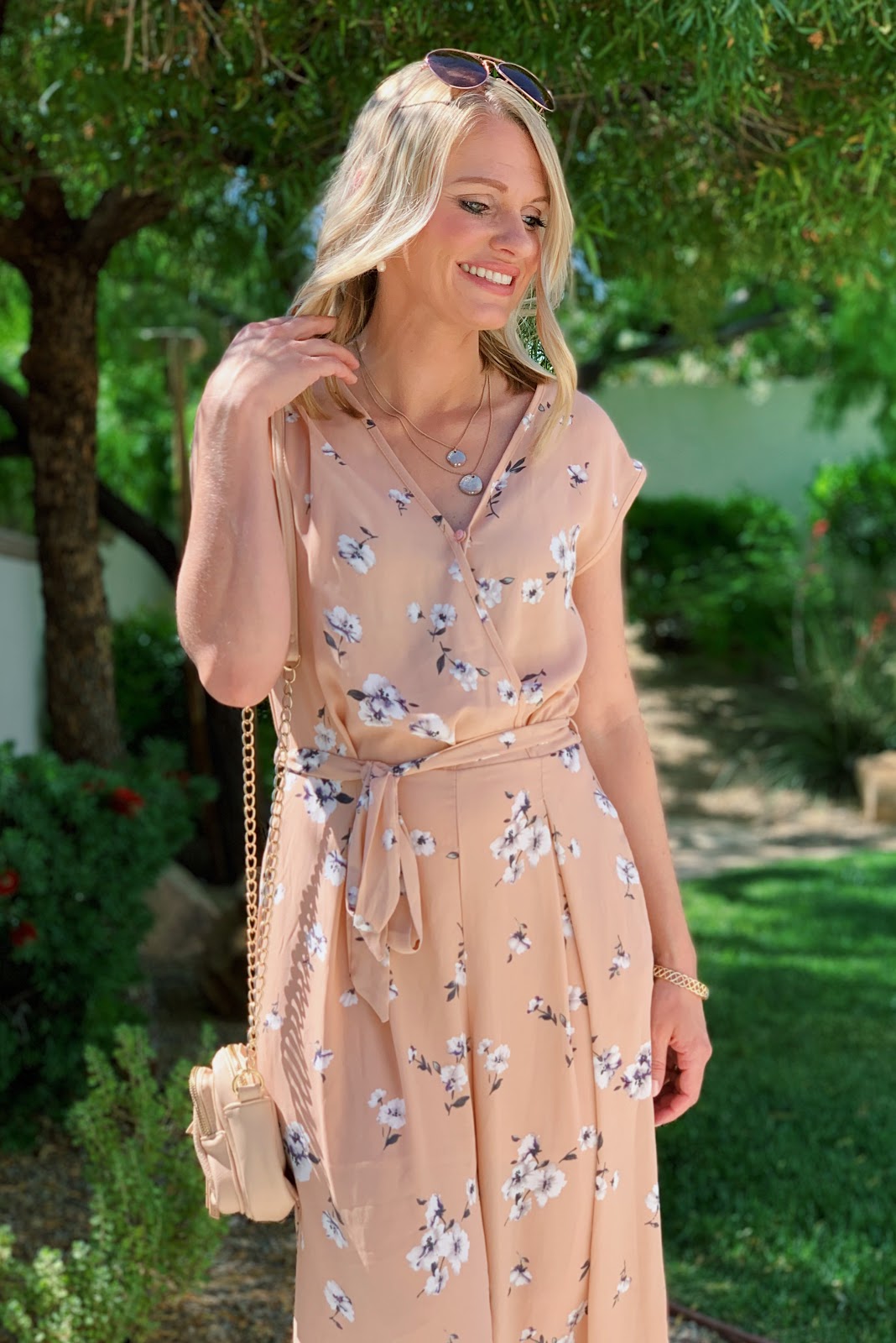 During the last 4 years, while living in Nevada, Savers has been my favorite thrift store to shop at.  They just have such a great selection and I always find the best deals.  Sadly my time in Nevada is up and Michigan does not have any Saver stores in the state.  I know I'll find other thrift stores there, but I will always miss my Savers.  I reached out to Savers this year because I had always wanted to work with them on a blog post.  Unfortunately, it was a little too late, but they did send me a care package for their campaign #neatish and a $20 gift card.  I was thrilled!  So a couple of weekends ago I did my final Savers trip.  I found 3 great pieces, but today I'm going to share my floral jumpsuit.
I'm not big on jumpsuits, because I have a hard time finding one that fits properly.  I'm short with a long torso, so my experience with trying on jumpsuits has been mostly negative.  However, I love the look of them on other people and I wanted to find one for myself.  When I found this floral jumpsuit at Savers, I knew I had to give it a try.  I always find that a thrift store is a perfect place to try a new trend that you're not sure about because you will pay less.  Trends like this come and go so quickly, so it's always nice when you don't have to pay a lot for it.  This jumpsuit was $9.99, which is the top of my thrift store budget, but I used my 20% off coupon and got it for around $7.  I never pay full price at the thrift store!!
I feel like this jumpsuit would be perfect for a spring shower, graduation party, first communion, Mother's Day, Easter…. really any dressy day event.  Since I don't have any big event plans this spring, I dressed it down for work and wore it with a denim jacket and flats last week (See it HERE), but for today's look, I styled it dressier with my strappy heel sandals.
I've linked some other affordable jumpsuits at the bottom of the post in case you want to jump on the jumpsuit bandwagon and try one out yourself!! Scroll down for all the details!
*This post contains affiliate links, which means by clicking on and/or making a purchase through a link, I will earn a commission for this blog. Thank you for your support!