How is everyone's second week of quarantine going?  It's funny because quarantine is probably a word I never used in my vocabulary. I especially never used it when I was writing, but now I feel like I'm writing it and saying it all the time.  It's not easy being stuck at home, but I do think there are worse things.  If all you have to do is stay home, homeschool your kids and work from home, then we should consider ourselves lucky.

*This post contains affiliate links, which means by clicking on and/or making a purchase through a link I will earn a commission for this blog.  Thank you for your support!
Quitting my job last year to be a stay-at-home-mom has definitely prepared me for this quarantine time.  Since I don't have an actual job to go to each day, my wardrobe got pretty casual this last year.  And as I've gone through my pregnancy, it's been extra comfortable.
Today I thought I would post a roundup of my favorite casual outfits that I've worn in the last 8 months or so.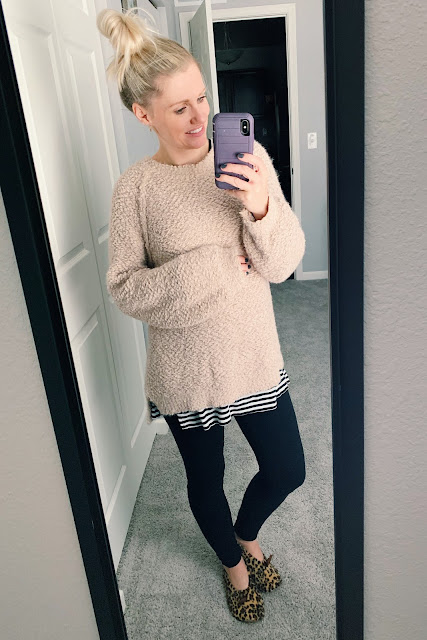 Top || Sweater || Leggings || Slippers
I have to say that after this quarantine is over and this baby is born I will be so excited to wear real clothes again, but until then I'm sticking with my cute, comfy, cozy outfits.
Katie🤍
Pin the post!!