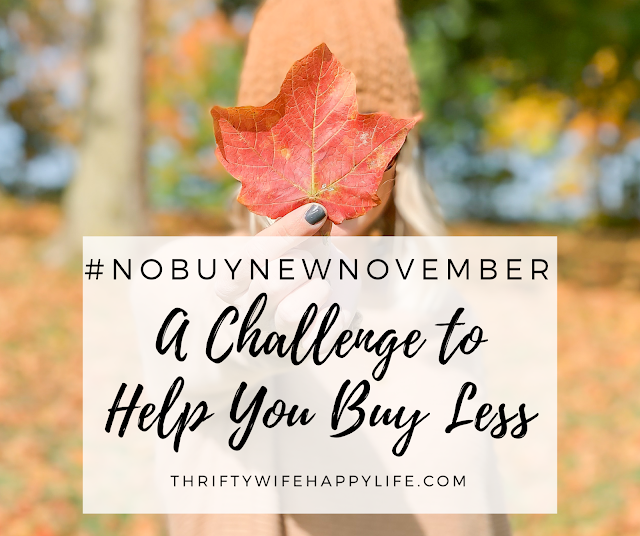 I shared last week over on Instagram that I want to do a challenge for the month of November.  For the entire month of November, I am not going to buy anything new for myself.  This includes; Clothes, shoes, and accessories.  Because I love to shop and I feel like it would be too difficult for me to completely cut myself off from shopping, I am going to allow myself to shop at only second-hand stores in November.  I'm going to use the hashtag #nobuynewnovember when I share my outfits on Instagram and I'd love it if you would join me!
*This post contains affiliate links!
Why do a #nobuynewnovember challenge?
My reasoning behind this challenge is because ever since Anna was born this summer I've been doing a lot of shopping for myself.  Of course I always thrift shop, but most of my purchases have been from stores like Old Navy, Target, and Amazon.  Even though I love those stores and they have some great prices, I feel like I need to get back into shopping my closet more and shopping second hand.  Because of the money I make through blogging, it's a little easier these days to press the purchase button when I'm online browsing at 5 am and feeding the baby.  I just feel like I need to take a step back and see what I actually need.
Why are you allowing second-hand shopping?
I'm not ashamed to say it, I love to shop, especially for myself.  Thrift shopping has always been a way for me to shop for myself, but not spend a lot of money.   I also like that thrift shopping is better for the environment.  I've read a lot about the pollution that the fashion industry causes and although it's not going to stop me from shopping at my favorite "fast fashion" retailers, it does make me want to be mindful of all my purchase that I make.  I don't buy a shirt in 10 different colors just because I like it and I don't have 50 pairs of jeans.  I try to make sure that all my purchases are well thought out to avoid excess.  With all my "new" purchases, it makes me want to get back to my roots and stay true to my name as Thrifty Wife.
Saving money
Another reason why I want to do this challenge this month is that I know finances are tight right now for many people.  2020 has been a hard year for everyone.  Many people have lost their jobs or had hours cut. I always try to be sensitive to that when I'm sharing clothes and outfits on my blog and over on Instagram.  With the holiday season right around the corner, I figure that it's the perfect time to cut back my spending on myself and focus on the other people in my life that I want to buy gifts for.  Cutting back on shopping and only buying second hand will free up some spending that I plan to do over the holidays for my family.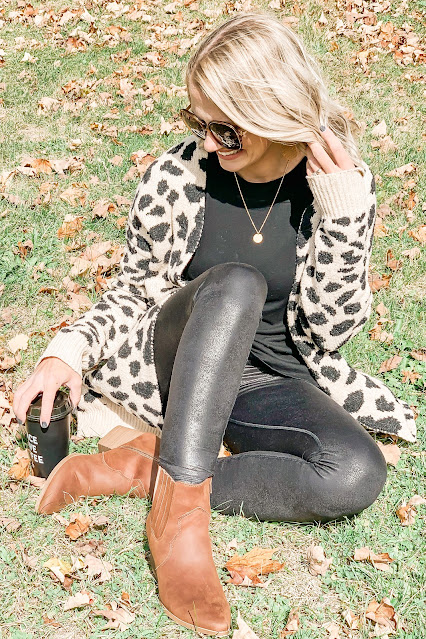 Rules for #nobuynewnovember
The rules for this challenge are pretty simple.  Shop your closet, if you get the urge to shop, shop second-hand.  If you like, share your outfits over on Instagram and use the hashtag #nobuynewnovember.  I will share your posts on my stories throughout the month.  This is something that I want to do for myself, so I understand if not everyone wants to participate, but it will hold me accountable for myself if I share it with all of you.
The only thing is that I do get clothes gifted to me at times.  I have a couple different sponsored posts coming up with some brands that I am very excited to share.  I will be sharing a few new things here and there, but just remember that those are not clothes that I have purchased with my own money.  They are gifted to me and I'm earning money from them.  I don't want to turn down opportunities like that because I'm trying not to buy anything new.  I'm trying to buy less, so in that case, I'm not buying anything.  I will also still be linking everything to my LiketoKnow.it.  Not everyone will be participating in my challenge, so I always like to have those links available.  I also have a few try-ons that I plan to do along with shopping guides, but just remember that I will not be purchasing everything I share.
Anyway, this is just a personal challenge for myself to buy less new clothes for me, but I think it would be fun to have a few of you to join in with me.  Leave me a message in my comments if you plan to participate in #nobuynewnovember!  I'd love to have your support!
Katie🤍
Pin the post and spread the word!!