I've been loving pleated skirts lately.  A few months ago I found this yellow pleated skirt at ThredUP and I've been dying to share it on the blog.  I'm also dying to actually wear it somewhere.  I think that it would be the perfect teacher skirt.  It makes me want to go out and get a new teaching job just so I can wear this skirt.  But since I'm not going to actually do that, I guess I will share it with all of you incase you are looking for a little work wear inspiration. 
I love the golden yellow color.  It's a really fun color to have in your wardrobe because it can brighten up any outfit.  I often wear yellow when I'm trying to add a pop of color to my boring winter outfits.  I've even shared a blog post in the past wear I styled my yellow t-shirt (HERE).  I always like to wear yellow with navy blue or denim.  I also love to wear it with black and white.
Here are some outfit ideas below wearing this skirt that would be perfect for the classroom, office or where ever you might want to dress up.
*This post contains affiliate links.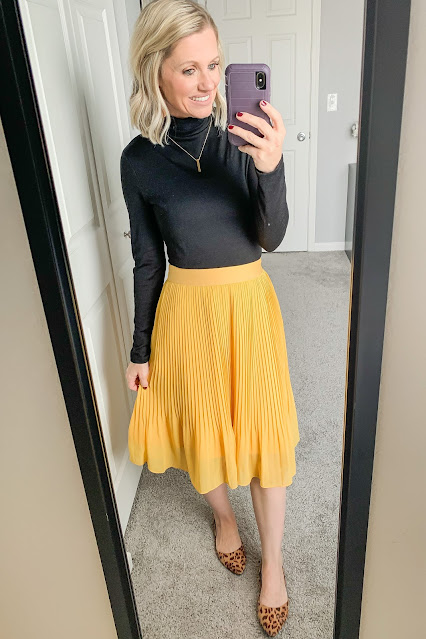 Use my referral link (HERE) at ThredUP and you can get $10 off your first purchase!
Do you like to add color to your wardrobe??  If so, what is your favorite color to wear when you want to add a pop of color into your wardrobe?

Don't forget to pin the post for later!