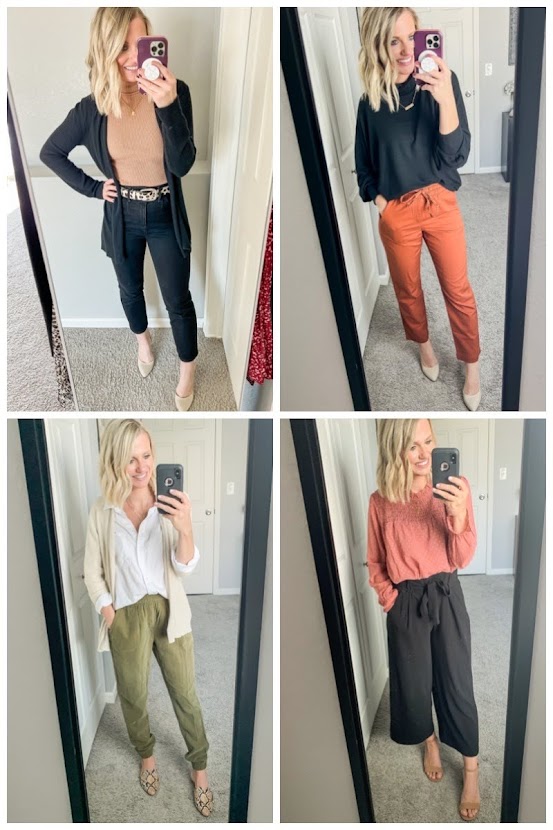 I recently realized that there was something that was missing in my wardrobe and that was a classic pair of black work/dress pants. I don't really have the need for a pair of dress pants. It doesn't fit the needs of my lifestyle, but it is an important wardrobe piece. You never know when you might need to dress professionally for something. That's why I started the hunt for a good pair of black dress pants a few months ago and guess what? I found nothing!!
*This post contains affiliate links.
I had an idea in my mind of what I wanted. Something comfortable, something with a cropped pant leg and something high-waisted. I went to so many different stores and what I found was that they either didn't have my size or the pants they had were extremely uncomfortable. They were all made with a horrible thick polyester material that didn't stretch. I was so discouraged at the mainstream retailers I usually shop at so I decided to find a pair at the thrift store. Their selections were even worst. Everything has a super low-rise and I kept running into the same issues with the uncomfortable material.
I wouldn't say that my shopping adventure was a total loss because I did end up finding some cute comfortable dress pants. The pants that I found aren't actually considered "dress pants", but they could definitely be worn in a business casual office environment. Even better, they can also be worn in a home office environment. Or in my case, a stay-at-home/work-from-home environment.
Today I want to share the pants that I found in my search and also some pants that I already had in my wardrobe that I qualify as comfy work pants.
These supersoft high-waisted jeans from Express are so comfortable. I actually wear them around the house and they feel like I have on leggings. They are very high-waisted, which I am a fan of because they keep everything sucked in. They are also very soft on the inside and outside. These pants give me more of a black dress pants feel, rather than a jean feel, so they could easily be considered work dress pants.

These easy pull-on pants from Gap Factory are another comfortable work pant option. I love that they have a drawstring. They have a dressy feel to them, but the drawstring waist makes them feel like you are wearing some cozy sweatpants. They currently have these pants in stock in blue, black, and green. I am considering getting them in another color!

I bought these
green joggers
at
Old Navy
in the fall and they are the perfect pair of joggers to dress up. When paired with a button-down shirt or nice sweater they can look professional enough for a business casual work dress code, but they are also very comfortable which makes them the perfect pair of work-from-home pants. I shared some outfits with these pants last year and you can see them all in my post:
How to Style Dressy Joggers

Wide-leg pants
I love wide-leg pants because they are always so comfortable. I prefer a cropped leg because I am short and I find that the cropped look fits my body type best, however, I do have a longer pair that I like to wear as well. (See them in my post:
Trends to Try- Paper Bag Pants
I love this Zara pair that I found at Goodwill a few years ago. They are the perfect pant to wear to work, but also great to wear at home.

Don't forget to pin the post for later!