I thought it would be fun to start a "what I wore" weekly blog post. Wednesday, as we all know, in the middle of the week. It's the day that makes us believe the weekend is right around the corner. You need to keep the week going strong and what better way to do that than putting a cute outfit together.
I think that looking good and feeling good go hand and hand. I've had those mornings, like everyone else, where I just don't care. I just want to make it through the day, so I throw my barely dry hair up in a ponytail, put on whatever I pull from my drawer and do the bare minimum makeup. In the past, when I have done this my day ends up going the same way it started. I end up not caring and not doing the best job I can do at work. I spend 40+ hours a week at my job. That's a lot of time and I want to feel good when I'm there. I want to feel confident and professional. Honestly, I think the way you present yourself reflects on the kind of person you are. Especially in the workplace, no matter where you work. Would you not care about your appearance when you go to a job interview?
Trust me, I don't have a very glamorous job. I am an infant teacher at a child care center, so finding something to wear to work involves, finding something that's appropriate, cute, comfortable and something I don't mind getting the occasional spit upon. That's not going to stop me from putting together something cute.
So here is my Wednesday outfit. The dress code at my work is no jeans except for Fridays.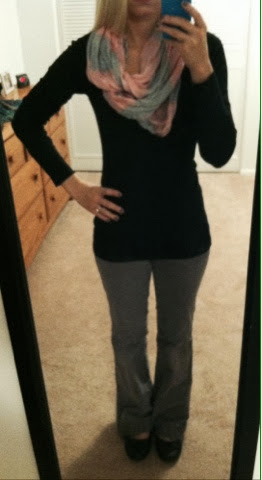 Grey khaki- Old Navy
Black long sleeve shirt- Old Navy
Pink and grey infinity scarf- Five Below
Black flats- Target
It's casual, comfortable and of course affordable. I make sure to designated my work clothes as "work only" clothes. This means I can wear them around babies, without being afraid to get paint, baby food or anything else that might come out of my little friends.
I hope to keep up with this post and continue to find cute work outfits to share.
Happy Wednesday! Friday is almost here!