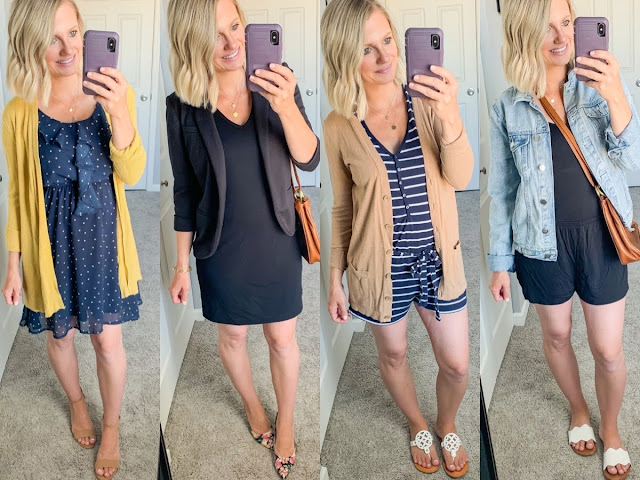 *This post is sponsored by Goodwill of Greater Grand Rapids.  All opinions are 100% my own.  This post also contains affiliate links, which means by making a purchase through a link, I will earn a commission for this blog.  Thank you for your support!
As you already know, I'm a lover of thrift shopping.  I love the hunt and the feeling I get when I find the perfect piece for me at the perfect price.  It gives me goosebumps. Well, my thrift shopping days have been on hold for the last couple of months ever since Coronavirus showed up.  Way back in early March, late February I was in contact with
Goodwill of Greater Grand Rapids
on doing a sponsored post with them.  My plan was to share how you can find affordable maternity outfits at Goodwill.  Well, that idea fell through because by the time stores opened back up here in Michigan, I wasn't pregnant anymore.  That's why today, I'm still going to do my post, but this time it's going to be about thrifting the perfect postpartum clothes at Goodwill.
After you have a baby, your body isn't always back to the size it was pre-baby.  It takes some time, so many of your pre-baby clothes may not fit.  What I'm finding is that not only are my pre-baby clothes not fitting, but many of the ones that fit aren't nursing-friendly.  Because I'm breastfeeding, I need clothes that I can easily feed my baby in without having to take everything off.  Because having a new baby is already a huge experience with hospital bills, diapers and everything else, you may not want to be spending too much money shopping for new clothes for yourself.  That's why Goodwill is a great place to do your post-baby shopping.
I found 4 different pieces at my local Goodwill store that I'm sharing today.  The first 2 dresses are perfect for heading back to work and the other 2 rompers are great to wear on the weekends or just around the house.
Work Outfits
Let's start with the work outfits.  I remember when I went back to work only 7 weeks after my son was born, I was still feeling very postpartum.  I wanted to stay comfortable and it was also important for me to have something easy to pump in.  I took 3 pumping breaks outside of my classroom, so I needed something that was quick and easy to pull down, pump, and then get back to my kiddo's in the classroom.  Here are some work looks that would be perfect if you're a teacher or you work in an office.
Navy Polka Dot Dress
I feel in love with this dress when I saw it.  I love how flowy and feminine it is.  The navy with white polka dots is such a classic look.  I paired it on its own with my nude block heel sandals.  I also added my yellow cardigan to the look.  I always love the yellow and navy combination.  I also switched in my platform espadrilles with a denim jacket for a more casual office look.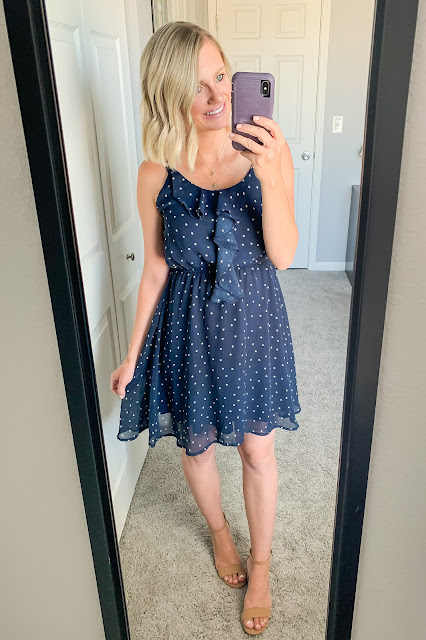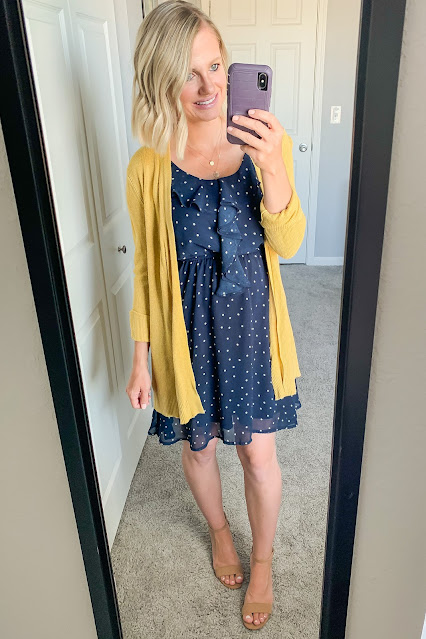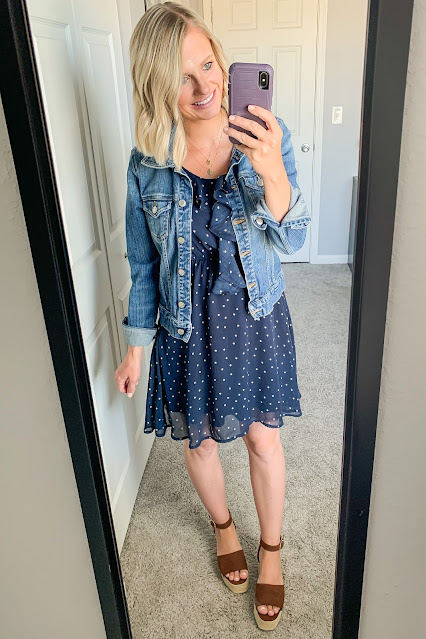 Little Black Dress
This little black dress has to be one of my favorite black dresses I've ever owned and that's saying a lot because I own a lot of black dresses.  I love the cut of the dress.  It's fitted, but not too tight around my midsection.  It's also stretchy, so the sleeves pull down easily for pumping and nursing.  I also found a couple accessories at Goodwill, so I paired it with this cognac leather purse and these floral Nine West statement pumps.  I added a blazer to the look to give it a layering piece good for work.  I also styled the dress again with a denim jacket and my leopard block heel sandals.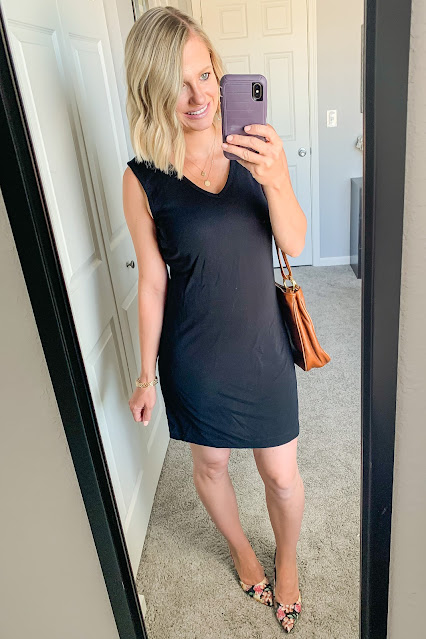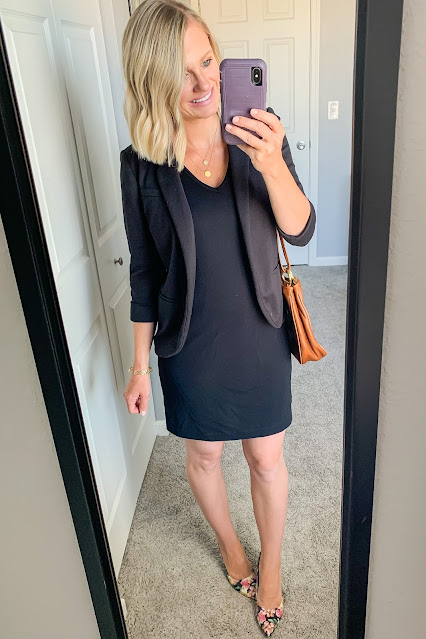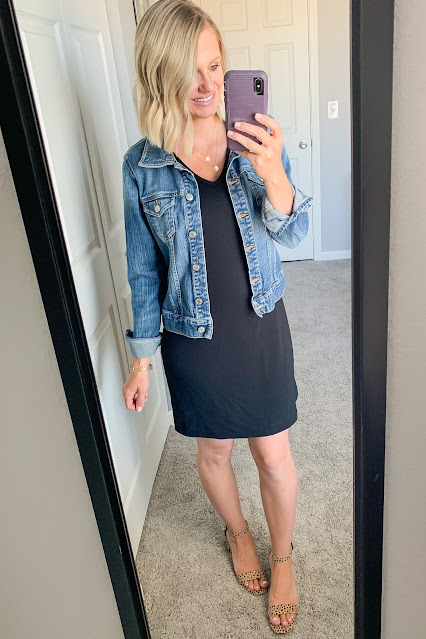 Home Outfits
These next looks are perfect for the weekend or great outfits if you're a stay at home mom.  I have been wearing rompers almost every day ever since I've been home from the hospital.  They are just so comfortable and easy to nurse in.
Black Cotton Romper
This little black H&M romper is perfect to wear after you have a baby.  It's lightweight and comfortable, perfect to wear to the park or even over a bathing suit at the beach.  I styled it with some sandals, a hat, and my cognac purse (even though I haven't been using my purse lately, only my diaper bag.)  The second look I added my light wash denim jacket and my white slides.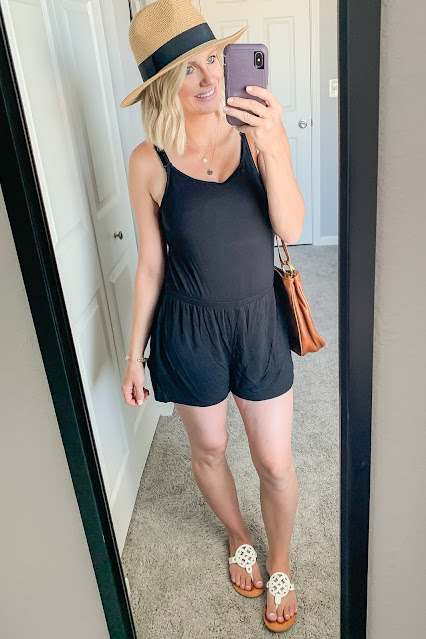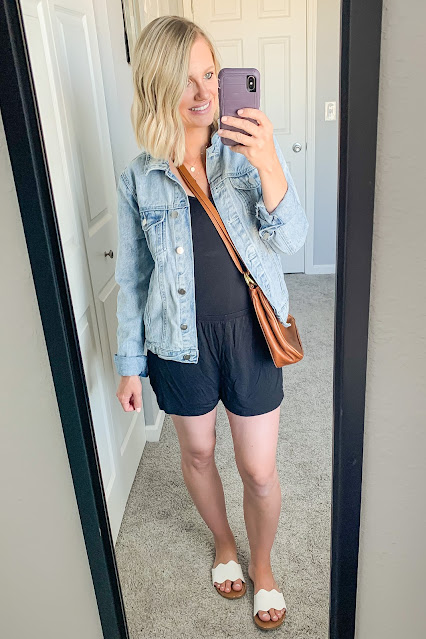 Navy Striped Romper
Can you ever have too many stripes??  The answer is no!  This is another cute romper that is perfect for everyday mom life.  The first look I styled with some slides and a hat.  The second look I added a cardigan and my sandals.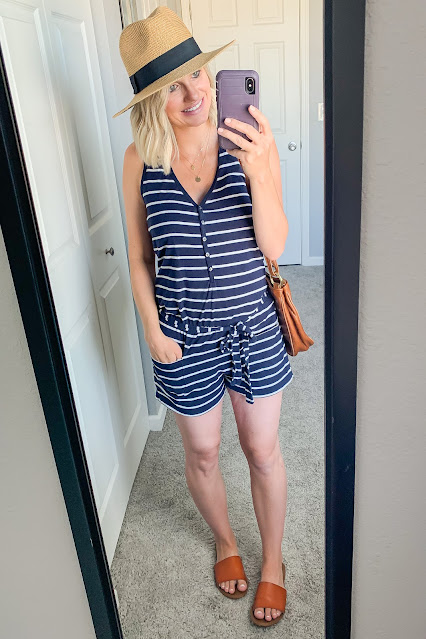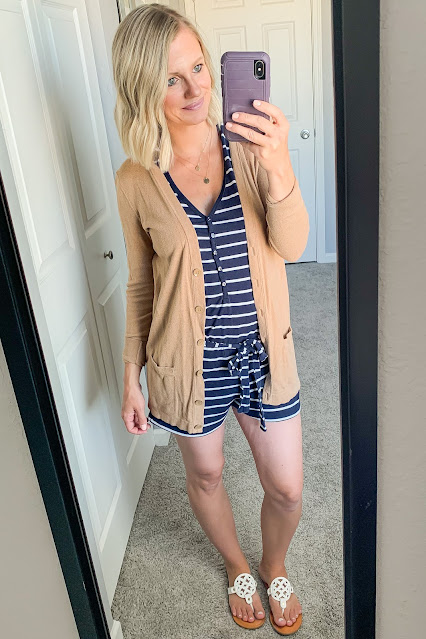 Thank you to
Goodwill of Greater Grand Rapids
for sponsoring this posts.  If you haven't already, I highly recommend checking out your local Goodwill.  You never know what you can find.
Shop my post!

Katie🤍