Like I have said before, it is not always easy to go shopping on a small budget. It takes a lot of discipline. One thing that I find helpful, is to plan ahead before I buy. I like to do my research first and find items that I will actually get good use out of. I try to keep an ongoing list of items that I want to buy eventually. Sometimes my list changes, but I usually keep it on hand with me at all times. This way I know what I'm looking for. I try not to buy things I don't need. Having a list helps me avoid buyers' remorse.
I start my research by looking at Pinterest. Pinterest is a great way to keep up with the latest fashion trends. I pin looks that I think are cute and I would actually wear, but a lot of times the clothes I pin are too expensive for my budget. What I like to do is keep an eye out for cheaper options. I usually look around on the internet first to price things out. I don't usually buy online, because I prefer to see it in person. I like to try things on and touch it before I buy it, but that's just me. After I have an idea of how much I want to pay for something, then I can look in the stores. Sometimes I can find something right away, other times it takes me months. It took me all summer to finally find a maxi skirt that I liked.
Here is an example of how I used a Pinterest idea and found an affordable option…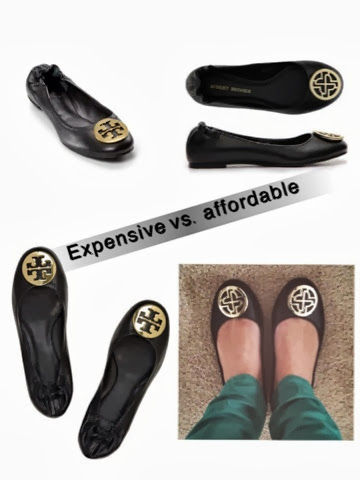 I am obsessed with Tory Burch flats. They're so cute for everyday shoes. Well, I can't spend $200 on a pair of flats. So, I had to keep my eyes open for something similar, that was also affordable. I got lucky. At DSW, I found a pair of Audrey Brooke flats. They look very similar to the Tory Burch flats I wanted. They were originally sold for $100 at the department store, but at DSW they were marked at $59.95. Well, I found them on the clearance rack for 40% off. I also used a coupon and ended up paying $32.83 with tax. I wear them all the time and love them! No buyers remorse here.