If you've ever been married or had a baby, you know how fun it is to register for gifts. Who doesn't like picking out their own gifts and being showered with them?
I recently registered for my baby shower. With all my experience working with infants and young children, I never thought that I would have any problem putting together a baby registry for my own child. Well, I was wrong. It's really hard figuring out exactly what you'll need for your little one when they arrive. I really wanted to just stick to the basics, but what are the basics exactly? Of course, there are a lot of resources out there when trying to figure out what to add to your baby registry. I read lots of blogs, watched YouTube reviews and of course talked with my friends who have little ones, but when it really comes down to it, it's your decision on what to put on that registry. I think I've done a pretty good job of sticking to the basic needs of a baby, but I won't know for sure until he arrives.
Before you start picking out your baby gear, you have the decision of where to register. For me, all my family and friends live out of state, so I wanted someplace with good shipping prices and a decent website. I ended up going with
Babies R Us
and
Target
. I thought about Amazon, but I decided that I wanted to go to the actual store and see some of the baby gear for myself. Of course, being the frugal person I am, I wanted to pick out the best baby gear for the best price.
My first stop for registering was Babies R Us. Since it's a store dedicated to babies, it's definitely a great place to find some great baby gear. Not to mention, you are signed up for their rewards program automatically and anything not purchased on your registry, you automatically get 10% off, which will definitely be helpful after the baby comes when we figure out exactly what he will need. One other thing that I liked about Babies R Us is that they will price match other stores like Wal-Mart and Amazon, so you will always be able to find the best price.
Here is the little freebie gift bag you receive when registering with Babies R Us.
Pampers diapers and wipes with a $5 coupon
Lansinoh breastmilk storage bags sample
Chicco natural fit pacifier
$20 off Tiny Prints
$20 off Shutterfly
$5 off $25 or more at Babies R Us
I wasn't planning on registering at two stores, but since I'm such a huge fan of Target, I couldn't pass it up. I actually like some of their nursery furniture a lot more than the other stores. Plus they have some really cute baby stuff. Just like Babies R Us, Target also offers a discount on any non-purchased items from your registry.
Here is a picture of the Target freebie gift bag. I really liked this one because it was filled with samples and coupons for baby and mommy too!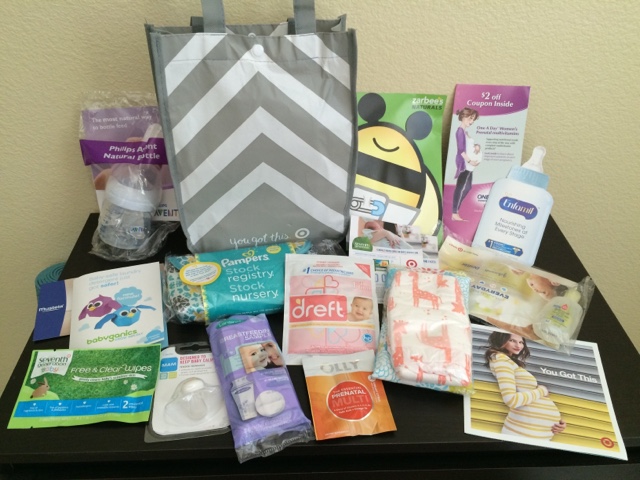 Pampers Diaper and wipe sample with a $5 coupon

The Honest Co. Diaper and wipe sample with a $25 off $50 coupon

Mam newborn pacifier

Philips Agent 4 oz bottle

Lansinoh breastmilk storage bags and nursing pad samples

Seventh Generation Baby Free and Clear wipes sample

Dreft laundry detergent sample

Olly prenatal vitamin sample with a $2 off coupon

Johnson baby head to toe wash sample with a coupon book

Babyganics 3x laundry detergent with $1.50 off coupon

Zarbee's natural baby vitamin samples with coupons

Enfamil formula coupons

Seventh Generation diaper and wipe coupons

One a Day prenatal vitamin $2 off coupon

Target 10% off nursing bra and 15% off maternity apparel coupon

Not to mention all that comes in a cute grey chevron reusable bag
The great thing about getting all these free samples is that first-time moms like myself, who are a little clueless when it comes to baby products, get a chance to test out products and find out exactly what works for them and their baby. I can't wait until he's here and we can start getting to know each other and start using all our new baby supplies! I'll have to follow up with this post after he's born and share what my favorite baby products end up being. Until then, I'll just have to keep reading up on baby stuff and preparing myself for this little guy.