Lately, I've been in the mood for salmon. I love salmon! There are so many different ways that you can make a salmon dish. Ever since we got rid of cable, I've been watching a lot of cooking shows on the local stations. I am obsessed with the
Live Well Network
. There is this one cooking show I really like, called
Mexico: One Plate At A Time
.
Rick Bayless
is the host of the show. He is always making the most delicious looking Mexican dishes. I've been watching him make all kinds of salsas. I love unique salsas, with different flavors. I wanted to somehow combine my salmon and salsa craving, so that's when I headed to Pinterest for some inspiration. That's where I got the idea to make Salmon with a Pineapple Avocado Salsa.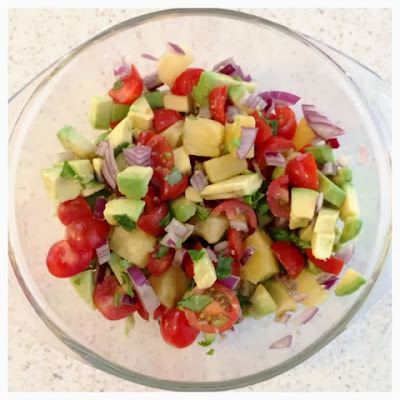 I started off by making my salsa.
Salsa Ingredients: 
1 avocado
1 cup of grape tomatoes
1 small red onion
1/2 cup of chopped pineapples
2 Tbs of cilantro
1 Tbs lemon juice
Salt and pepper
Just dice it all up and mix it together in a bowl.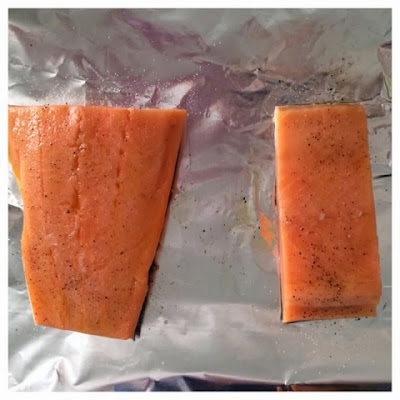 I preheated my oven to 400 degrees and placed the salmon on a baking sheet. Then, I dripped a little bit of olive oil over the top and seasoned with Morton's Seasoning. (If you don't have Morton's Seasoning, you can just use some salt and pepper.) Lastly, I placed the fish in the oven and cooked it for 20 minutes.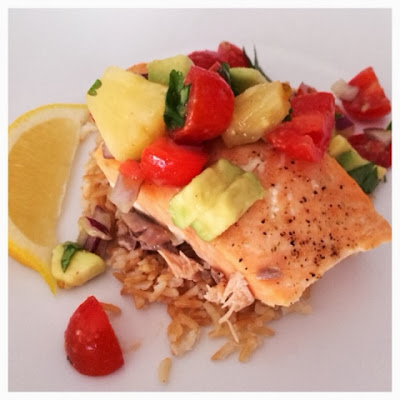 After the salmon was cooked, I placed the salmon on a bed of brown rice and topped it with the salsa. It was delicious! This would be a great summer meal. It's super light, but still filling!
Oh yeah, I almost forgot to mention how I saved money on this meal.
To start, the vegetables I used were all on sale. When I buy produce, I always try to get smaller portions, because it's usually priced by the pound. I'm only cooking for 2 people, so there is no need to buy too much. Another thing I did with this recipe to save, was using canned pineapple, instead of fresh. I would have preferred fresh pineapple, but they weren't on sale and I couldn't bring myself to spend $5 on fruit. Lastly, I used frozen salmon, because it was on sale, and it was a bigger portion, so I did get 2 meals out of it. It's little things like this that will help keep your grocery bill down when planning to make a meal.
I hope you get a chance to try this recipe. It's healthy and yummy 🙂