I post a lot of my work outfits from the weekdays, but I don't post many of my weekend outfits. The weekends are my days to play catch up. I usually run errands and spend time at home, so I like to be comfortable and casual, but still look cute. So here is my grocery store, errand running, casual Saturday look.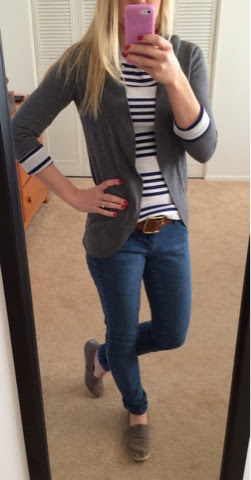 Striped Shirt- Old Navy
Skinny Jeans- Old Navy
Sweater- Target
Belt- Old Navy
Shoes- Toms- Nordstrom
Causal and comfortable, does not have to mean frumpy. How do you dress on the weekends?