About a month ago I wrote a post on how I was on a hunt for some new shoes to add to my closet. I was looking for a pair of nude-colored pumps, similar to the L.K Bennett shoes that Kate Middleton is always wearing. I have been doing a lot of research on these shoes. I wanted to find a cute, stylish, comfortable shoe that was also in my price range. I looked everywhere that you might think to search for cheap shoes.
Amazon
,
Target
,
Kohls
,
Payless
,
DSW
, clearance rooms in department stores and even thrift stores. What I found was… it is extremely difficult to find any pair of shoes for under $30. I know that $30 is really not a lot of money for a pair of shoes, but still, I wanted something for an even lower price. Either way, I ended up settling with $30 as my max price of what I was willing to spend for my shoes.
I ended up finding a few cute pairs of shoes that I was interested in at DSW. They had a pretty decent selection, but the only downside was that the cheapest pair of shoes I could find was $39.99. I ended up getting a $10 off coupon this past week in my e-mail, so I was pretty set on buying the shoes from DSW. Just when I thought I had made my decision, I checked my Target mobile coupons on my iPhone. I had a $5 off $30 shoe purchase at Target. I really couldn't pass up the price of $25.
Here is my biggest dilemma when it comes to discount shopping. I like to shop at stores like DSW, TJ Maxx and Marshall's because they sell all of the brands that you can buy at the department stores for less money. Target is its own brand and when given the choice, I'd rather buy the more expensive brand for less, then the Target brand for the same price. I feel like I'm getting a better quality of a product. In this situation I ended up going with the Target shoes, and here is why… I think Target has great quality products. I spend a lot of money at Target, so I would know. Some of my favorite shoes are from Target. They seem to hold up very well over time and more importantly… they are extremely comfortable. I've bought the more expensive name brands in the past and they kill my feet, so why not go for the discount store like Target?
So what do you think? Do they look like Kate Middleton's
L.K. Bennett Shoes
? I have to say that they're not a bad match for $25.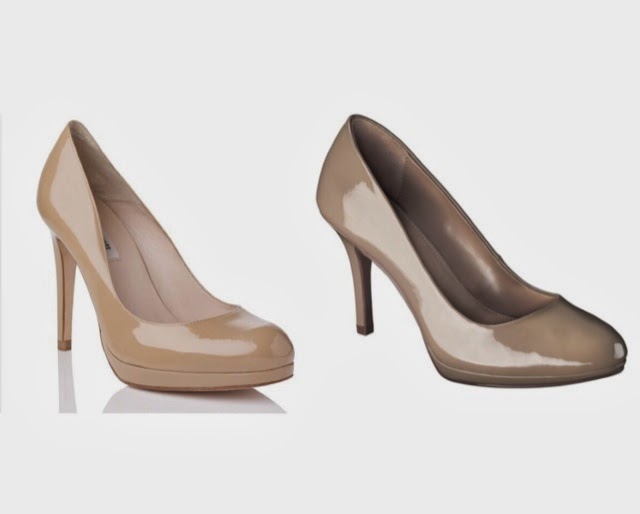 I love my new shoes! If you're looking for new shoes, but don't want to spend a lot of money, I suggest you check out
Target.