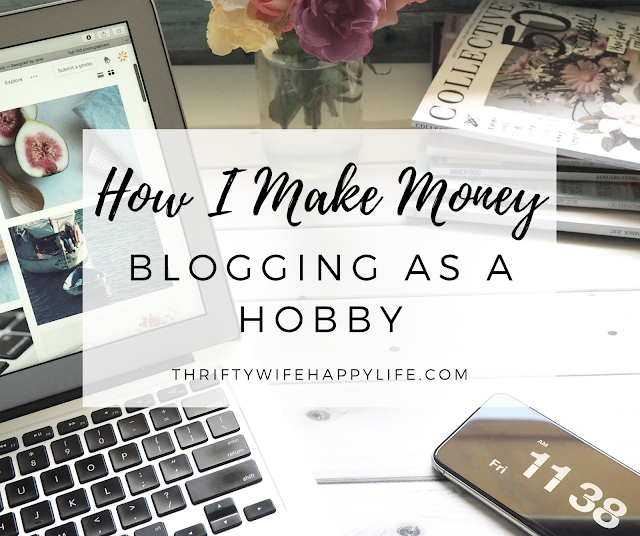 I often get asked if I make money from my blog.  The answer is yes!  I do make money from blogging.  Do I make a lot of money from blogging?  No!  I don't make anywhere near enough money to consider it an a full-time or even part-time income, but I'm okay with that.  The truth is,  I never set out to make money from blogging so the little bit of money that I do make from it is just an added bonus.  I'm not an expert on making money from blogging because it's something that is still so new to me.  There are so many different ways that bloggers make money and I don't feel comfortable writing a "how to make money" blog post on the topic.  If you want to learn exactly how you can monetize your blog there are a million blog posts out there written about affiliate marketing, sponsored posts, ads, and however else bloggers make money.  Just google it!  I do want to share my story of how I started a blog as a hobby and turned it into a fun way to make a little extra bonus money on the side.
*This post contains affiliate links.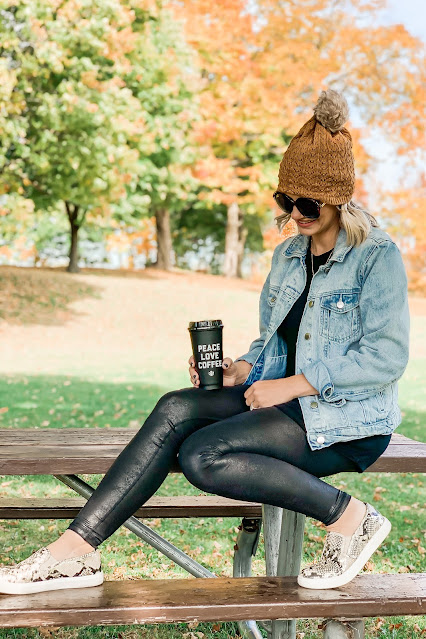 My Story
Let's start at the beginning.  One day I decided that I wanted to start a blog, so I just did it.  (You can read a little more about that HERE.) I did little research on it and I had no idea that people were making money from blogging.  I always thought that the only people who could make money from a blog were famous people like Lauren Conrad or one of the Kardashians.  It never struck me that the other blogs I liked following were just regular people and they were earning money from their blogs.  It wasn't until PinkBlush reached out to me and asked me if I wanted to do a blog post and giveaway with them.  In exchange, they said I could pick out anything on their website that I wanted.  I couldn't believe it! At the time I probably had under 500 followers on Instagram and I couldn't believe that a brand like that wanted to work with me and give me free clothes.  It was something that I had never even thought of.  After that, I really started to look into monetizing my blog and see if I could make some money from my little hobby.
After looking into it more, I learned that my first step to monetizing my blog was to add affiliate links into my blog posts.  I was already linking my clothes in my posts, I didn't realize that I could have been earning money from the links that I posted.  I signed up for a couple different affiliate programs.   At first, I wasn't making any money.  I signed up for ShopStyle Collective early on, which is a pay-per-click affiliate program, which means you get paid a few cents every time someone clicks on your links in your blog posts.  It took me well over a year to make a $100 paycheck from that.  I wanted to find something that was a little more profitable, so I applied to RewardStyle.  RewardStyle is very similar to ShopStyle Collective, but instead of getting paid per click, you get paid commission based on sales.  Both affiliate programs have almost any retailer you can think of apart of their program, so it makes it easy to link almost anything in your blog posts.  I had always heard that RewardStyle was a little more selective with who they accepted into their program, so I was always afraid to apply.  Once I felt like I was at a point where I was putting out decent enough content, I applied and was accepted right away.  It took a while, but I found that RewardStyle was more profitable for me.  I am a smaller blogger, so it's hard to get a lot of clicks on my posts.  RewardStyle is also apart of the LiketoKnow.it app, so that has made it easier to monetize my Instagram and other social media pages. I'm still apart of other affiliate sales programs, but I find it easier for me to narrow it down to use one or two programs, rather than a bunch.
Besides affiliate programs, I have also worked with a lot of brands over the last few years.  I've done both paid sponsored posts and product exchange sponsored posts.  I really enjoy doing sponsored posts and working with brands because it's a fun way for me to try out new products and I get to share them with my audience.  I try to be picky with the brands that I work with.  I get emails from all types of brands.  I've been offered everything from clothes, makeup, and skincare products to baby products and even sex toys. (I obviously said no to the sex toy posts. Hahaha.)  When I decided to work with a brand I always ask myself a few questions. "Is this a product I would buy on my own?" "Would my followers be interested in hearing about this product?"  "Does it fit my values and align with my goals as a blogger?"  If I answer yet, then it is usually a match.  If no, I politely pass on the opportunity.
Because my blog is still just a hobby to me, I don't mind doing product exchange posts, however, as I grow my audience and put more time and energy into my blog posts, I have been charging a fee for my posts.  It just depends on the product and what the brand is asking of me.  If someone wants to pay me in a six-pack of sparkling water in exchange for a full blog review, then I'm probably going to turn that down.  If the item they are offering me is more than what I charge for a blog post, I often will say yes and not even bring up money.  Either way, I'm learning more and more about how to work with brands and negotiate.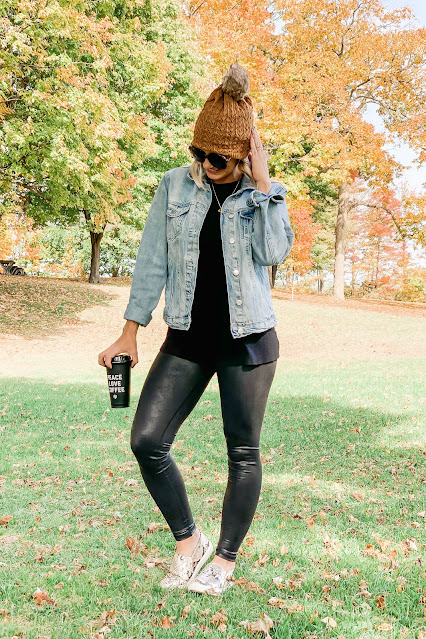 The Benefits of Monetizing my Blog
If I don't care about how much money I make from blogging, then why do I care to monetize my blog?  For me, making money from blogging is just an added bonus.  What if you could get paid for your hobby?  I know a lot of people who spend a lot of money on their hobbies.  With blogging, I get to do what I enjoy most and on top of it get paid for it.  I've always loved to write.  I love clothes and putting together outfits.  I'd do it for free, but why not earn some money?
The money I make from blogging usually goes back into my blog in one way or another.  I'm able to pay for any updates or advancements that I want to make to better my blog and grow my audience.  I also can shop more often.  Almost all the clothes that I buy come from my blogging income or they are gifted to me by brands.  I'd be shopping and buying clothes whether I had a blog or not, this way I don't have to get interrogated by my husband every time I buy new clothes.  The clothes that I buy turn into income when I share them on my blog, therefor I'm basically getting all my clothes for free.  My family also benefits from my blog income.  I'm often gifted items for my children and my husband has enjoyed many of the benefits of my blog as well.
  We are very fortunate that my husband makes a good income for us to live comfortably and still save aggressively for our future.  I don't need to work anymore.  That's why my blog income is just an added bonus.  Because we save so aggressively, we don't always spend money on extra things.  We live under our means and we spend conservatively, but every now and again it's nice to have some extra money to splurge with.  That's how I look at my blog income.  It's bonus money.
I'm happy being a stay-at-home-mom, but I do miss working.  I like to stay busy and always be working towards a goal.  Making money through blogging keeps me busy and makes me feel like I am always working towards improving myself and reaching a goal.  I've learned so much over the last 4 years.  Because my educational background is in child development, learning about marketing and public relations is completely new to me.  I feel like I'm getting a second education in blogging.  The world of blogging is still such a new industry, so there are just so many possibilities out there.
My goals as a blogger are not always focused on money.  I will say this over and over again, I blog for fun, but as long as I have this blog, I will always be trying to make improvements and learn more.  One day, I'd like to say that I consider my blog a small form of income, but as of right now I'm happy with the direction things are going.  Like I said in the beginning, this is not a "how to make money" blog post.  My goal is not to teach you how to make money from blogging.  My goal of writing this post is to show you that making money from a hobby blog is a possibility.  If you have any questions for me feel free to email me at thriftywifehappylife@gmail.com.  I love to talk about blogging and I'm always happy to share resources.  Look for more blogging posts in the future.
Katie🤍
Like the post?  Don't forget to pin it!