Today is my blogaversary. Yes, that's a made-up word, but it's my blog's birthday and I want to celebrate it! Eight years ago I published my first blog post on Thrifty Wife Happy Life. It had no pictures, no links, and I had no expectations that anyone would actually read it. I had no idea what I was doing. I just knew that I had something I wanted to share and I wanted an outlet for it.
Flash forward 8 years later and I feel like my blog is still the same space it was in the beginning, just with a lot of improvements along the way. Since I started this blog, a lot has changed in my life, but my message is still the same. I've always wanted to inspire people to live a happy, fulfilling life on a budget.
Kevin and I had just sold our condo and moved into a little apartment when I started my blog. Money was tight for us. We both had low-paying jobs, but we had worked so hard to pay off my student loan debt. We knew we wanted to start a family one day and we weren't going to do that until we were debt-free and financially stable. We lived on a very small budget to make it work, yet I never felt that I was missing out on anything in life. I didn't mind spending less so that we could enjoy the perks later in life. I wanted to share our frugal mentality with others and show that you can still dress cute and live a fun life without spending a lot of money doing it.
My wardrobe has always been my main focus for the blog, even though I do love to share other topics, I always go back to affordable fashion. Although I have a much bigger shopping budget than I had 8 years ago when I started this blog, I still stick to affordable clothes that all women could afford. I love sharing outfit inspiration and new ways to wear different clothing items. I believe that everyone can have great style and you should never let your size, age, color, or definitely your budget hold you back from dressing and feeling your best. That's what Thrifty Wife Happy Life is all about!
I get a lot of questions from people about blogging, so today I thought it would be fun to do a little Q&A section to answer some of the most asked questions.
What made you want to start a blog?
I have always loved to write. I kept a journal all throughout my life and I've always found writing to be therapeutic for me. I'm not the strongest writer, that's why when it came down to picking a career I shied away from going into writing. At the time I started my blog I was really into Pinterest. I spent hours looking up recipes, dream homes, baby pictures, and lots of outfits. I started to realize that all these images I was pinning were coming from blogs. I started following along with some of these blogs and I loved the girls who were just sharing their normal everyday outfits. I realized that I could probably do that too. When my husband told me that I should find a hobby that didn't involve spending a lot of money it just clicked for me that I could combine all my interests into one and start a blog. I googled how to start a free blog and I just did it.
Do you make money from blogging?
Yes, I do make money from blogging, but it's not a lot. (Read more about that
HERE
!) I still consider blogging to be more of a hobby for me, but I guess I can call it a side hustle now. I enjoy earning money from it, but money is not my motive for blogging. I am at a point in life where I don't need to work. We saved and planned for me to be able to stay home with our kids and my husband makes plenty of money for our family to live comfortably on, however, I still have this itch inside of me to work. I enjoy setting goals and working towards them. I also enjoy earning my own money. It feels good when I put so much hard work into something and get rewarded for it. That's why I feel like blogging is the perfect job for me at this point in my life. I am still able to have that fulfillment I had from working, yet I don't need to feel the pressure to make a lot of money. I figure that I am going to be sharing these things regardless of whether I get paid or not, so why not earn a little extra spending money while I am at it? One day I would love to take my blog to the next level and turn it into my own business, but right now with young children at home with me, my number one priority is being a mom. For now, I am going to keep the blog a hobby and not set any big financial goals until I'm ready.
How do you work with brands? Do they contact you or do you contact them?
Both. Most of my partnerships have happened because the brand has reached out to me through email. I have also contacted brands on my own and sent them pitch emails. Lately, I have found that sending pitch emails is very time-consuming, and I don't have a lot of extra free time. That's why I have been very selective with the brands I work with. I've been letting them come to me for the time being and I pick who I want to say yes to. I also use networking sites that connect influencers and brands. Those are always nice because you can apply directly to campaigns through the site.
What is the best blogging platform?
The only blogging platform I have personally used is Blogger. It's free through Google. Most bloggers would say not to use a free hosting platform. I personally haven't had any trouble at all using Blogger. I do pay for my own domain name, which is very inexpensive. That way my website has a .com name instead of a .blogspot.com name. (Read more about this HERE!)
Most bloggers recommend wordpress.com as their blogging website. I hear it's user-friendly and it allows more freedom to design and help your SEO. I would one day like to make the switch to a self-hosted WordPress blog, but the thought of switching it all over is overwhelming to me, that's why I continue to stick with Blogger.
Did you use a website designer?
No, I don't use a web designer. I actually bought my template on Esty for about $10. It was very easy to install, but if you don't want to install it on your own you can pay for them to install the template for you. You can easily find affordable templates on Esty and other websites if you shop around.
What are some of the worst things you've come across when blogging? Any crazy or rude people?
I have been very fortunate to have a really supportive group of followers. However, every now and again I come across a troll or just a rude person who leaves a snarky comment. I've been noticing that each platform has a different group of people. I consider the people who actually take the time to read my blog or follow me on Facebook and Instagram to be my true audience. Those followers are so supportive and I really enjoy engaging with them. On Pinterest, I don't get a lot of comments, but the ones I have gotten are not so nice. They pretty much just make fun of the way I stand in my pictures. TikTok is interesting as well. I've been growing pretty quickly over there and the audience is much different than my followers on Instagram. People are so quick to put you down on TikTok. One of my recent videos got over 200k views. I styled a pair of thrifted Madewell skinny jeans. I got a few people telling me that no one wears skinny jeans anymore and I was so out of style. I had to laugh that one-off. They also made fun of how I tucked in my shirt.
When I come across a rude comment I usually just ignore them or kill them with kindness. I am not interested in debating or arguing with anyone. I think that people who take the time out of their day to put down a stranger on the internet are not worth my time. I think a lot of people are under the impression that the internet is a scary place full of mean people. It can be, but overall I have had a very positive experience. You just need to stay true to yourself and try to ignore the rude people out there.
How do you grow in authentic ways?
This is such a common question. It's so hard to grow your blog and it's even harder to grow your Instagram following. I am not an expert on it. I only recently reached the 10k follower mark on Instagram after being on the platform for over 5 years! What I have learned is that there is no magical way to grow your Instagram. It takes time and you really can't focus on the number of followers that you have. But I will share what I have done to grow an authentic Instagram following.
Post quality photos and content- You don't need to be a professional photographer or anything, iPhone photos work just fine, but do make sure that your photos are quality. Use good lighting and good angles. Also, make sure that your caption is engaging. I often feel like no one reads the captions, but they do sometimes and it's good to have something meaningful written. Also, Instagram is all about videos these days, so posting reels always helps. I have gained a lot of new followers after posting reels that do well, so it's definitely worth trying out!
Be consistent- Post regularly. It doesn't need to be every day, just be sure you show up consistently for your followers. Make sure you use Instastories too! Showing your face to the camera is huge! I hate talking on stories. I always feel dumb, but I have been told that it makes me feel relatable and people like it when I talk to them. It keeps people wanting to continue to follow you.
Use relatable hashtags- I like to use at least 20-30 hashtags that relate to my photo and will attract the audience I am looking for. I use a lot of Michigan and midwest hashtags to attract a more local audience. I also use a lot of mom and mom fashion hashtags to attract moms to my posts, because that is who I speak to the most. I also use affordable fashion hashtags. Look for hashtags that are not underused or overused. Any hashtag that has been used in over a million posts is overused. I've heard that the sweet spot is between 10k-100k posts.
Collaborate with other bloggers/influencers- I have grown the most from teaming up with other bloggers and influencers. I have done giveaways, try-on's, or just doing shout-outs to each other. I think that collaborating with other bloggers is always a great way to meet people and make connections through Instagram. I feel like we are all in this thing together and it's great to support each other!
Engage with other accounts- Engagement is huge on Instagram, so it's really important to spend time liking, commenting, saving, and sharing other people's posts. One technique I use is to click on one of the hashtags that I used in my post, go to the recent posts, then I will click on the posts I like or can relate to. I leave a comment on one or two of their post and will like 3-6 posts on their page. That will usually get the person's attention and they will head over to your account. If they like your account they will follow. Sometimes it works and sometimes it doesn't, but it's worth trying.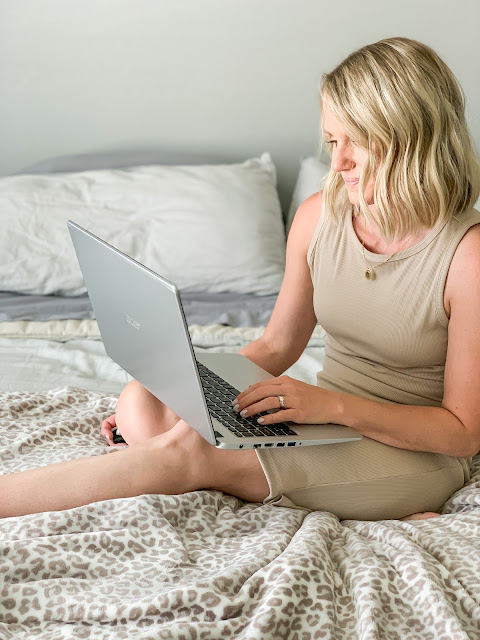 That's all I have for today! Before I go I would just like to say thank you to all of you who follow along with me here on the blog or on my social media accounts. This blog means a lot to me and the fact that I get to share it with all of you makes it even more meaningful! Thank you for your messages of encouragement or just when you stop by to say hi! I love hearing from you! I take this blog day by day, year by year. I don't know where it will take me, but I hope you will be here with me for the ride!