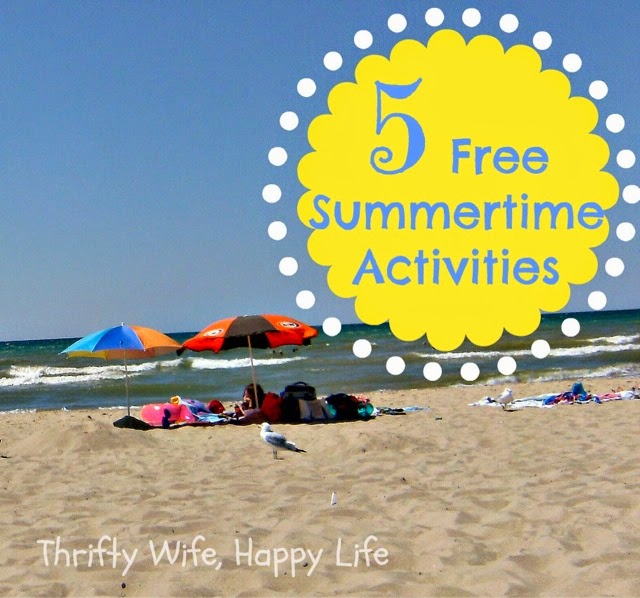 Summer is finally here! We all survived the winter. Now it's time to get outside and enjoy everything that has to do with summer! 
Of course, summer doesn't have to be an expensive time of the year. There are lots of activities that you can do in the summer that won't coast you a dime.
Here is a list of summer activities that I enjoy doing that are completely free of cost.
1.) Walks- I love to walk! A walk is a great way to get some exercise, clear your mind and just enjoy the summer weather. I enjoy a nice long walk by myself or with a friend. Either way, it's one of my most favorite summertime activities.
2.) Going to the Pool or a Beach- To me, there is nothing more relaxing then being near water, any kind of water; a pool, beach, lake… heck, I'd even take a kiddy pool if that was all I could get. Enjoying the water doesn't need to cost you any kind of money. Just pack a towel, some sunscreen, and a good book and find yourself some water to enjoy!
3.) Discover your Library- A library is a great place! There is no reason to buy a book ever again when you have a library to go to. There are tons of books, movies, music and all sorts of entertainment. It's a great place to find some summer reading for the pool or vacations. If you have little ones at home, many libraries offer free activities throughout the summer for kids. It really is a great place to take advantage of in your community.
4.) Bike Rides- Going for a casual bike ride is something that my husband and I love to do together. A couple years ago we found a bike for me on Craigslist for about $30. Now we can ride our bikes around town together. Riding a bike reminds me of being a kid again when your bike as your main form of transportation. It's a simple activity for the 2 of us to do together. Plus it's a free activity, so of course, we enjoy it.
5.) Free Festivals- In the summertime, it seems like every weekend in our area there is some sort of festival going on. A lot of time you can go to these events free of charge. The city that we live in has a live concert every Friday night in the park downtown. All you need to do is bring a lawn chair or blanket, along with some good company and enjoy the free entertainment.
These are the free activities I enjoy doing in the summertime. What are some of the activities that you do in the summer that are free or low coast?