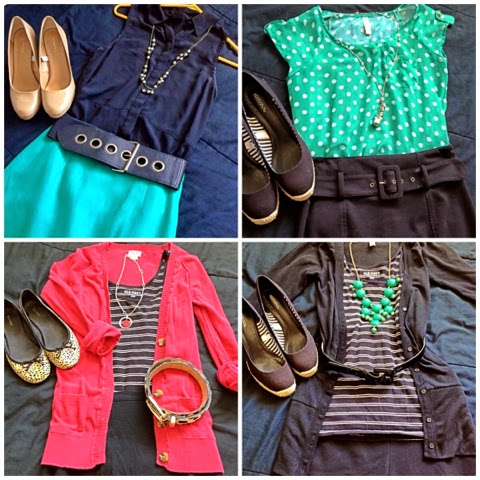 One of my favorite hobbies is putting together outfits. My clothes are my toys. I love looking through my closet and finding new ways to wear my clothes.
Even though I consider myself to be a smart shopper, the little purchase can start to add up. I'm trying to keep myself out of stores this month. Rediscovering your clothes is a great way to keep yourself content and out of stores when you're feeling the itch to shop.
Here are four work outfits that I put together using older clothes that I've been keeping in my closet.
I got this top at the end of last summer. It was in the clearance section at Target. The skirt was a thrift store find for $.50. You really can't pass that up! I've had this belt for so long that I can't remember where it's from, it's most likely from Wet Seal. The shoes are newer, from Target and the necklace, is a Kohls clearance find.
This top is also from Target's clearance section from last summer. The skirt is from Forever 21. I bought it for my internship in college. It's actually in pretty good condition since I don't wear it a whole lot. The shoes are new, from Target. The necklace is old, from Charlotte Ruse.
This sweater is from Target. The skirt is another thrift store $.50 find. The tank top is from Old Navy. It was only $5. The belt is a hand-me-down from my mom and the shoes are a few years old, from Old Navy's clearance.
These are just some of my secrets behind my outfits. It's fun to use clothes that you already own to make fun of updated outfits to wear.
Go ahead and take a closer look in your own closet to see what you can find.