Nothing makes me happier than a clean organized closet.  I feel like people often overlook the fact that having an organized closet will not only keep things tidy, but it will also help you save money.  When you have a place for everything, you know where to find it.  If you know what you have in your closet, then you are less likely to go out and buy something new.
 I've been working on organizing my current closet for almost 2 years now.  Since I've started this blog, we've moved around a lot and I've had many different closets.  I've had large walk in closets and regular size closets, but this by far is the worst closet out of all of them.  It's not only small, it's dysfunctional.  My husband and I each have one folding closet door on each end and in the middle is a big divider wall.  The wall drives me crazy, because I can't access any of my clothes behind it. Our house is a temporary rental house, so I know I will not have to live with this space forever, however, I do have to live with it for now.   I also know that not everyone has the perfect large walk in closets that you see people sharing on Instagram and Pinterest.  Many of us are working with a small space and that's even more of a reason to keep it organized.
I am not organized by nature.  It's something that I have to work at.  My brain is all over the place sometimes and I have to have organized systems in my home to stay sane.  My closet is a top priority for me.  I love my clothes and it's so important for me to have a space for them.  I love watching The Home Edit on Netflix and they are always talking about creating an organized functional system.  Something that makes sense, that you can stick to.  That's exactly what I did in my closet.  I created an organized system to make my dysfunctional small closet a functional space that is easy for me to keep up with.
Like I said, I've been working on this closet for almost 2 years.  You can read my blog post of how I organized it when we first moved in our house (HERE).  It has come a long way, but I finally feel like I've perfected the system that I had already set up.  I've created more space for my clothes and accessories.  I now have a space for everything that is easy for me to see and access.  Because I buy organizing storage pieces as needed, my closet is a little mismatched.  That might bother some, but not for me.  I still can find everything I need.
Today I want to take you on tour of my closet and give you a few organizing tips for a small closet.
*This post contains affiliate links.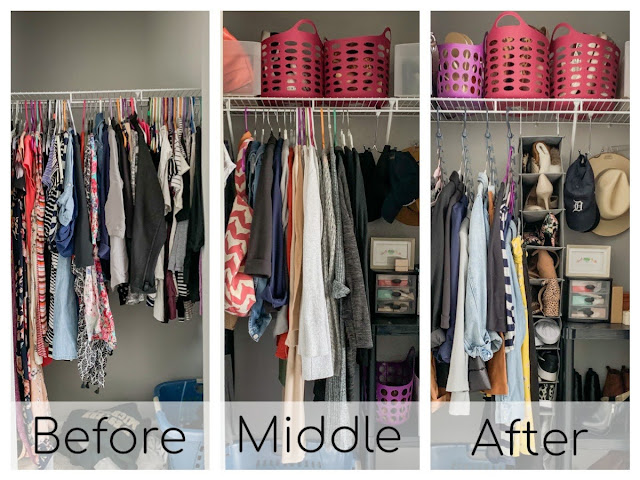 As you can see I've made a lot of improvements to my closet since we first moved in.  I finally feel like I've perfected a system.
Clothes
Because I have a huge divider wall in the middle making it really hard to access the clothes from behind it, I keep my seasonal clothes there.  The clothes I'm not wearing much at the moment.  Right now all my summer dresses are behind it.  I keep the clothes I wear the most right in front so I can easily access them.  Layering pieces and sweaters are what I'm wearing the most of right now, so they are all right up front.
Accessories
Bathing suits are also in my closet.  They are currently not being used so I have them tucked in the back.  I also keep scarves and belts on the back shelf.  Just like with my clothes, I keep my everyday accessories easy to access and the things I don't wear as much in the back.
Shoes
I do have closet envy when I see the gorgeous closets that other people have.  I know I can also have that one day, but right now this is the space I have.  I know not everyone has the perfect closet, so hopefully my small closet will help inspire you to create an organized functional system in your own closet.  If I can do it, then so can you!