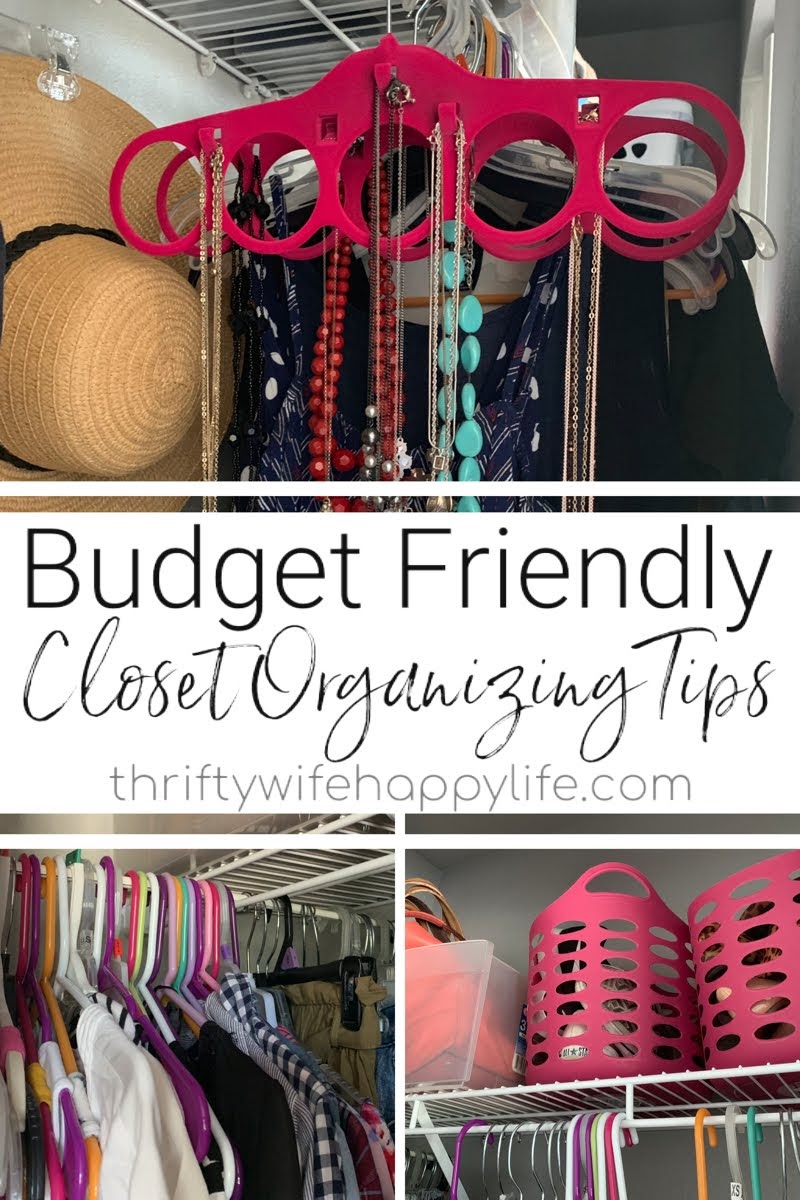 *This post contains affiliate links, which means by clicking on and making a purchase through a link I will earn a commission for this blog. Thank you for your support! 

I am so attracted to those organizing tips on Pinterest.  Those photos of the perfectly organized pantry or linen closet with the matching baskets and cute little labels.  They are so inspiring, but the truth is, I don't have a type-A personality, I don't have the perfect home, and I don't have a huge budget for organizing.  But I love having an organized home.  Having a place for everything keeps my house in order.  It cuts back on the chaos of being a mom of a young child and having a family to care for.  I tell my little guy all the time that a clean house is a happy house.
I had a lot of my Instagram followers tell me that they enjoy my organizing posts, so that's why I'm going to do a series on Real Life Organizing Tips on a Budget!  I'm not an expert by any means on the topic of organizing, but I do try to be resourceful and practical when it comes to organing my home.  When I organize my home, I always do it on a budget.  I don't buy expensive organizing materials or rebuild a room to make it more functional.  I work with what I have and keep the price down.  That's why I want to share how I organize my house, room by room.  I figured I might as well start with the most important room to be organized… my closet!
We moved into our new house in June.  Although the house is brand new construction and there is a lot of living space, the master bedroom and closet are much smaller than what I'm used to.  Since it's a rental house, it's hard to work with the space that we are given.  It's something temporary, but since it's our home, for the time being, I want it to be functional.  That's why I had to do something about my closet to make it a more functional space for my wardrobe.
You may already know from my last organizing post (HERE) that I'm a big fan of Marie Kondo and her method of tidying up.  When I organize my clothes I try to follow the Konmari method the best that I can.  I think that her method of organizing is genius and it's what we should all be doing in our homes. I do modify it a bit to fit my needs.
I had no idea I had this much stuff in my closet. I was actually watching Tidying Up with Marie Kondo while I was organizing my closet for inspiration.
Here are the steps I took while cleaning out and organizing my closet.
Step 1: Take everything out of the closet
This was the first time I actually unloaded my entire closet and laid it out on my bed.  Let me tell you, it was eye-opening.  I strive to be somewhat of a minimalist, but when it comes to my wardrobe, I'm not even close.  I think it's important to have an actual visual of how many things you own.  Let that sink in for a minute, then you can continue your process.
Step 2: Decide what to hang and what to fold
It's important to figure out what you want to put away in your drawers and what to have hanging in your closet.  I like to see all my clothes, so I try to hang most, but since my closet space is so small, I needed to fold more.  I use the Konmari folding method because it allows me to see everything I have. See examples HERE!
Step 3: Collect organizing materials
Look around your house first before you buy anything for organizing.  Buying all those matching baskets for those perfectly organized closets are pretty, but not always budget-friendly.  I try to be resourceful with my organizing materials. I look for old boxes, bins I already have and when I buy new baskets and containers I always go to Dollar Tree first, before checking places like Target,  Walmart, or Amazon which are my other go-to places.
Step 4: Figure out what to keep and what to get rid of
This is the most important part.  I will look at each item and see if it still brings me joy.  I ask myself these questions…When was the last time I wore this? Do I already have something similar that I wear more often?  Is it still in style?  Does it still bring me joy?  Once I make my decision to keep or get rid of something, I decided if it's worth selling or donating.  I typically donate everything to a local thrift store, but recently I made a Poshmark closet, which has been a fun way for me to recycle my clothes and get a little extra money for them.  You can shop mine HERE!
Step 5: Prioritize your wardrobe
The last thing I do is prioritize my wardrobe as I put it back.  I like to have the clothes I wear the most in an easy to access place.  I keep my cardigans right there because I wear them all the time, but my more formal dresses are in the back of the closet because I don't wear them as often.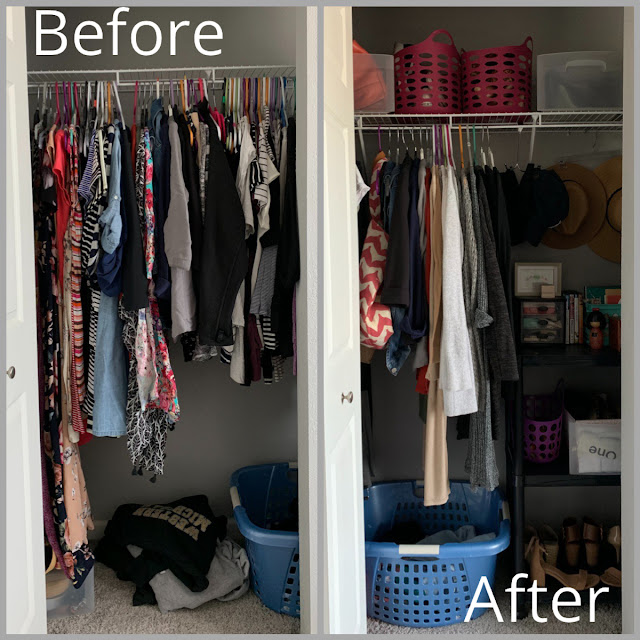 The before is from when we first moved into the house. I had no idea how to work with the space.  
I used pant hangers and door hooks to hang my hats.
I used a curtain tension rod to create extra hanging space in my closets

A Dollar Tree scarf hanger works great for hanging all my necklaces so they don't tangle. 
A Marie Kondo trick for bags is to store a bag inside a bag.  

After following those 5 steps my closet was in pretty good shape.  I just needed to figure out how to work with space.  I used plastic shelves from Home Depot (HERE) to use as my accessory shelf, I used pant hangers and a door hanger (HERE) to hang my hats on, a scarf hanger from (HERE) to hang up my necklaces, baskets (HERE) from Dollar Tree for my sandals and flats and a curtain rod (HERE) to make extra easier to access hanging space.  I also found some extra plastic bins that we have had for a while around the house.
Storage tip: If you don't want to spend any extra money on baskets try using boxes.  Diaper boxes and beer boxes seem to be my favorites because they are a good size! 
Now that I have my wardrobe under control I feel like I'm ready to tackle the rest of the house room by room.  I promise to share my organizing story as I go, so you can look for more of the series soon.  The next stop will be the kitchen!