*This post contains affiliate links. 
 What seems like a lifetime ago, I shared a blog post of what my day looked like as a working mom with a one-year-old (Post HERE).  It seems like so long ago now and so much has changed in my life that I wanted to share another day in the life post.  This time sharing my daily schedule as a stay-at-home-mom with a baby and a PreK kid.
To be completely honest, my transition into stay-at-home-mom life was not easy for me.  It took me a long time to get down some sort of flow.  When I was working, my daily schedule revolved around my work schedule.  It was almost like my day was plan out for me, I just needed to go through the motions.  As a stay-at-home-mom, you need to make your own schedule and routine.  It takes time to figure out.  Now that it's been almost 2 years of being a stay-at-home-mom I feel like I finally found my flow and figured out a schedule that works for me.
Here's what a day in my life looks like…
6:15 am Alarm goes off
 My alarm goes off every morning at 6:15am and every morning I usually ignore it.  It's a horrible habit I have gotten into, but the winter months are hard for me to get out of bed, especially on the dark mornings.
 7:00- Actually wake up
My back up alarm is set for 7 am.  The first thing I do when I get out of bed is start my coffee pot.  I have to get my coffee going to start my morning out.  While my coffee is brewing I pump.  I hate pumping, so I try to get it out of the way early in the morning. If I'm lucky I'm able to get 2 bottles filled.  Anna gets 1-2 bottles in the morning and sometimes one in the evening.
7:30- Wake up the kids
I usually wake up Anna first if she's not already up.  Her wake up times can be as early as 5:30 or as late as 8:00.  If she wakes up early I will feed her and put her back to sleep, but I try not to let her sleep in too late.  After I've fed and changed Anna we get up Jack.  He usually stays in his room until I come to get him.
 8:00- Breakfast and get Jack ready for school
Once Jack is up I get him and Anna breakfast while I drink my coffee.  If I'm lucky I've already had a cup of coffee by myself, but that doesn't always happen.  Jack eats waffles and peanut butter in the morning.  He could eat peanut butter on anything.  Anna usually has some fruit or cheerios in the morning.  I pretty much just try to keep her occupied while I help Jack.  After breakfast, Jack gets dressed.  To save us time, we usually pick out his outfit the night before.  He is very into planning out what he's going to wear.  He must get his clothes obsession from me.  He also loves to pick out Anna's outfit for the day.
My first outfit of the day is usually leggings, a sweatshirt, and a baseball cap.
 8:45- Drop off Jack at school
Jack going to school every day has been the only thing that keeps us on track during this whole pandemic time.  His school has a lot of strict rules about how many people can be in the lobby at once and parents aren't allowed in the classrooms.  I only see his teachers once in a while if they are passing by, so I miss the daily conversations we use to have about his day.
 9:00- Tidy up house/ workout
 I'm the most productive in the morning so I will usually put on a podcast and get some cleaning done. My normal everyday cleaning routine is to load or unload the dishwasher, make my bed, pick up toys, take out trash… pretty much the daily basic never-ending tasks. If I'm feeling really motivated I might pick a bathroom to clean or dust the house.
I also try to use my morning time to exercise.  It's always been difficult for me to fit in a workout because I always feel like I should be doing something else, but I'm trying to make exercise a priority for me.  I set a goal of twice a week this year and so far I'm meeting that goal every week.  I've been using my online membership to
studiofit.com
.  They are a gym in Utah that offers online classes.  So far I'm loving it.  They have a good mix of classes from high cardio classes to yoga that you can do live or recorded.  It works perfectly for me and my schedule because I can do the classes on my own time while Anna crawls around and plays.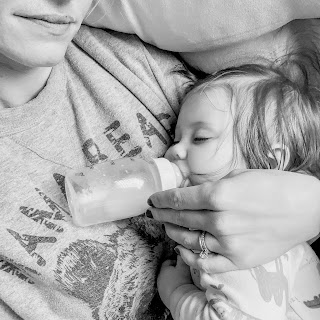 10:30- Anna's nap/ put myself together
Anna isn't much of a napper lately, which I'm okay with because she sleeps through the night.  As long as she gets one decent nap in during the day I'm happy.  She usually naps around 10 or 10:30 and sleeps 2 hours or so.  Sometimes her nap is a little later in the day.  I'm really flexible with her naps because I'm done being that overly concerned parent with sleep.   I was that way for years with Jack and it never seemed to help him sleep better at night.
While Anna is napping I try to put myself together.  I have learned that it is impossible to shower, wash my hair, dry it, put makeup on and fix my hair every day the way I did when I was working.  That is why I now fully get ready every other day.  On my easy get ready days,  I
dry shampoo
my hair and either curl it or throw it up in a bun.  I then do a quick makeup look and I put on something cute and comfy.  I try to keep it easy and fast so it doesn't take too much time out of my day.
11:30- Lunch
Lunchtime either consists of me standing at the counter snaking on leftovers or I eat with Kevin.  His work schedule usually has him home for lunch, so we eat together.
Anna often plays in my room while I take blog pictures.
 12:00-3:00 Blogging/ Errands
There are a lot of things you need to keep up with when you have a blog.  Taking pictures, posting on social media, engaging on social media, pinning blog content, writing blog posts, keeping up on emails and Dm's… that's just to name a few.  I have come to the realization that as much as I would love to dedicate more of my time to blogging and turn it into a full-time job, I don't have the time or resources to do as much as I would like to.  That's why I've been trying to focus on just one task per day.  I will pick one day a week to work on emails or take pictures or pin… whatever the task may be.  I always remind myself that even though I love blogging and it's a fun hobby that also brings in some money, it is not my main job.  My number one job is my kids and family.  The blog can wait, plus I'm my own boss.
If I'm not working on blog tasks, I also use the afternoon time for errands if needed.  I learned that it's best for me to schedule doctor's appointments in the afternoon and if I need to make a quick stop at Target (which I do at least once or twice per week) I do it in the afternoon.  It's hard being home all day, every day during this pandemic, so leaving the house to go to a store sometimes is just a good outing for both Anna and myself.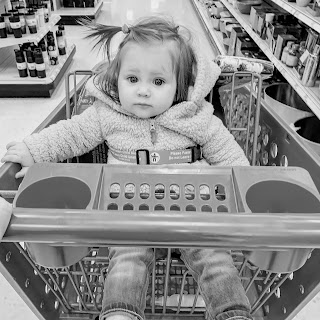 Target shopping trips
 4:00 Pick up Jack
Once Jack gets home the crazy part of my day starts.  It's always overwhelming for me.  Jack has so much energy after school and the slightest change in his routine will throw him off.  If I can I try to give him 10 minutes of my time when he comes home just to help him settle down.  It's hard though because Anna is usually due for a feeding when we get home and I have to start dinner.
 4:30 Make dinner
We eat dinner early, usually around 5:00.  While I make dinner, Jack will play or watch TV and I let Anna get into the Tupperware cabinet.  I try to keep my meals super easy with as little of a mess as possible.  I make a lot of crockpot meals, one-pot meals, or quick pasta meals.
 5:30 Clean kitchen
After dinner, I clean up the kitchen. I find that I feel so much better if I go to bed with a clean kitchen.  It's not always easy to do.
 6:00 Anna's bath
I try to start calming down Anna between 6 and 6:30.  She usually gets a bath every other night, but since she's been eating real food and making a mess she's been getting a bath more often.
 7:00 Anna's bedtime
I love Anna's bedtime.  I  sit in her dark room listening to the sound of ocean waves crashing to the shore from her sound machine while I nurse her to sleep.  It's my calm down time of the day, plus I love the snuggles. I often sit on my phone and try to get some Instagram work done too.  While I'm doing that Jack hangs out with his dad or watches some TV.
 7:30 Jack's bath time/ get myself ready for bed
While Jack plays in the bathtub, I use that time to get myself ready for bed.  I brush my teeth, put my pajamas on and do my nightly skincare routine.  I love taking off my makeup as much as I love putting it on.  I'm really just winging it when it comes to skincare.  I don't really know what products to use and in what order, but what I do know is that ever since I started an every night skincare routine my face feels so much better.
 8:30 Book reading and bedtime
After bath Jack gets in his pajamas and brushes his teeth, then it's book time.  Every night we read his favorite book
What Should Danny Do?
  He's obsessed.  I can't get him to read anything else right now.  He has the whole series.  I always enjoy my one on one time that I get with Jack after Anna goes to bed.
 9:00 Blog work
After everyone else is in bed, it's finally my time to get some blog work in.  I usually find the evening to be a good time to write.  It's the best time of the day for me to actually sit on my computer and get things done.
10:00 Mom finally gets to sleep!
10:00 is when I usually get to crawl into bed.  Of course, my brain is still on, so I don't actually get to bed until 11:00 or after.  That's usually the time where Anna starts crying lately.  So after I go check on her it's usually after midnight until I actually get real sleep in.
That's my life.  Of course, things don't always go as planned every day.  Bedtime isn't always smooth, babies sometimes fight their naps and I don't always get the kitchen completely clean before bedtime, but that's life.  I'm just trying to enjoy this time I have with my babies while they are little.  Everyone tells me how much I will miss this time, so I need to soak it all up while I can.