I thought that it would be fun to do "a day in the life" post and share what a normal weekday is like for me as a working mom with a one-year-old. I don't think my life is that exciting, but maybe some of you can relate to me.
Lately, it's been hard for me, because Kevin has been working more, so I don't have the extra help that I normally do during the week. On this particular Monday that I chose to document my day, things did not go as planned at all, but that's why it was the perfect day. Life doesn't always go as planned.
Here is my day…
5:00am Wake up
The alarm goes off. I know it's early, but I have to set it that early to give myself the time I need in the morning to get ready for the day. On this particular morning, I got lucky, because Jack slept in a little and gave me enough time to shower. I like to get up before him, especially on the days that Kevin works early because it's getting harder to get ready with him up and wanting to be entertained.
5:30am Breakfast
Time to start getting coffee and breakfast ready. I try to eat breakfast every morning because it really helps give me the boost I need for the day. Currently, my daily breakfast has been Grape Nuts with lots of fruit over it with almond milk and of course my morning cup of coffee.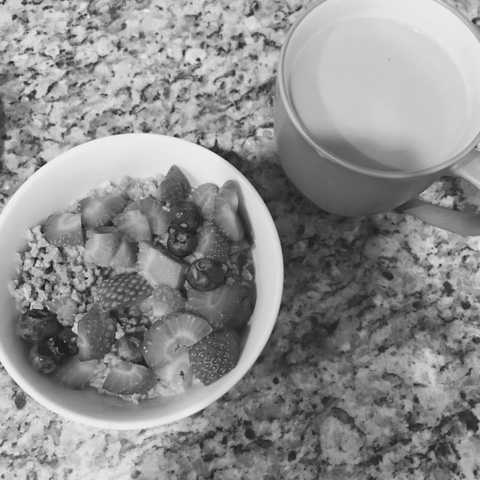 5:45am Jack is up
Once Jack is up he normally eats breakfast right away. He usually eats fruit and either a waffle or cereal. Luckily, I packed his food for school the night before. I try my best to have his lunches prepped for the week on Sunday night, so I don't have to worry about it during the week, on this morning I only managed to have one day packed.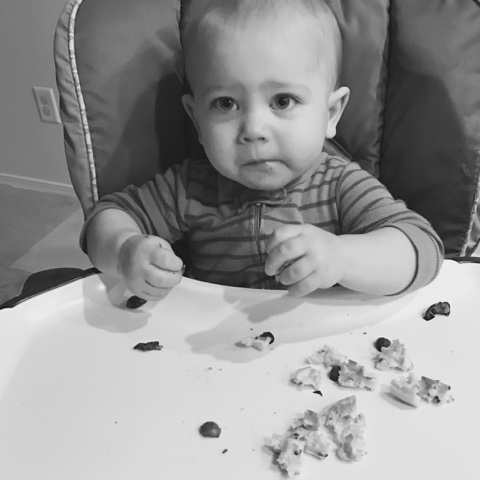 6:10am Start getting myself ready
On this particular morning, Kevin had left the house before 6, so I was on my own with Jack, so I let him play in the bathroom while I did my make up. That was a big mistake because he ended up breaking one of my bronzers all over the floor. That cut into my morning time because I had to clean up the mess. I try and make my morning make up routine quick and easy. I use the same makeup every day and wear it the same. For my hair, I quickly blow dry it. I've been guilty of wearing my hair in a ponytail more than I like to, but with Jack being so busy lately, I just live with it.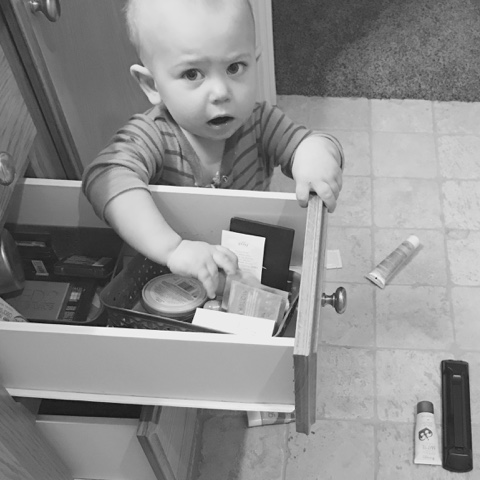 6:45am Get Jack ready
Getting my squirmy one year old ready in the morning is a challenge. He cries, runs away from me, then I finally wrestle him down and get an outfit on him. I try to have an idea of what he's wearing the night before, the same way I do for myself. Once he's ready it's time to finish up a few last-minute things around the house. On this day, my dishwasher was broken, so I did a few dishes before we left.
7:15am Take Jack to School
I take Jack to school in most mornings unless Kevin's around to help. He loves his school and friends, but for whatever reason, on this morning he had a case of the Mondays and was being extra clingy. I was late for work, but I hated leaving him when he was so sad. It was the first day he ever cried like that and he's been going to his daycare since he was 8 weeks old.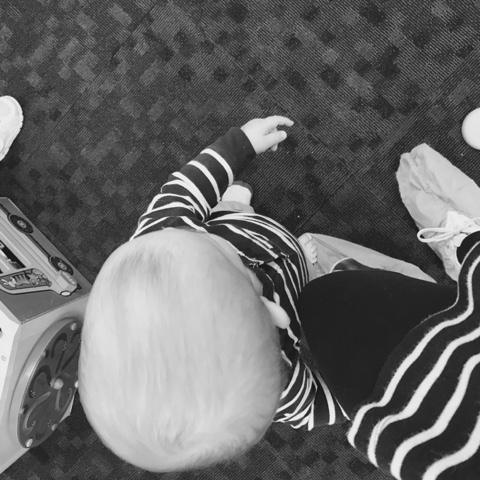 7:30am Starbucks stop
I don't always stop at Starbucks on my way to work. I try to bring a cup of coffee from home, but this was a rough morning. Plus, I got over $75 in Starbucks gift cards for Christmas, so I needed an extra cup on my way to work. My usual drink is a tall blond roast. I like to make my gift cards last as long as they can.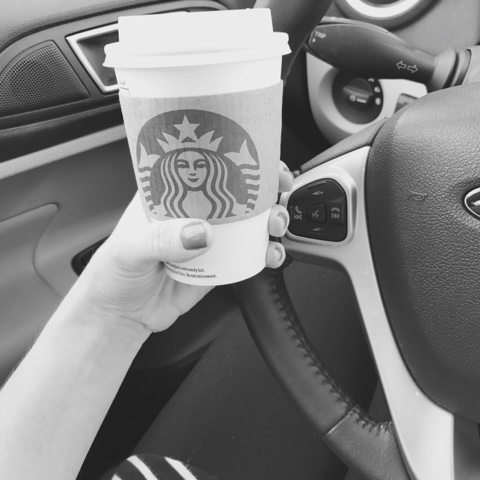 7:45am Get to work
Mondays are always busy mornings at work for me. Lots to do in a short amount of time before the kids arrive at 8. My preschool class keeps me super busy. By 2:00 they leave and I get my planning time. I like to stay in my classroom listening to calming music as I do my work in the dark. It's a relaxing way to end my workday.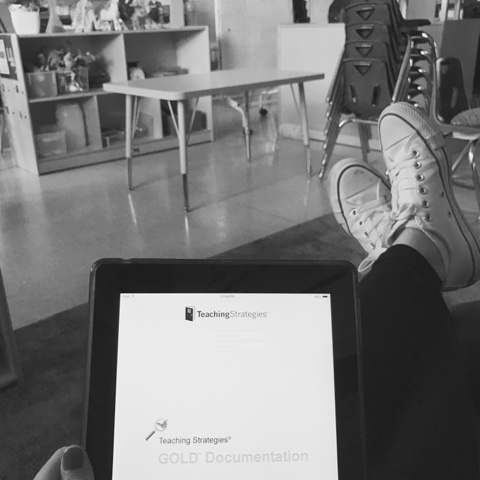 3:40pm Leave work
On a normal day, I try to head out of work before 3:30, but today I was running a little behind since I got there late. My drive to pick up Jack is usually filled with thoughts in my head of my day. It's my time to unwind and think, but oftentimes I'm anxious on my ride home because I'm excited to see Jack.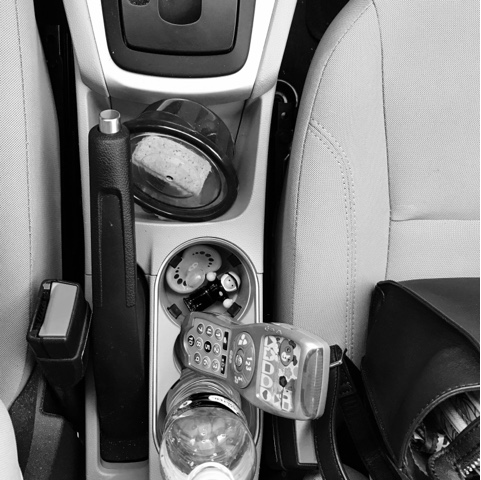 My car is taken over by baby even when he's not with me.
After I pick up Jack at school we come home. Most days I like to either take him for a walk to the park or play with his ball at home. On this evening he wasn't having it. He was a little on the cranky side because his teeth were bothering him, so we settled for his favorite Youtube channel, Little Baby Bum.
4:45pm Dinner for Jack
Most day's Jack is starving when he comes home from school. I try to hold him off until 5, but on this day I couldn't do it. It's getting harder to figure out what to feed him. On this night he had pita and hummus, mixed veggies, peaches, cheese and chicken. While Jack ate and I waited for Kevin to get home, I prepared his lunches for the rest of the week. Monday is my leftover night, since I usually make dinner on Sunday. The night before was the Superbowl so I kind of had a random mix of leftovers, so Kevin and I ate chicken, rice and veggies on a tortilla. It was a quick and easy meal.
6:00 pm Bath time
After dinner is cleaned up, it's time for Jack's bath. He loves his bath time and it usually gives me a little down time, because he's entertained in the water. On this particular evening, he was not himself and bath time was kind of quiet, but he was still content for me, until I wipe his face, which I save for last.
7:00 pm Jack's bedtime
After Jack's bath, I lotion him and get his jammies on, which he hates. Then we play in his room for a bit and read books together. He is finally showing interest in books and will sit through a few of his favorite stories. I love our time together before bed. He gets a bottle, we snuggle then he goes to sleep. I rock him and cuddle him more than I should according to all the parenting books on getting your child to sleep through the night, but I don't care, because sometimes after a long day apart you just need those extra snuggles.
7:15 pm Me time
Once Jack is asleep, I finally have the time to do what I want, unfortunately, there are usually chores that need to be done and I'm so tired I just get right to bed. If time, Kevin and I might watch some Netflix or I try to find some time to blog, but we are usually too tired. Usually I'm asleep between 8 and 9.
That was my day last week. Like I said, it's not exciting at all, but it's my life and I don't think I'm ever bored. It's not perfect, but I wouldn't have it any other way. I know one day I will look back on this day and miss it. That always happens for me.