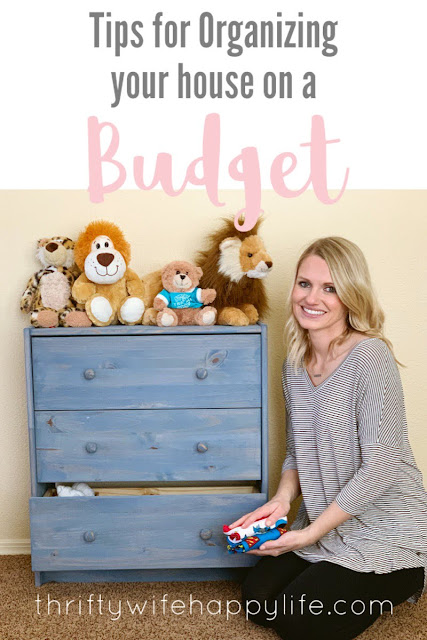 Organizing is something that I have always really enjoyed doing. It always feels so good to declutter and have a place for everything. The only problem for me is that sometimes life happens and it gets hard to keep up with it all. I've recently been watching Tidying Up with Marie Kondo on Netflix, just like everyone else in the world right now and I'm loving it! I've never had time to read her books, but I've heard so many great things. Now that I've actually taken the time to learn more about the KonMari method I became so motivated to start organizing my house.

We moved into our current house 2 years ago, right before Jack's first birthday. We wanted a house with more space because we quickly outgrew our 2 bedroom condo after having Jack. Our house is a decent size home, with lots of open space for Jack to play, but it's not always very functional for space. The house makes no sense with its layout, but it is a rental house and sometimes you just need to work with the space you have. We are planning on moving out of this house this spring, so in order to make the packing processes less overwhelming for me, I figured that it would be the perfect time to purge and go through all my cabinets, drawers and closets to make sure everything had a place.
Today I want to take you through my organizing processes to give you some ideas and tips for your own house. Most of all, I hope to share some affordable ways to organize. Some people think that you might need to run out and buy some amazing organizing products at the Container Store, but you don't. Sometimes all you need are some old boxes and a few baskets, even Marie Kondo approves of that.
*This post contains affiliate links, which means by clicking on and/or making a purchase through a link, I will earn a commission for this blog. Thank you for your support!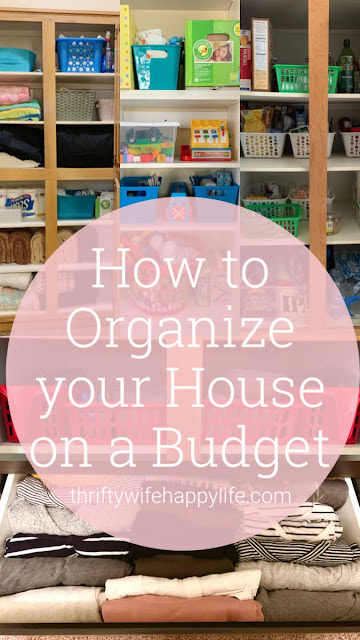 Kitchen
So let's start in the Kitchen. The kitchen is hard for me because it's the never-ending room. It constantly needs to be cleaned and organized. What drives me crazy in my kitchen is all the plastic Tupperware and sippy cups. I'm pretty sure everyone can agree that they hate storing Tupperware. It's never pretty. I came up with a system when we moved into this house that works for me. I use 2 large baskets (HERE) and 2 deeper baskets with handles (HERE) that I bought both at the Dollar Tree. I keep all the containers in the big baskets and all the lids in the baskets with the handles. Round containers are on the left and rectangle and square containers are on the right. This system works greats. I also store all my sippy cups in a basket in the other cabinet.
One of the best things that I ever did in organizing my kitchen was buying baskets for my pantry (HERE). My current pantry is deep, which I'm not a fan of, because food can get lost in the back. The baskets help me section out my food into categories. It makes it so much easier to find everything I need. At the bottom of the pantry, I use beer boxes to store my recyclable bags and lunch boxes.
Linen Closet
Next up is my linen closet. I have a very small linen closet at this house. It is basically a bunch of cabinets in the hallway. It's hard to cram in all my extra bedding and towels into it. Before, I was just folding up everything and cramming it into the space. Now I have added baskets to my closet to help organize hand towels, pillowcases, cleaning rags, cleaning supplies and baby towels. I was able to fold my blankets up to fit perfectly, (not perfect like Marie Kondo, but I tried). I also used the KonMari method to fold my bath towels. The thing I like about my linen closet now is that I can see everything and I have so much extra space.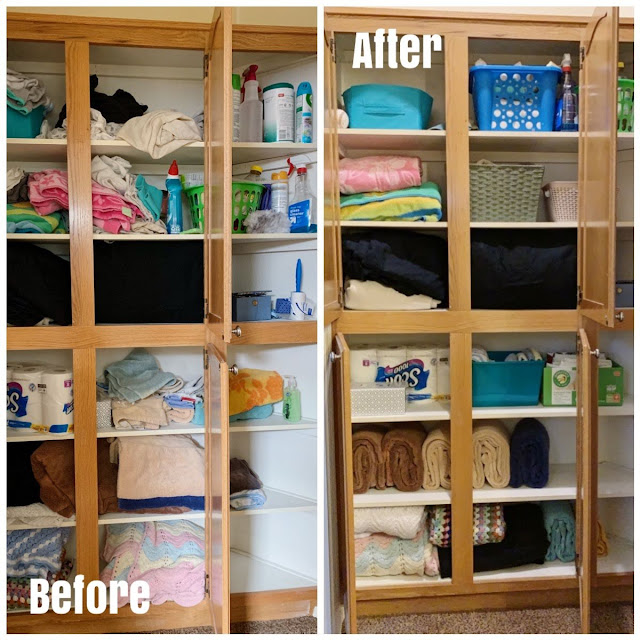 Master bedroom
My husband is super organized and is pretty much a minimalist, so I never have to worry about keeping him tidy (besides leaving empty water bottles all over the nightstand). I feel like I'm the one with all the "stuff" in my room. I have a nice big walk-in closet that I try to keep most of my things in, but I have 2 dressers and a nightstand that often start to overflow. I prefer to hang most of my clothes in my closet so I can see them all. My clothes are always getting buried in my drawers and then I completely forget about what I have, especially in my socks and underwear drawers. I love the KonMari method of folding, so I folded all the clothes in my dressers so I could see each item. I also got rid of a lot of old t-shirts and tank tops that hadn't been worn in years. I have been hoarding a bunch of boxes from all my sponsored blog posts over the last year in my closet, so I was happy that some of those could come in handy for my underwear, socks, and bras. One thing I really love about Marie Kondo is that she teaches people to use what they have for storage. She says to use what you have first before you buy anything new. Old boxes make for great organizing tools.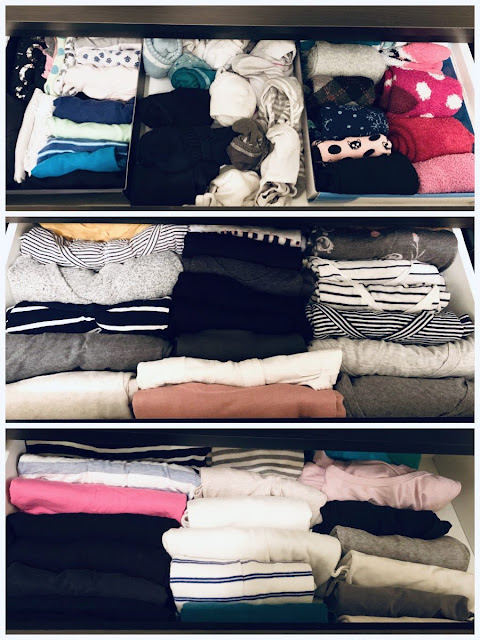 Top- Underwear and socks || Middle- T-shirts || Bottom- Tank tops
My nightstand drawer is always a hot mess. I just added a couple long baskets (HERE) from the Dollar Tree for my pens and random phone chargers. I also left space for my journals. My bathroom drawers are similar. The baskets just help keep it from turning into a big mess.
Toddler Room
Jack's room is actually my favorite room in our house. It has 2 big windows that let in lots of light and has a vaulted ceiling. It's the perfect room for a nursery. The older Jack gets though, the harder it is to keep up with him and his mess. He wants to play with everything. That's why I had to drop him off at school on my day off work just so I could go through his stuff without him freaking out. Getting rid of baby things is hard for me because I am still hoping for one more, but I realized when it comes to clothes, I'm not going to want to keep everything. A lot of his baby clothes were in really bad shape. I had to ask myself "will this bring me joy to see it on another baby?" If it had stains on it, I said no. I only kept the clothes that were in really good shape and something special. I folded up everything and stored it in a plastic storage bin from Target (HERE).
In Jack's closet, his stuff was pretty messy. At one point I had his closet organized, but now it was just a mess. I added a couple baskets, eliminated the diaper boxes with old clothes in them and folded up his blankets nicely, and now everything fits so nicely. In his dresser, I folded his clothes like mine. The rest of Jack's toys are in his play area in the living room. We use an organizer (HERE) to store all his toys and for all the miscellaneous toys my husband just throws them all into his old Pack n Play. It's not pretty, but it does the job for now.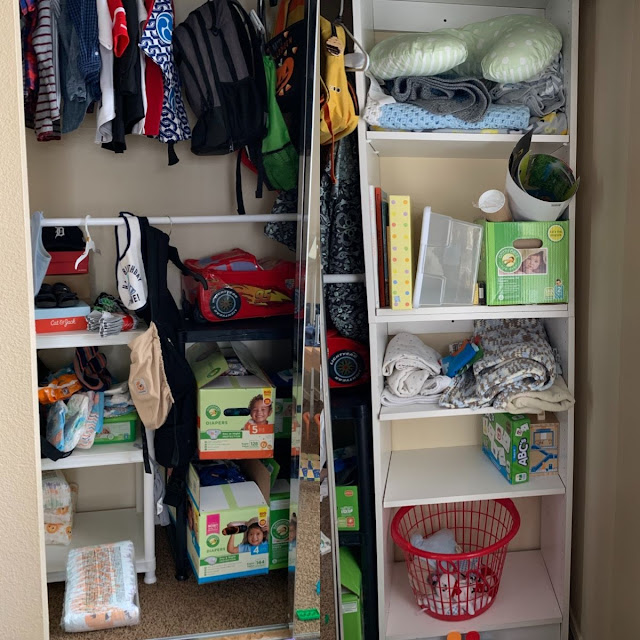 Before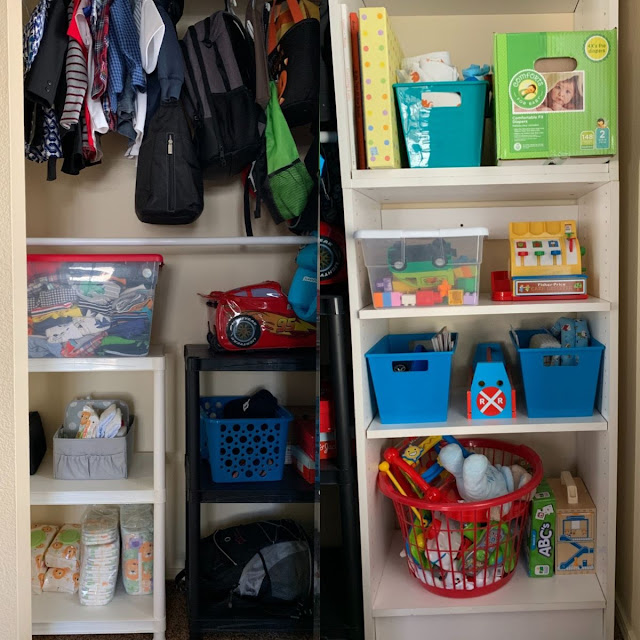 After
Now that I've reorganized my house, I feel ready to take on the year. I know that it's going to help when we have to pack up. It feels so good to purge and have a place for everything. If you haven't watched Marie Kondo's show yet, I highly recommend it. Have you purged and re-organized your house this year yet? I'd love to hear your stories!!
Shop the Post