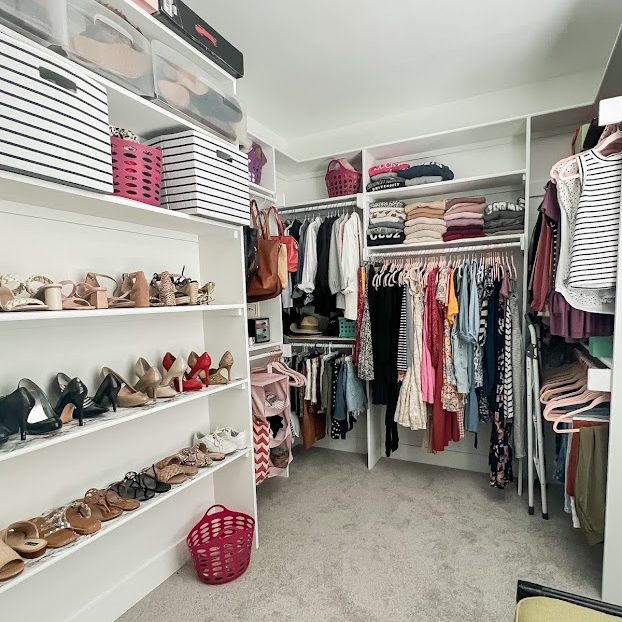 Welcome to my new closet! I've been wanting to do a closet tour ever since I moved into my new house this past February, but first I needed to get it all organized. I finally have it at a good spot so I figured today I would take you along on a little tour of my favorite room in the house.
*This post contains affiliate links.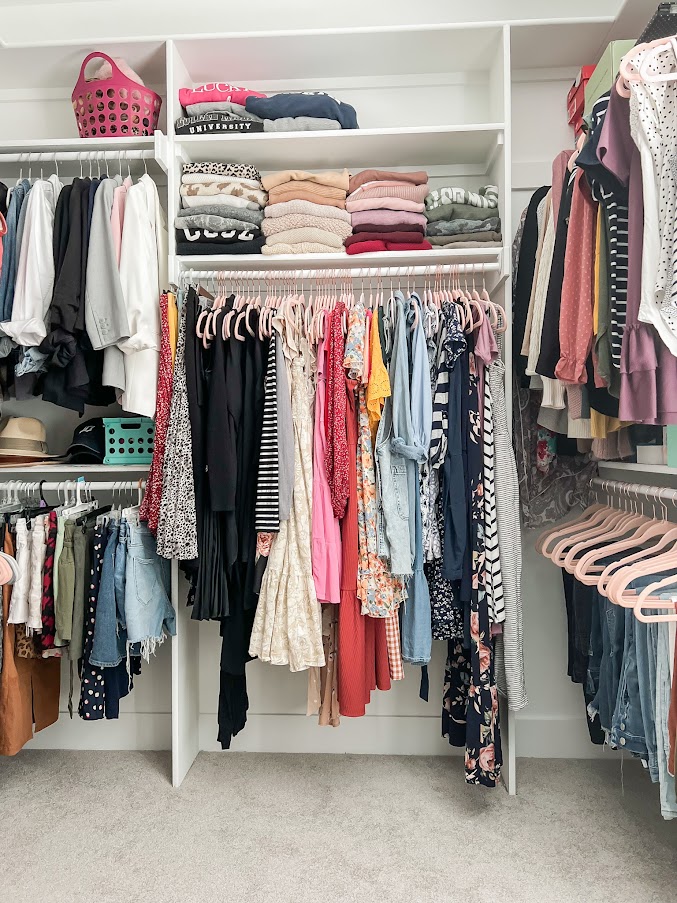 Closet Upgrade
I have moved around a lot in the last 11 years. This is the 6th house that my husband and I have lived in together since we've been married. Every time I move, my closet is the first place I start organizing. I love to have a clean organized closet. It helps me plan out my outfits and it helps me save money in the long run. It doesn't need to be "Pinterest perfect", but as long as everything has a place and the space is functional I will be able to stay organized and I won't waste money shopping for clothes that I don't need.
This closet is a huge upgrade for me from my last closet. You may have heard me complaining about my dysfunctional closet at my rental house in Grand Rapids. I was constantly trying to figure out ways to make the space livable. You can read more about how I organized my small closet HERE! I did my best to work with the space I had, but no matter how hard I tried I still needed more space.
This new closet is more than I could ask for in a closet. Not only is it huge, but it's also very functional. It's custom-built with shelves that create a functional space to organize my entire wardrobe. Each category of my wardrobe has its own place and it's easy to find. And believe it or not, my husband still has plenty of space on his side of the closet for all his clothes too!
Here is a little closet tour! Hopefully, it will give you some organizing ideas and inspire you to create a functional closet space as well.
Closet Tour
Shoes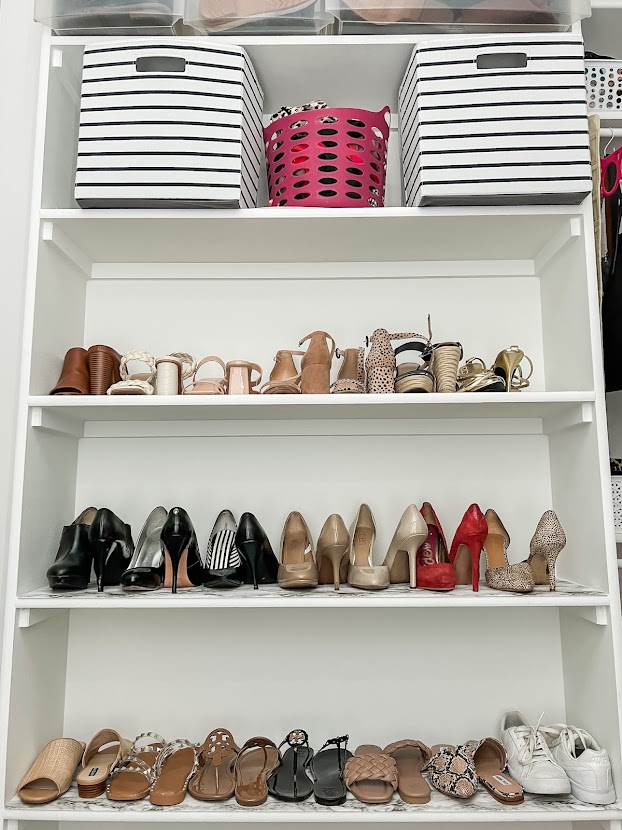 My shoe wall is one of my favorite spots in my closet. I lined the shelves with a grey marble shelf liner that you would typically line your kitchen cabinets with. I just wanted to keep the white shelves from getting dirty. I like that this liner is grippy so my shoes don't slip around.

Accessories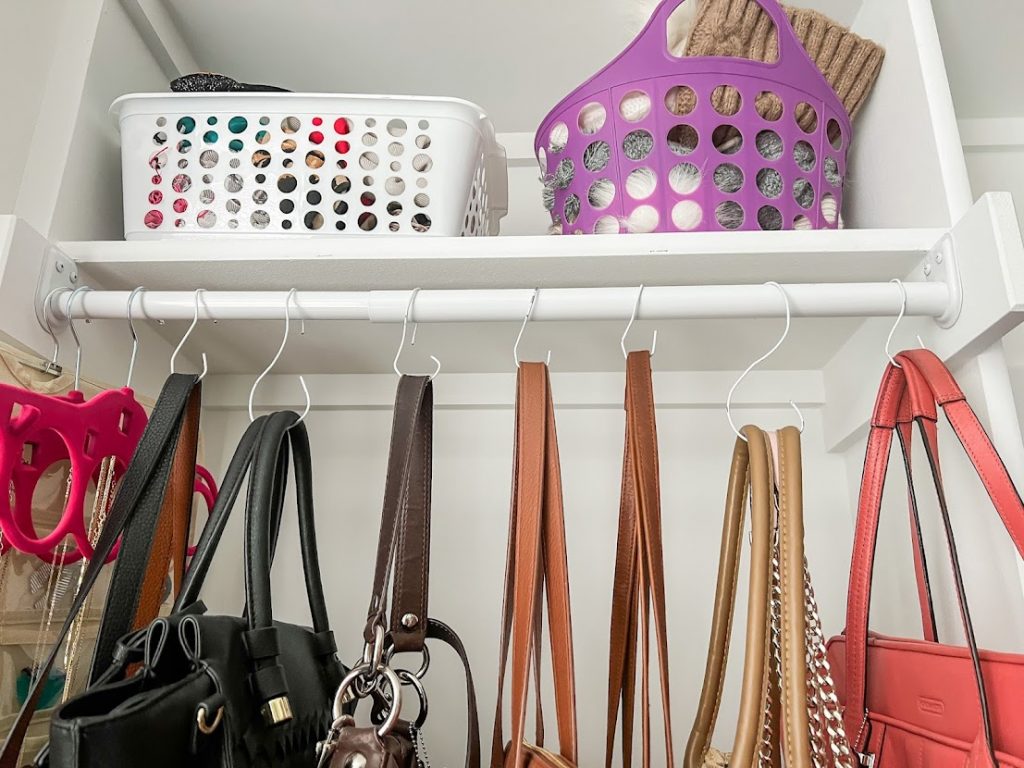 Instead of buying new purse hangers, my husband made me some S-hook hangers to hang my purses on. I'm not loving how the wire leaves a mark on my purse straps, so I might be buying some purse hangers soon. I also use my plastic hangers to hang my purses as well.

Clothes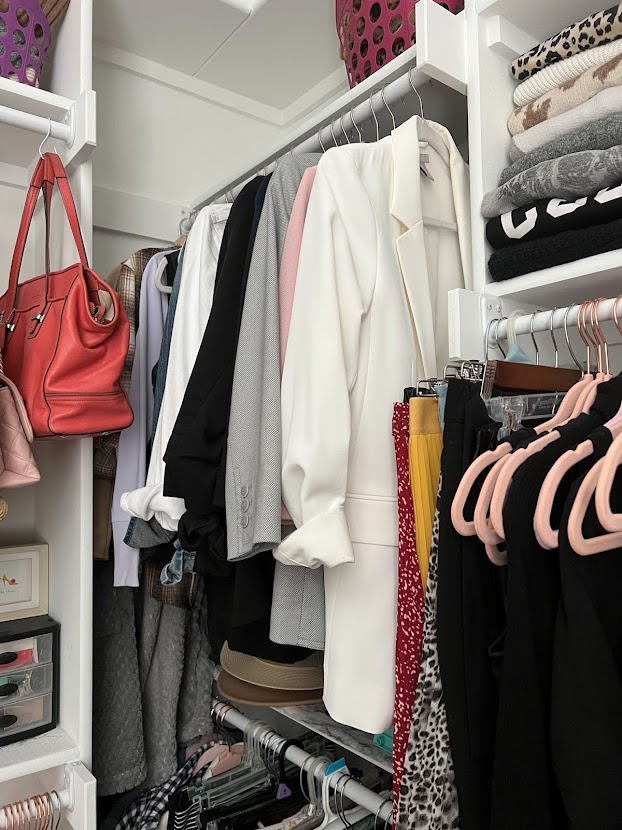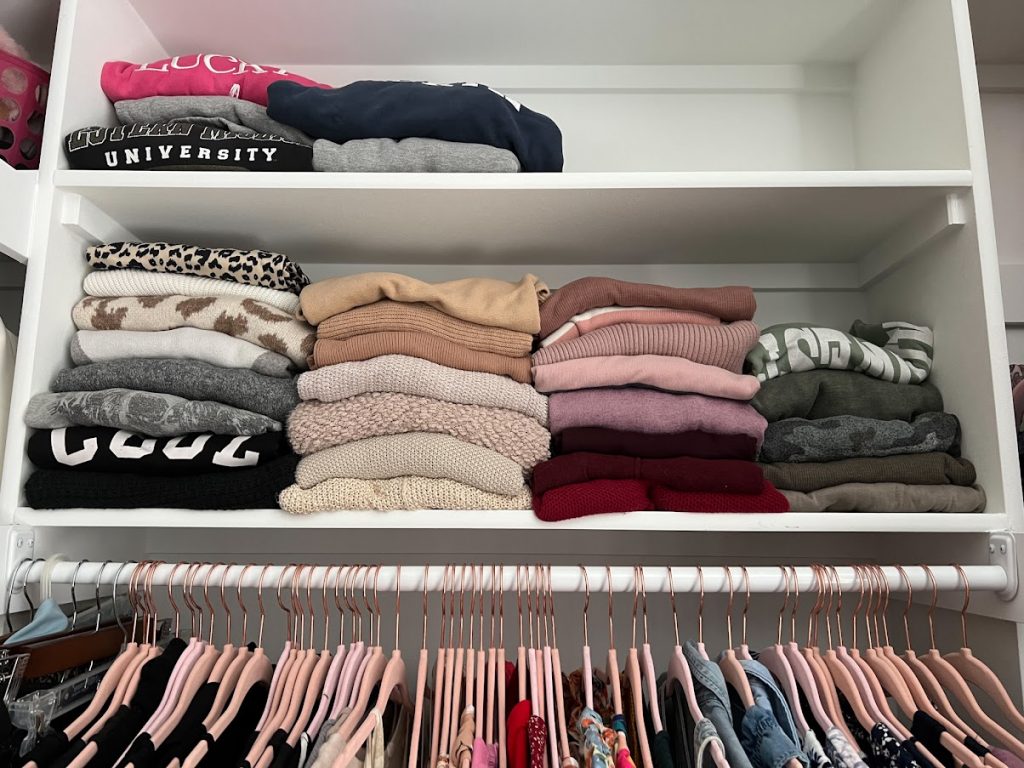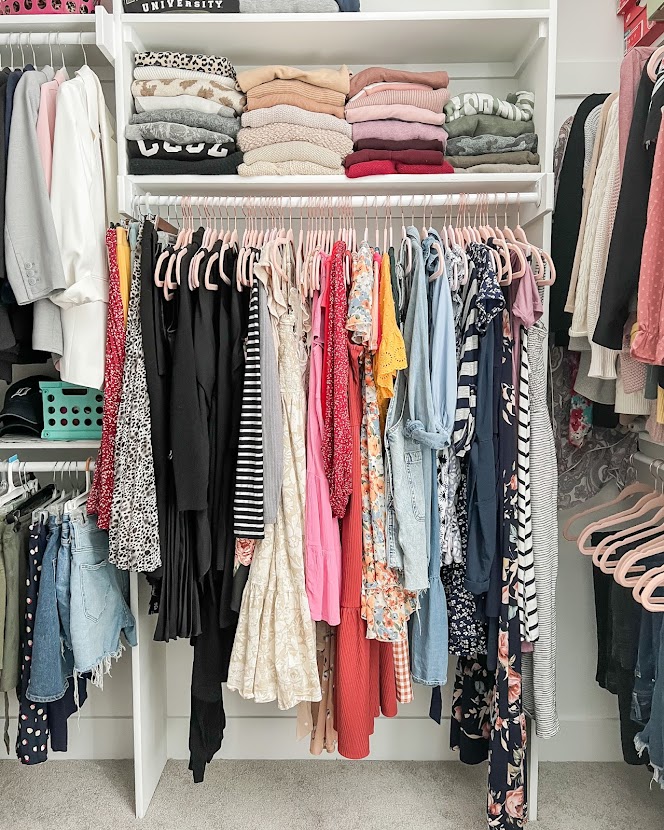 I struggled with my pants because I wasn't sure how I wanted to organize them. I feel that denim is sometimes better when it's folded, but this shelf was the perfect spot to hang my pants. I tried out some pant hangers, but I really didn't like them, so I ended up using the same velvet no-slip hangers that I use with the rest of my clothes. To keep the jeans from looking messy, I fold them in half and keep the front of the jeans facing the wall. I keep them all facing the same way and line them up from darkest to lightest and then my colored pants at the very end.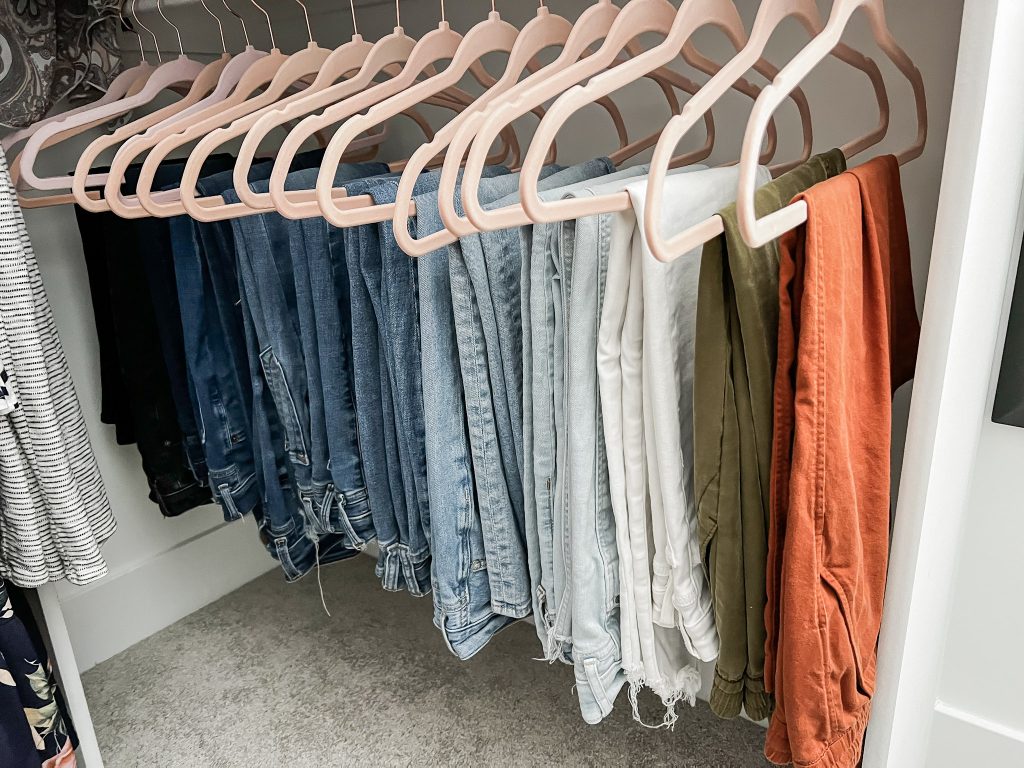 Whether you have a big or small closet, you can't go wrong when you keep it clean and organized. I hope to share some more rooms in my new house as we decorate and add in all the little details we didn't have time to focus on in the building process. Until then, make sure you are following me on Instagram to hear more about my house progress!