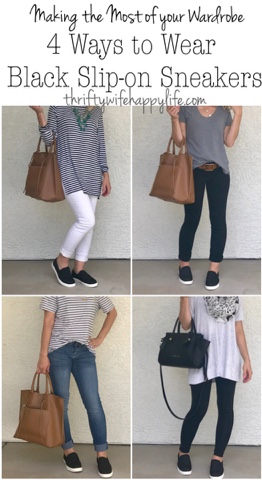 If you follow me on Instagram, you may have noticed these black slip-on shoes that I've been wearing lately. They were my first purchase from my
fall wish list
, and I'm just loving how practical they are for fall. I was originally eyeing the Steve Madden pair of black slip-on shoes (
here
), but they were almost $60 and I knew I wasn't going to spend that much. Luckily, Target does a great job of making knock off styles. I found these almost identical slip-on shoes (
here
) at Target for only $25, less than haft the price of the Steve Madden shoes.
Today, I want to share 4 fall looks wearing my new black slip-on sneakers. They can be worn with almost anything, but for today's looks I styled them all with 4 different pairs of pants; white jeans, black jeggings, jeans, and leggings. All four of these looks are perfect for me to wear to work, or wear on the weekends. They are very casual and very mom-friendly!
*This post contains affiliate links, which means by clicking on and/or making a purchase through a link, I will receive a small commission with no extra cost to you. Thank you for your support!
Leggings- Last Call Neiman Marcus (similar) || Tunic- Nordstrom Rack (similar) || Scarf- Charming Charlie (similar) || Purse- Last Call (similar)