I'm going on week three of living out of my suitcase. It's not an ideal situation, but I'm doing my best with wearing what I packed. I've never been great at packing. I would call myself an over-packer. I tend to want to bring my entire closet with me when I travel, but we all know that's not possible. It wasn't an easy task packing a month's worth of clothes into 2 suitcases. Both needing to meet the airline's weight policy for checked bags, which is 40 pounds apiece. Luckily, I just made the cut.
I've been trying to repeat my clothes as much as possible to keep my laundry load down. I have a few favorite key pieces that I've been getting a lot of use out of. Some are new, while others I've had in my closet for a while.
Here are a few of my favorites from this week…
So here are a few of my looks from the week..
Coral necklace- Charming Charlie
Jeans- LC Lauren Conrad
Flats- Target
Purse- Coach
(Please ignore the hideous carpet of the hotel room)
Jeans- LC Lauren Conrad
Navy Blazer- Target
Coral Necklace– Charming Charlie
Shoes- Toms
Purse- Coach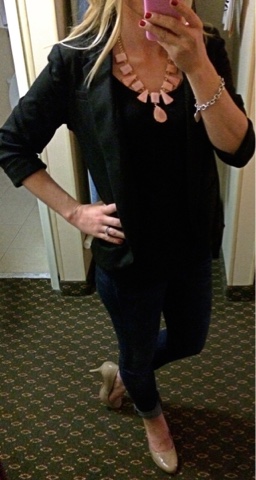 Black blazer- LC Lauren Conrad
Jeans- Target
Tank top- Old Navy
Shoes-Target
Necklace- Charming Charlie
Jeans- LC Lauren Conrad
Shoes- Target
Grey T-shirt- Target
Green Beaded Necklace- Target
Black Sweater- Target
Striped black and grey shirt- Target
Jeans- Jessica Simpson
Boots- Target