When putting together an affordable wardrobe, it's always a good idea to stick with the basics and just build off of that. I like to accessorize and mix and match my clothes to get the most use out of them. In the spring, I have a few favorite pieces that I like to wear to add a little spring to my everyday looks.
Today I want to share some of my spring essentials wardrobe pieces that I couldn't live without.
Blazers- I love to layer and blazers are perfect for layering in the spring. They make the perfect lightweight jacket. I love how putting on a blazer can ready dress up a simple outfit and make it look polished. My favorite blazers that I have bought are from the LC Lauren Conrad collection at Kohl's. I like to buy them on sale with a coupon or look for acute one on clearance.
Colorful Statement Necklaces- If you follow my blog, you know I love colorful statement necklaces. I think that they are the perfect way to make a simple look pop with a little color. My favorite place to buy accessories like this is Charming Charlie.
Denim Jackets- My denim jacket is my favorite right now and it's perfect for layering in the spring with almost any outfit. I found mine a couple summers ago for a steal (read about it here), but denim is pretty popular, so it's easy to find a cute jean jacket. Just keep your eyes open for great deals.
Maxi Skirts- Long skirts are great in the spring. I like how comfortable they are. I find the best prices on maxi skirts at Ross and T.J. Maxx.
White Pants- White is the perfect way to add a little spring into your look. This time of the year is always a great time to look for white pants. I found my pair of white jeans at Target in the clearance section for under $10. (read about it here)
Colorful Hand Bag- I tend to wear a lot of neutral colors, that's why I always like to carry a bright colored purse to add some color to my look. I've been using the coral Coach purse that I got as a gift last Christmas. Charming Charlie is a great place to find a colorful handbag for a decent price!
Wedge Sandal- I love a wedge sandal as an alternative to a heal. I've been wearing my black strappy wedge sandals a lot this spring. I bought them at Target last summer for under $10.
Here are a few spring outfits that I've put together using my favorite spring basics.

White Pants//Turquoise Necklace//Denim Jacket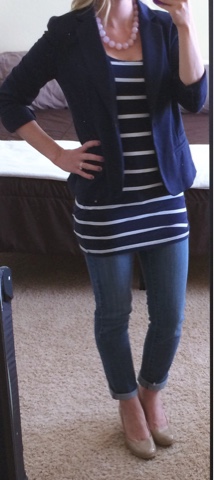 Navy Blazer//Light Pink Necklace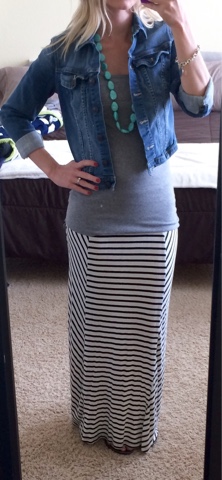 Maxi Skirt//Denim Jacket//Turquoise Necklace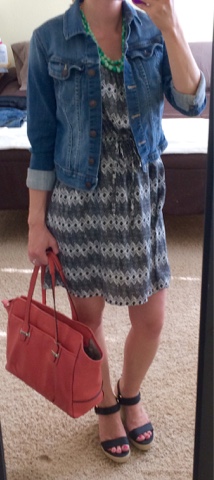 Denim Jacket//Coral Purse//Wedge Sandals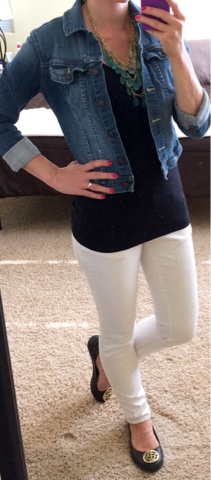 White Pants//Denim Jacket//Green Necklace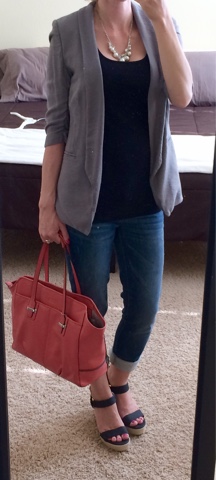 Grey Blazer//Coral Purse//Wedge Sandals
I hope you like my looks and get some ideas on how to style your own spring look!