Yesterday, I did a little bit of shopping. While I was out, looking at all the cute Christmas gifts, I realized just how much money people spend this time of the year. Stores do a great job of marketing their products and making you want to buy them. Shoppers are not only looking for gifts, but they are also looking for themselves. Who can resist all the bargains that are in the stores this time of the year? I too ended up buying myself something. I was proud of myself for not getting lured into buying any of the beautifully displayed winter items. Instead, I found some steals in the clearance section.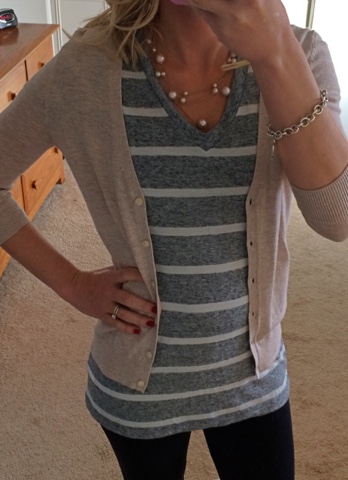 I found this lightweight grey striped tee-shirt and tan sweater at
Old Navy
in their clearance section. Each one coast $2.49. It was hard to resist the price, especially when I know I will get a ton of use out of these. The stores are packed with all the latest winter apparel, but if you really want to find good deals, you have to look at the out of season clothes. In my opinion, there are some clothes that can never be out of season, so that tends to be what I fill my closet with.
Here are a couple ways that I used my new "out of season" clothes and turned them into "in season" winter outfits.
Sunday morning church look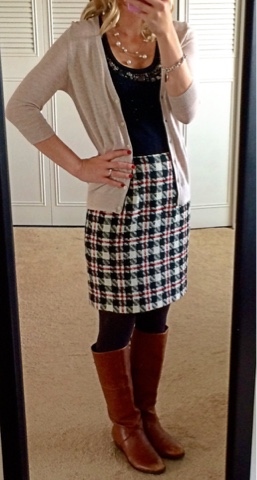 Sweater (New)- Old Navy
Tank top- Old Navy
Shirt- Ann Taylor
Boots- DSW
Tights- Target
Sunday afternoon, errand running look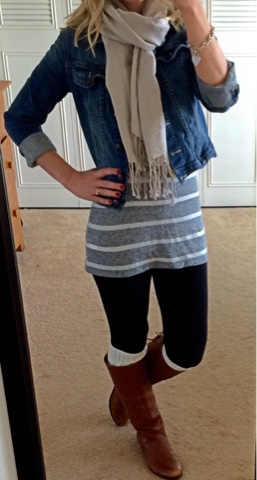 Shirt (New)- Old Navy
Leggings- Express
Scarf- Five Below
Jean Jacket- Jessica Simpson
Leg warmers- Five Below