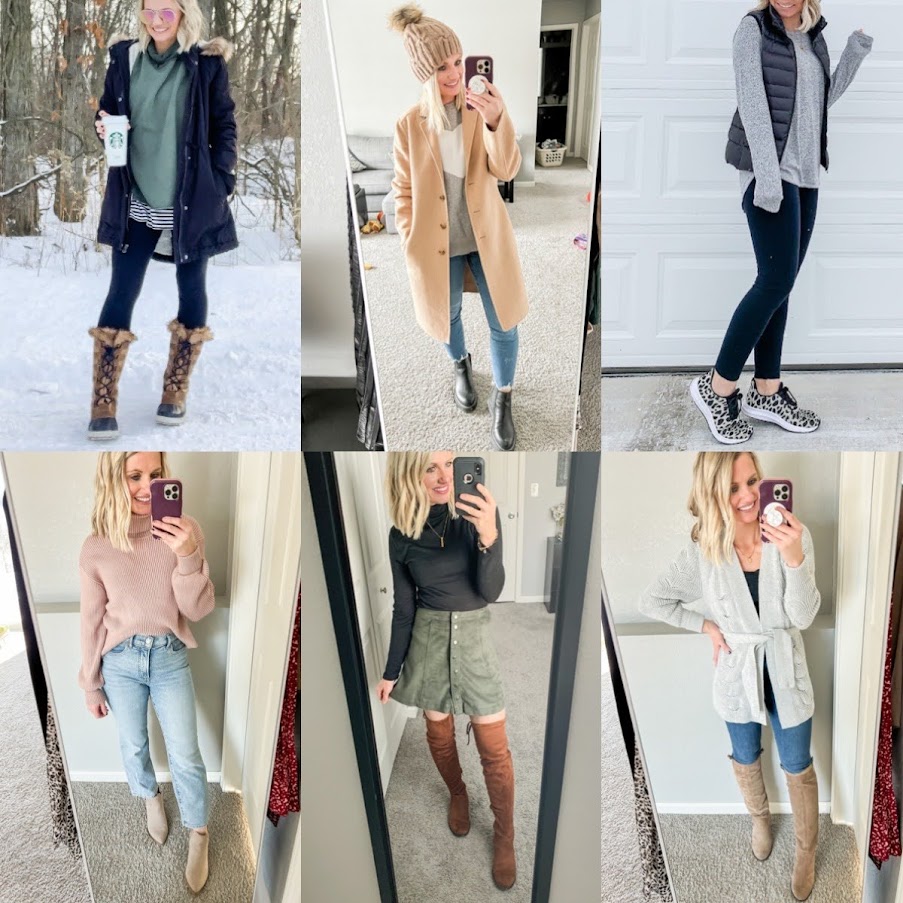 Today I want to take a moment to chat about winter shoes. I don't know about you, but winter shoes can be confusing at times. How do you stay cute and stylish, but also keep warm and dry in the yucky winter weather? That's why today I want to break down the types of shoes that I wear during the winter months. I'll tell you what type of weather I wear them in and also what kind of bottoms I wear with them. Hopefully, it will make planning out your winter outfits a little less confusing.
*This post contains affiliate links.
Snow Boots
The first winter I moved back to Michigan, from Nevada, I made sure that the first pair of winter shoes I bought were a cute pair of snow boots. If you live somewhere that gets snow, this is probably one of the most important parts of your winter wardrobe, besides a warm coat. I love my tall snow boots from JustFab because they are really cute, but also warm. I typically always wear my tall snow boots with leggings or sometimes skinny jeans. That makes it easy to keep your pants nice and dry. I also have a pair of shorter duck boots that I will wear from time to time. I mostly like these boots for when the parking lots are still wet and slushy, but I don't feel the need to wear my tall boots.

Combat boots/ Chelsea boots
Combat boots and Chelsea boots are very trendy at the moment. I love my Chelsea boots that I shared in my post Trends to Try-Chelsea Boots. They have been a popular shoe in my winter wardrobe so far this year. These are the boots that I wear when I want something practical on my feet, but I also want to look cute and put together. These boots aren't necessarily waterproof boots, but they do keep my feet dry and I will wear them when there is snow on the ground or messy slush. I usually wear them with my Spanx Faux Leather Leggings or a pair of cropped skinny jeans.

Outfit 1: Cardigan || Top || Jeans || Boots
Outfit 2: Top || Skirt || Boots   
Outfit 3: Sweater || Leggings || Scarf || Boots
Over the Knee/ Knee High Boots
I love practical boots in the winter, but I also love a cute pair of fashion boots that you can dress up. I have a few pairs of boots like this. I thrifted a pair of knee-high boots (Similar boots) that I like because they have a thick heel that dresses them up but also keeps them practical for walking in. I also have a pair of over-the-knee boots from Target. I love this pair of boots because they have a flat heel, which makes them much more practical for my daily mom life. I often wear these boots with my faux leather leggings and a cozy sweater or I will dress them up with a skirt or a dress.

Outfit 1: Top || Jeans || Shoes
Sneakers
I love to wear sneakers in the winter. They are a great option for wearing with my cropped straight-leg jeans. I also wear them with joggers and leggings. I recently had a comment about how having your ankle showing in the winter can be too cold to wear. I agree that it can be a little chilly on very cold winter days, however, I don't wear sneakers and cropped jeans when it's very cold and snowy outside. I would most likely wear this style of outfit on a warm/dry winter day. To me, a warm winter day means at least 30 degrees, and the sidewalks are clear of any kind of snow or slush. I find that as long as I am warm on the top, having a bare ankle doesn't bother me much. I've learned that coats, hats, and gloves are the most important parts of my winter outfit for keeping me warm. As long as I am buddled up on top, my bare ankles aren't a problem.

Outfit 1: Top || Jeans || Booties
Booties
Booties are another form of winter shoe that I like to wear. I usually style my booties with jeans, both straight-leg, and skinny jeans. I will also wear them with leggings and dresses. I love wearing my black booties with a pair of black tights. They are a great way to dress up an outfit when it's cold outside.

What is your go-to winter shoe? Leave it in the comments below!
Don't forget to pin the post for later!