*This post contains affiliate links
Oh, winter!  How I hate winter.  I went 4 winters without experiencing a real winter when I lived in Las Vegas and I will tell you that I didn't miss it one bit.  The cold, the snow, the slush… all of it I don't enjoy.  But I'm back in Michigan now and I need to accept it.  I grew up with winter and so I know how to handle it.
There are a few things that help me survive the winter months in Michigan.  Having a garage to park my car, an auto-start on my car, and having winter appropriate clothes.  I'm a happier person when I'm warm and comfortable in the winter, so having the proper winter clothes and accessories are the best way to get me through the cold winter months.
Here are my 5 must-have winter clothes and accessories!
Faux-fur hooded coat
I love a cozy faux-fur hooded coat! The fur keeps my face nice and warm, plus they just have a really cute winter style to them.  My favorite
winter coat
that I own is from
Gap Factory
.  It is the perfect everyday winter coat!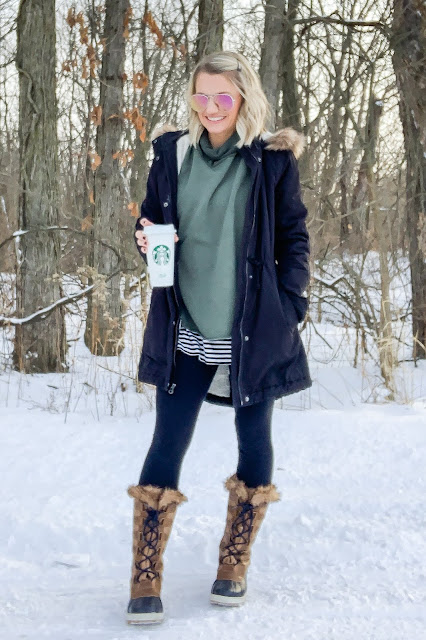 Snow Boots
The first thing I knew I needed in Michigan would be winter boots.  You need something warm, something waterproof, and something cute.  My
snow boots
from
JustFab
 fit all 3 of those requirements and I just love them!  I also bought a pair of
duck boots
this year on Poshmark as a backup winter boot to wear in the slushy wet weather.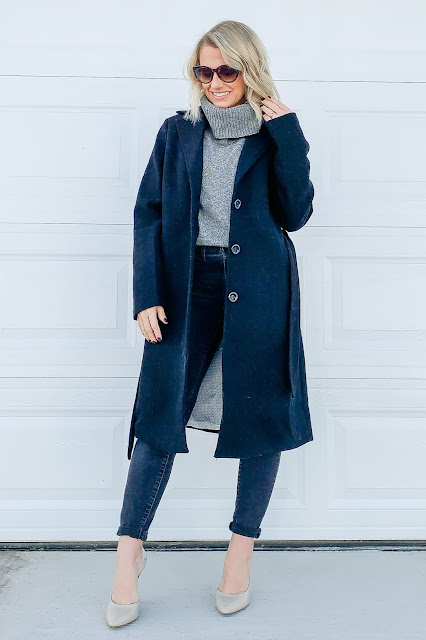 Long wool coat
When I want to step up my outfits in the winter I wear my
long wool coat
.  It's so warm and I love that its full length.  You can wear it with a dress or just wear it with some jeans and it will definitely dress up your look.
Turtlenecks
I hate it when my neck gets cold.  I find scarves to be harder to wear these days, so I really love a good
turtleneck
in the winter.  They keep my neck warm and they are super cozy.
Hats
The best way to keep yourself warm in the winter is to cover your head.  I love wearing hats.  I prefer
beanie hats
and
baseball caps
.  I haven't jumped on the
Carhartt hat
trend yet, but I know that they look like they will do a good job of keeping you warm.  My favorite winter hats have come from the dollar spot section at Target.  Check for them in the late fall.  That's usually when they have them.

Don't forget to pin the post!!