With it being the beginning of a new season, it's the perfect time to head out to the stores and stock up on some new spring looks. Well, if you're trying to save money, you might want to rethink that idea.
For me, I've definitely been feeling the urge to go shopping lately. I have a new job and the weather keeps getting warmer and warmer. I'd love to go drop a bunch of money on a new wardrobe, but I can't do that on my budget. One thing that I have always found helpful to keep me out of the stores when I get that itch to go shopping, is to reinventing my wardrobe. It's time for me to get creative and take a deeper look at my clothes to find new ways to wear them.
One way I've been recreating my wardrobe lately is by taking a second look at older pairs of jeans. I have too many pairs of jeans to count, yet I always feel like I need a new pair. This is probably because I don't wear all of them. I still have jeans that I wore in college sitting in my closet. Instead of buying new jeans, I've been trying to wear my old ones, but just style them a little differently by rolling them.
Here are a couple examples.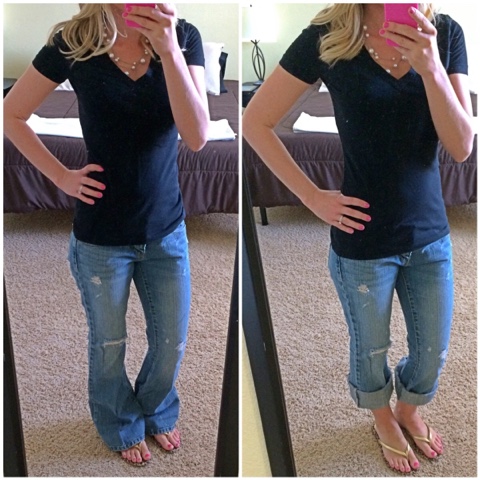 I've had these American Eagle jeans for a while. I bought them at TJ Maxx for a really great price about 6 years ago. They have escaped my clothes donation bag a few times, mostly because they're my only pair of ripped jeans. I'm not really feeling the flared jean look as much anymore, so instead of getting rid of them and shopping for a new pair of ripped jeans, I decided to style them a little differently by rolling them and making them look more tapered. Now I have a cute casual pair of jeans to wear.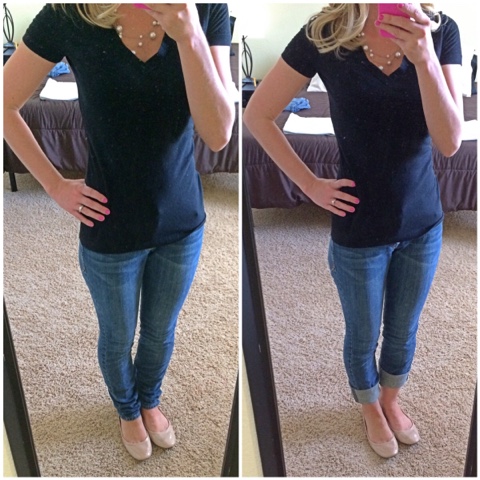 These jeans are from Express. I bought them on clearance a few years ago. I really haven't gotten a whole lot of use out of them until now. They are cute straight-legged jeans, but they're a little long on me. So I've been just rolling them a bit. They have been a great pair of jeans to wear during the week to work.
Another way that I have been reinventing my wardrobe, is by mixing my winter clothes with my summer clothes. I really like the look of mixing my winter tops with shorts and dresses.
Here are a few examples.
If you're bored with your clothes, the best advice I can give to you is to accessorize them up! Accessorizing can take a simple outfit you wear all the time and turn it into something brand new.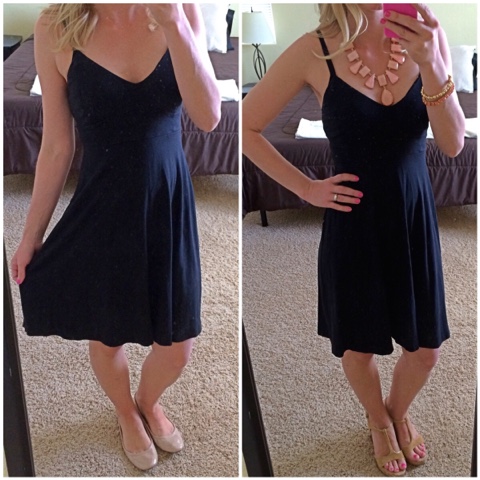 Here is a great example of what accessories can do for an outfit. This is one of my favorite black sun dresses. I bought it at Express when I was in college, so it's been in my closet for awhile. I usually wear it in the summer with a simple necklace and some flip flops. I decided to try it out with my coral necklace and wedged sandals. Now I have a great new look perfect for a summer night or even a tropical vacation.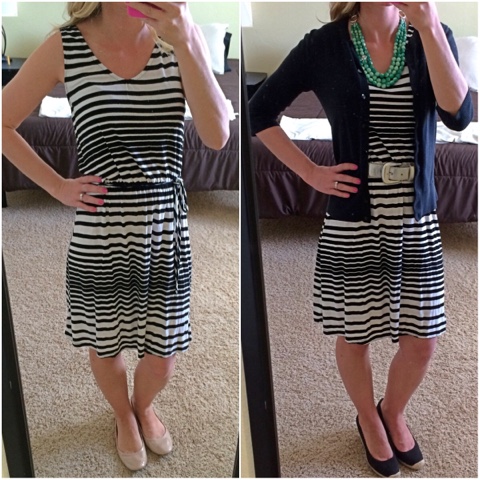 I bought this dress last spring at Target. It's super cute on its own, but when I accessorize it with my green bead necklace, silver belt, black cardigan and wedge shoes, I have a new outfit! It's perfect for work, church or even a shower luncheon.
It really doesn't take much to make your old clothes feel like new again. You just have to get creative. Before you do your spring shopping this year, look in your closet first and try something new. You never know what you will find!