I love the 4th of July! It's always been a special holiday for my family and me. Not only is it our country's birthday, but it's also my dad's birthday. I have a lot of happy memories spending this day with my family while growing up. Ever since I was a little girl, I always had to make sure that I wore my red, white and blue on Independence Day. Now that I'm an adult, not much has changed. I still look for those colors in my closet to make sure I'm festive for whatever I have planned on that day.
Some easy ways to put together a great 4th of July outfit is to look for basic pieces like shorts, tank tops, and skirts, then accessorize them with some holiday flair. For me, I like to accessorize with my red beads and add some denim in for my blue.
Whether you plan to spend your day at the beach, a picnic, barbecue, parade, fireworks or even if you have to be at the office…here are some easy ways to incorporate red, white and blue into your look.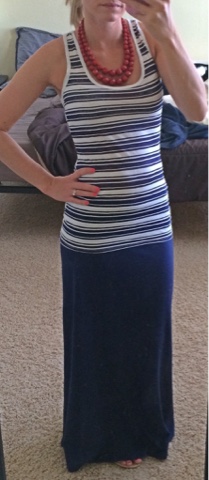 I like this casual maxi skirt look. It's perfect for a hot summer day, plus it's super comfortable!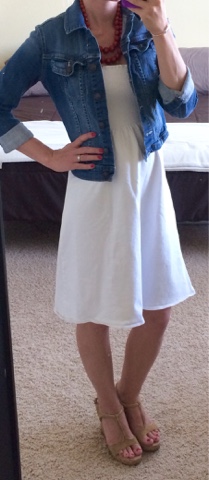 I love this white Ann Taylor dress. I actually wear it as a bathing suit cover up most of the time, but when you pair it with some wedge shoes, red beads, and a denim jacket; it can really dress it up nicely.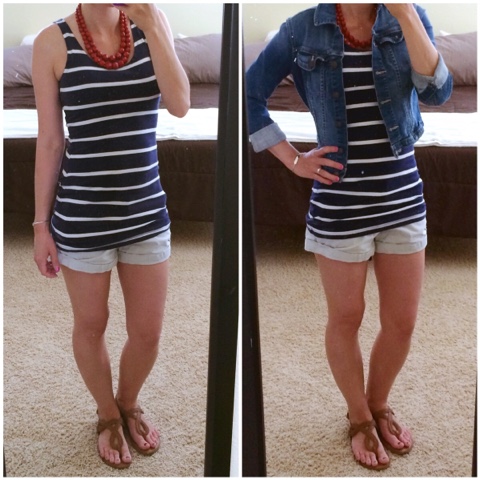 This casual look is perfect for a day time BBQ, then you can add the denim jacket to it for evening fireworks. I love the navy and white stripes in this tank top.
This is another great evening to look for fireworks. Having a red sweater in your closet can definitely come in handy, especially for holidays.
This look is a great work outfit for the day before the long weekend. We all know that a workday can drag on, especially the day before a holiday weekend. Dressing up a little bit festive can make your day more fun!