You didn't actually think that I could go for 9 months and not do a blog post on Kate Middleton's maternity style, did you? I just love her style way too much to not talk about her fashion during her two pregnancies, while I'm pregnant. Her style during pregnancy was no different than her normal non-maternity style; simple, effortless and classic. She wore some beautiful dresses that fit her baby bump perfectly. I just love how polished she always looks.
Here are just some of my favorite Kate Middleton maternity looks.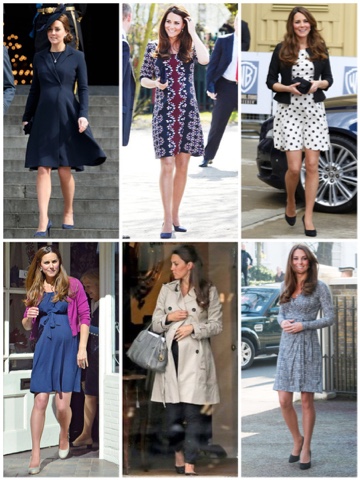 When you're married to a prince, you're bound to have a fabulous closet. This is why it can be hard for the average girl living on a small budget to recreate these royal maternity looks. But it's not impossible when you get creative with what you already have. You will be surprised by how easy it is to recreate some royal looks.
Here are a few looks that I came up with from my own close in my closet that was inspired by some of Kate's maternity outfits.
The Duchess has often worn wrap dresses; pregnant or not pregnant. For this look, I pulled out one of my favorite wrap dresses that I bought at a thrift store last year. I wore a tan sweater and nude shoes with the dress to complete the Kate look.
Many of the dresses that Kate Middleton wore during her pregnancies were very simple and tailored to fit her body, with some kind of pattern. I thought that the style of this striped dress from Target was similar to some of Kate's dresses. I wore it with my nude pumps and a statement necklace to dress it up.