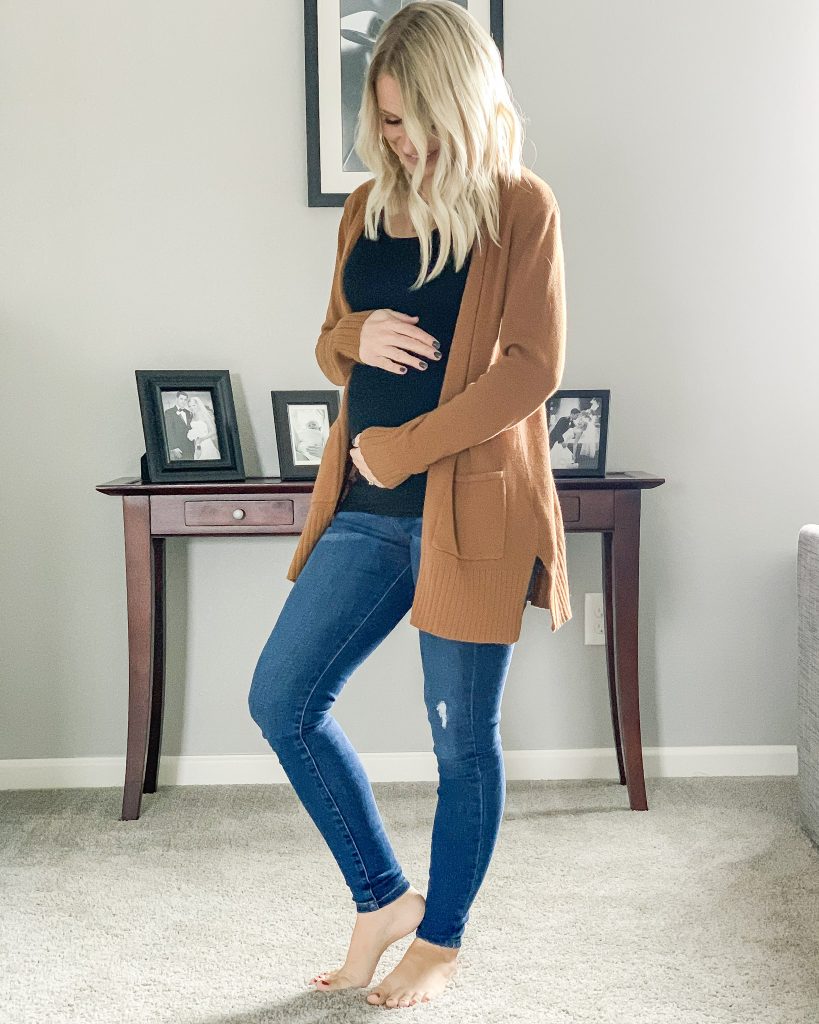 When it comes to building a maternity wardrobe, it can often be overwhelming and a little confusing. Some people might think that you need to buy all your clothes in the maternity department when you are pregnant, but that's not the case at all. Obviously, every woman is built differently and everyone starts showing at different times. I still believe that most women can get away with buying only a few essential maternity clothes in the maternity department.
*This post contains affiliate links.
Maternity clothes are often expensive. Unless you plan on having a big family and being pregnant multiple times, it's really not worth the money to buy too many maternity items. During my first pregnancy, I got away with only buying 3 essential maternity clothing items. During my second pregnancy, I made a few extra maternity purchases, but it wasn't much more than my first.
I only bought the essential maternity clothes that I felt would get the most use in my wardrobe. I only wanted to buy maternity clothes that I absolutely needed to get me through my pregnancy. Everything else that I wore came from my normal everyday non-maternity wardrobe.
Today I want to share what maternity clothes are worth buying in the maternity department and what clothes to avoid buying.
Essential Maternity Clothes That Are Worth Buying
Maternity Jeans

I found maternity jeans to be essential maternity clothes in my maternity wardrobe. Although I was still able to wear some of my non-maternity jeans during both of my pregnancies, I found actual maternity jeans were much more comfortable. You can see how I styled my maternity jeans with a white t-shirt HERE!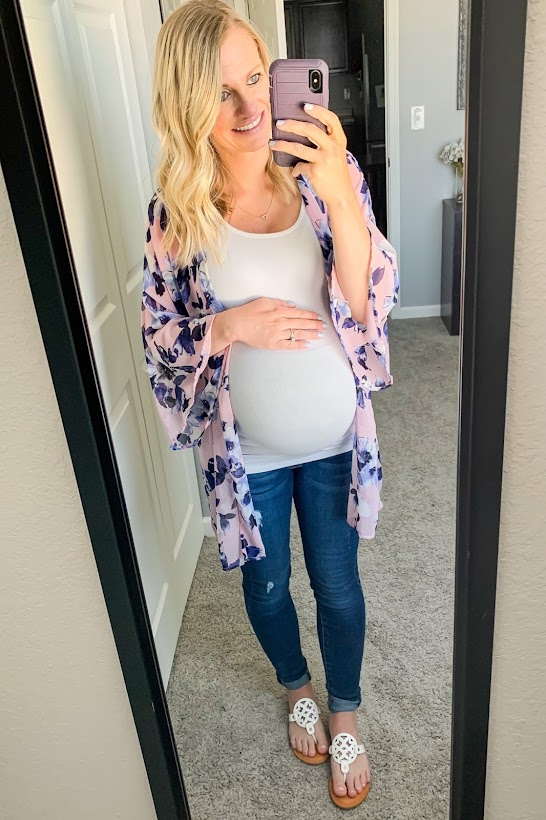 Maternity Leggings

During my first pregnancy, I didn't buy any actual maternity leggings. I just wore my normal leggings with a belly band. The second time around I needed a little more support. Leggings were probably the most worn maternity clothes in my wardrobe.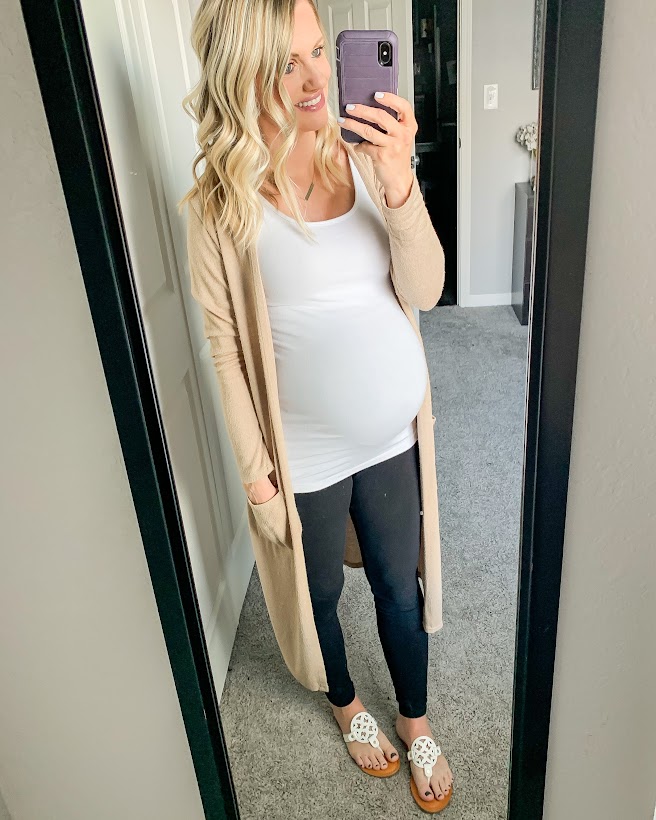 Basic Maternity T-shirts and Tanks

Basic maternity t-shirts and tank tops were key essential maternity clothes! Having a variety of simple tops to wear as a base under my layers, helped me create new outfits each day. By just adding new layering pieces, I could re-wear my base outfits over and over again creating a new look each day!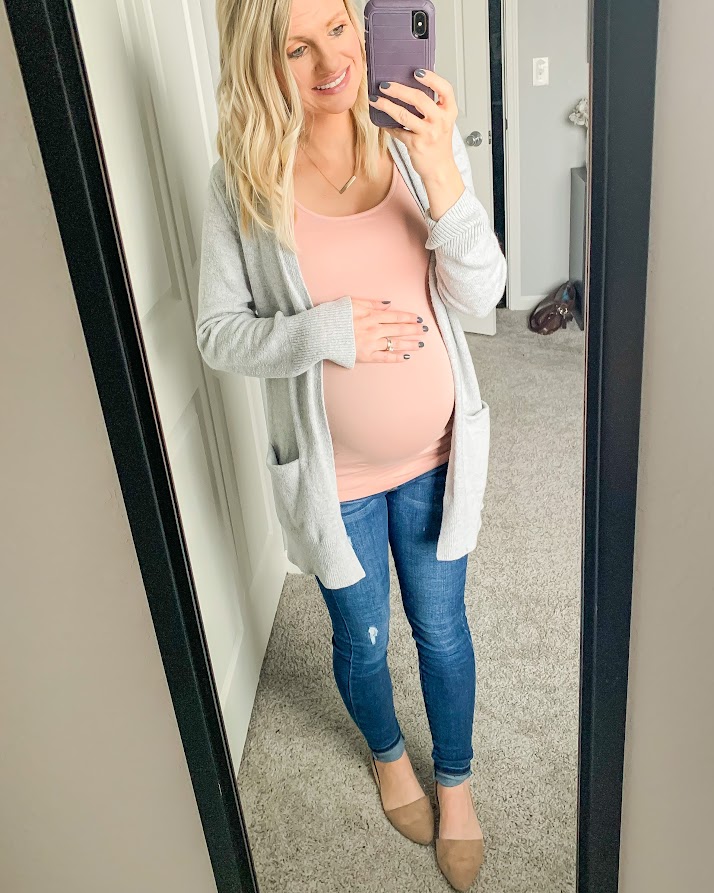 Fitted Maternity Dresses

I loved fitted maternity dresses while I was pregnant. They were the perfect way to show off my baby bump. I also had some stretchy non-maternity dresses that I wore during my second trimester. By the time I was in my 3rd trimester, having the extra stretch of a maternity dress was helpful!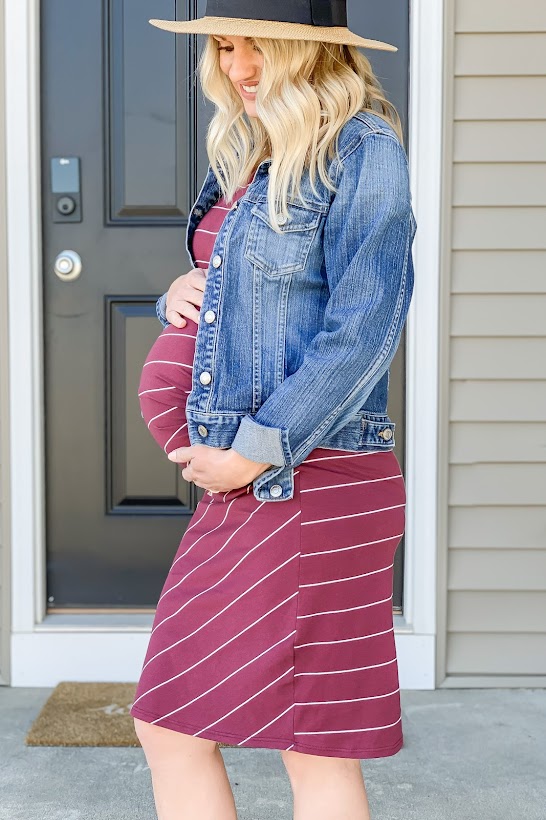 Belly Band

For me, my belly band was the most important piece of maternity clothes that I bought. It helped me wear all my non-maternity clothes comfortably. I was even able to wear my non-maternity jeans all the way until my 3rd trimester with it.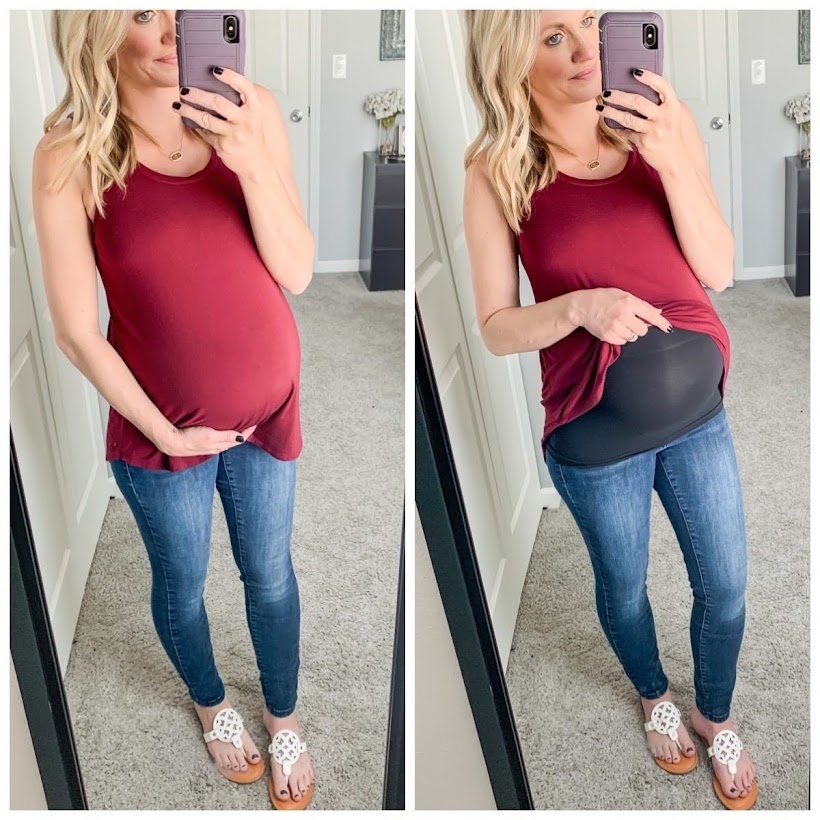 What Maternity Clothes Not to Buy in The Maternity Department

One of the things that I didn't like about shopping in the maternity department was that all the clothes were more expensive than the regular women's department clothes. A maternity tank top at Target cost $2 more than a regular women's tank top. This is why I did my best to use the non-maternity clothes in my closet first. I also shopped for a lot of bump-friendly pieces in the regular women's department.
Here are some of the pieces that you should not be tricked into buying in the maternity section.
Flowy dress- In my last pregnancy, I lived in non-maternity flowy dresses during my final month of pregnancy. Do not be tricked into buying one that is labeled a "maternity dress". Check your closet first!
Long tops/Tunics- I wore a lot of tunics during my first pregnancy. They worked great with my leggings. I also got a lot of use out of them when I was postpartum.
Stretchy jumpsuits- Jumpsuits can work great when pregnant. Just make sure that they don't come in at the waist.
Button-down shirts- I loved wearing my button-down shirts as layers when I was pregnant. I would wear them open or knotted over a dress.
Cardigans- Cardigans are a must when pregnant, but please don't buy a maternity cardigan. All your open-front cardigans will work out just fine.
Coats and jackets- I wore my winter coat during both my pregnancies and I never felt that I needed a maternity coat. If it couldn't zip all the way up, I just held it shut as I ran into the store. The same goes for any other jacket you might have.
Underwear- They sell maternity underwear, but I never felt the need to buy them. I just wore my normal underwear.
Pajamas- I never felt the need to buy maternity pajamas. I just stretched an old t-shirt over my bump and wore my normal pajama pants to bed. Invest in some postpartum pajamas instead!
Examples of how I wore my non-maternity clothes while pregnant