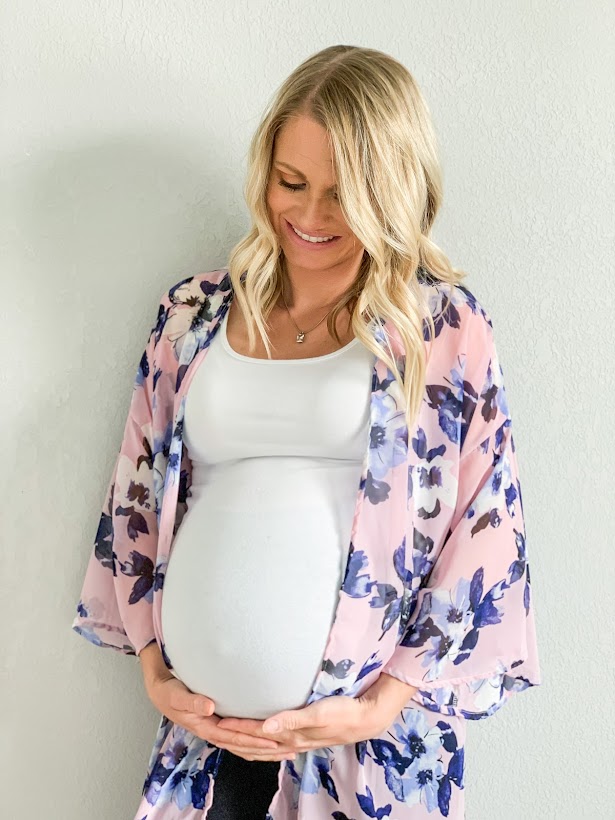 In case you are wondering, no I am not pregnant, nor do I plan on having any more babies. My days of putting together maternity outfits are over. But recently I have been asked for maternity wardrobe recommendations. When I was pregnant with Anna, I wrote a whole series called "Building a Maternity Wardrobe on a Budget". Most of those posts are still relevant, but I felt like I could do a little update to make these maternity posts a little more helpful. That's why today I want to talk about what maternity essentials you need to have in your maternity wardrobe capsule!
*This post contains affiliate links.
When it came down to buying maternity clothes, I stuck with a very minimal maternity wardrobe during both of my pregnancies. I really disliked maternity clothes. Most of the maternity clothes that I came across were unflattering and overpriced. I also hated the fact that these clothes were only going to be worn for a short period of time.
During my first pregnancy, I got away with only buying 3 maternity pieces. With my second pregnancy, I decided that I needed to invest in a few more maternity pieces. I found that having comfortable and supportive base maternity clothes was essential to have in my maternity wardrobe capsule.
Today I want to focus on how to build a maternity wardrobe capsule without needing to buy too many actual maternity clothes.
Tips for Building a maternity wardrobe capsule
Start in your closet first. I always say to go through your closet first before you shop. Do an inventory of what types of bump-friendly clothes you already own. Flowy or stretchy dresses will usually work. Long tunics and long shirts are always good to have as well. Also, make sure you have plenty of laying pieces. This will be key to creating new outfits during your pregnancy! You can read more on what to buy and avoid buying while pregnant HERE!
Evaluate the seasons you will be pregnant during. This is key to think about when you get pregnant. You don't want to end up with a bunch of maternity jeans when your due date is in September. Think about when your due date is. Most likely, you will need the most maternity clothes during your third trimester, so it's important to plan for what ever season that is in.
Evaluate your lifestyle. A stay-at-home mom is going to need a different maternity wardrobe than a woman with an office job. Think about what you need clothes for and focus on putting together outfits for that.
Shop for your maternity clothes as needed. When you first find out you are pregnant, it can be exciting to go shopping for maternity clothes. But what I found in both my pregnancies was that it's best to hold off until you actually start to need maternity clothes. I did most of my maternity shopping during my second trimester. That is the time that my body did the most changing. I also stopped shopping for maternity clothes at the end of my second trimester. At that point, I just made do with what I had to get me through the final weeks of my pregnancy.
Shop with a plan. As always, make sure you create a shopping wishlist. Try to only buy what you need to get you through your pregnancy. You want to buy clothes that will hold their value through those months that you need them. Just remember that one day these clothes will be taking up space in your closet, so you don't want to overdo it!
Set a budget. I don't like to have an actual set budget when it comes to shopping, but I always think that it's important to have the max dollar amount that you will spend in mind. For me, money was very tight with my first pregnancy, so I kept my maternity wardrobe purchases at a minimum. For my second pregnancy, I bought more but spent very little on each item. With it being my last pregnancy, I didn't find it worth it to me to splurge on my maternity clothes.
My maternity wardrobe capsule essentials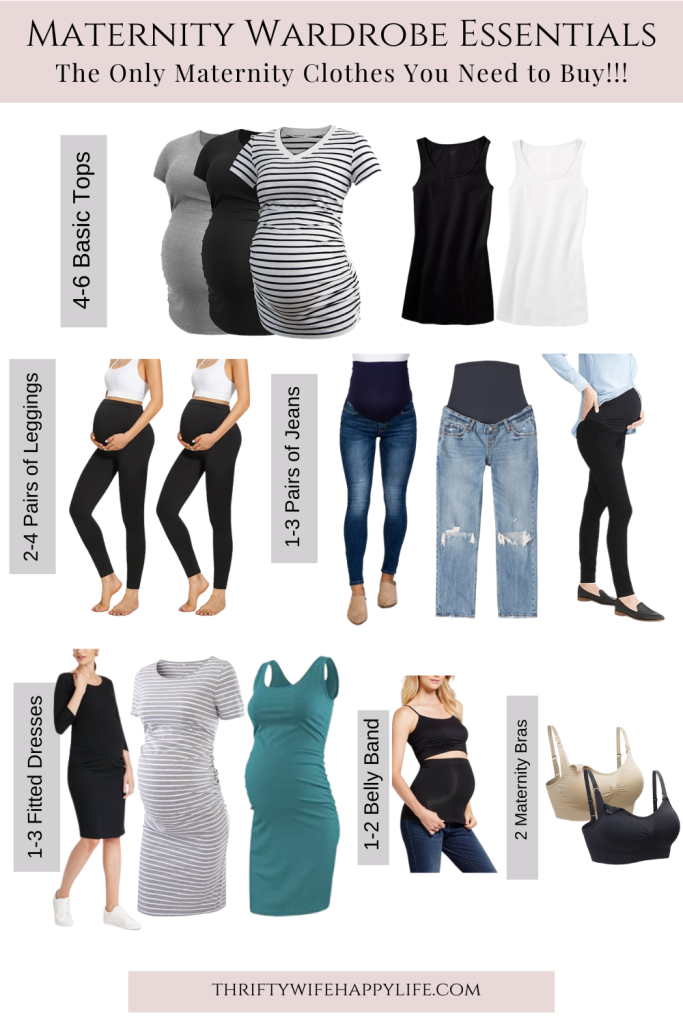 Maternity Jeans- 2-4 pairs

I found maternity jeans to be an important part of my maternity wardrobe capsule. Finding good comfortable maternity jeans is very tricky. I always liked maternity jeans that had a band that went completely over the belly. Those always offered me the most support. I purchased 2 pairs of maternity jeans during my pregnancy. One pair was from Motherhood Maternity and the other PinkBlush. I also had some hand-me-down maternity jeans from a family member, which was really nice!
The amount of jeans that you need to buy really depends on your lifestyle. If jeans are a large part of your normal wardrobe then you might want to buy a few options. As I said before, you need to assess your lifestyle and buy what you need.
Maternity Leggings- 2-4 pairs

For me, maternity leggings were my number one most worn piece of clothing in my maternity wardrobe. I didn't buy any maternity leggings during my first pregnancy and I regretted that. You can definitely get away with just wearing regular leggings under your bump with a belly band (I'll get to the belly band in a minute) but I found maternity leggings to be much more supportive.
Basic Maternity T-shirts and Tanks- 4-6

I got away with wearing most of my regular tops during my first 2 trimesters, but once my third trimester hit I had to invest in some maternity tops to get me through the rest of my pregnancy. My favorite maternity tops were these tank tops at Target. I liked them because they didn't have ruching on the sides like other maternity tops had. They just had some extra material to make the belly roomy. I even wore these regular tanks after the baby was born!
You will need to think about the seasons when buying your tops. If you have a winter baby it will be nice to have some long sleeve options. I bought 4 maternity tops. 2 short sleeves and 2 tank tops, which worked great for my June due date. I would recommend buying a black, white, striped and a color. That way you can mix in lots of different layering pieces over them.
Fitted Maternity Dresses

I really loved showing off my baby bump when I was pregnant. This is the one time in your life that you don't need to hide or suck in your tummy and that's why I loved wearing fitted maternity dresses. I had a couple of non-maternity fitted dresses that I wore, but as my bump grew it was really nice to have the extra room that a maternity dress offered.
My black Target maternity dress that I bought during my first pregnancy turned out to be one of my favorite maternity purchases I made. (See how I styled my black maternity dress here!) It worked well in both my winter 3rd trimester and spring 3rd trimester.
Belly Band

The best maternity piece that I bought that I used during both of my pregnancies was a belly band. My friend had told me about it a year before I got pregnant with my first and I knew it would come in handy. I was able to wear my non-maternity jeans throughout my entire first pregnancy with this belly band. I also wore it with leggings and under my dresses. It gave me extra support throughout my second and third trimesters. If you are really tight on your maternity wardrobe budget then this one item is going to make your non-maternity wardrobe go a long way.
Maternity/Nursing Bras

The first thing that changed in my body was the size of my boobs. I didn't realize how important a good non-wire bra was until one day when I was driving home from work and I could no longer stand wearing my wired bra and I had to take it off right then and there. The next day I went to Target and bought a wireless maternity/nursing bra and I never looked back.
I found nursing bras to be very comfortable and supportive, so I started wearing them during my pregnancy. I also had some comfortable wireless bralettes during my second pregnancy that I wore. You just want to make sure that your bras are comfortable, supportive, and the right size.
Maternity Outfit Ideas
Before I go, I will leave you with some maternity outfit inspiration. These are some of my favorite maternity outfits that I wore during my last pregnancy. I re-wore my maternity clothes a lot, but I used a lot of layering pieces and accessories to create new outfits each time I wore them.